If you live in the United States, it is highly likely that you have seen the commercials for Atlantis - pictured as this gleaming Las Vegas-style resort emerging from powdered sugar Bahamian sands, with a gorgeous couple (or maybe a family) enjoying their stay there.
What you don't see is that Atlantis is also a great spot for a group of guys to go for a long weekend, or even just for the day, since it is super convenient to the port of Nassau. That is how I got to experience the spectacle that is Atlantis Resort, during our cruise on Carnival Ecstasy, and I had a BLAST!
Like many spots out there, the marketing is clearly catering towards couples and families, but Atlantis has a lot of great stuff for guys too. Though that being said, if you don't want to be surrounded by kids, your options are limited to the "adult only" Cove complex, complete with casino, private pool, super chic décor, and off limits to cruise ship "day pass" people.
Unfortunately we didn't get a chance to check out the Cove, but I had so much fun the day we were there that I look forward to returning and having a more relaxed, "adults only" experience.
The image below outlines exactly how close Atlantis is to the cruise terminal - I took this photo from the dock.
As mentioned above, while the marketing folks work hard to make it appear that Atlantis is completely secluded - the reality is that it is a (relatively) quick 5-10 min cab ride from the Nassau Cruise Ship Terminal. In our case, we spent more time in line for the taxi driver to fill the cab than it ultimately took us to get to the resort.
The "Adults Only" Cove:
The Cove Atlantis is completely separated from the rest of the resort and the decor shifts from a tacky - but fun "Vegas Strip" Caribbean motif to a Uber Chic, "New Vegas" style. This Adults only area comes complete with a casino, private pool, private beach, and other amenities that are said to be child free. Fortunately for guests - but unfortunate for you - I was not allowed further than the lobby because it is also off limits to riff raff from the cruise ships who visit on day-passes.
This virtually ensures that your private sanctuary will be kept quiet and not super crowded as I understand the other parts of the resort can be on days when there are multiple ships in port.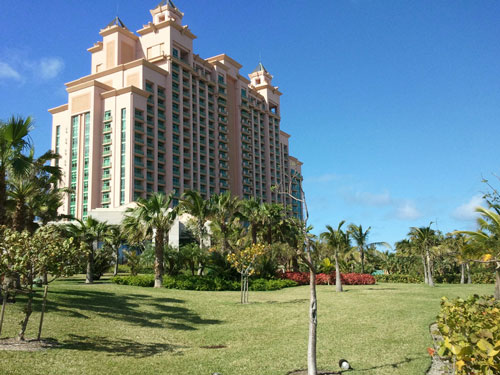 Below you can see the fish pond and chic atrium leading to the Cove towers and restaurants.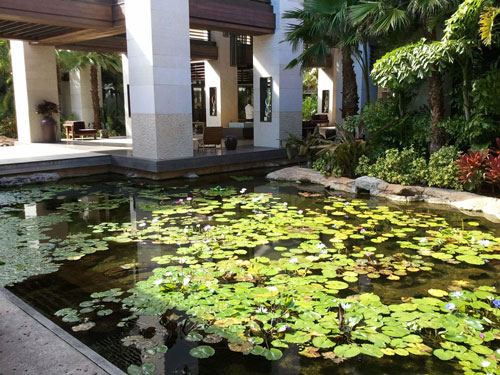 This video should give you a good idea of what to expect if you are planning to stay at The Cove. Granted the video focuses mostly on "romantic" vacations, but frankly Atlantis would be fantastic for that too and every one of you should treat your wife to something special every so often too!
Exploring the Aquariums and "The Dig":
The star attraction at Atlantis is certainly the aquariums. Virtually the entire resort is built around them and the inhabitants range from colorful Caribbean fish to sharks that look ready to break through the glass and grab a quick snack!
One thing that was clear though is that the Atlantis staff was always in motion cleaning the resort and this includes the scuba divers polishing the windows of the aquariums too.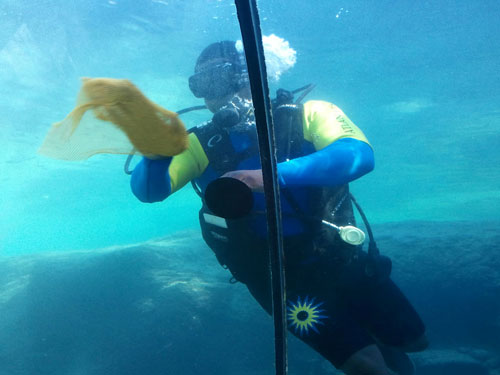 Inside The Dig were some of the most enormous rays I have ever seen! This I believe is a Manta Ray.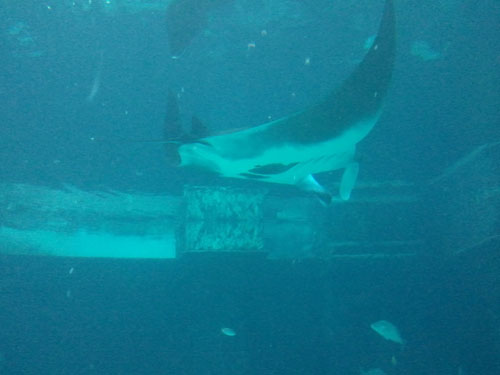 Here are the sharks I was talking about earlier - but they don't look so hungry ... still, I wouldn't tap on the glass and risk disturbing them!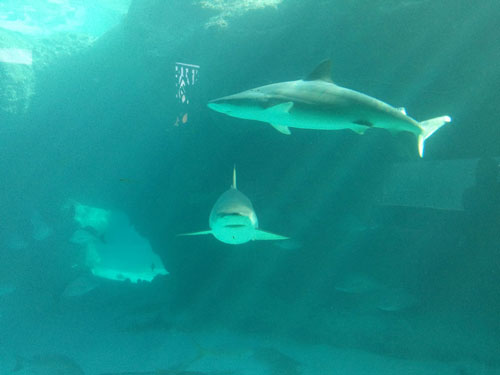 One of the fun things about The Dig part of the aquariums was that it was themed as an archaeological dig to unearth the ruins of Atantis. This theme included this gentleman who was apparently one of the former guardians of the fabled city.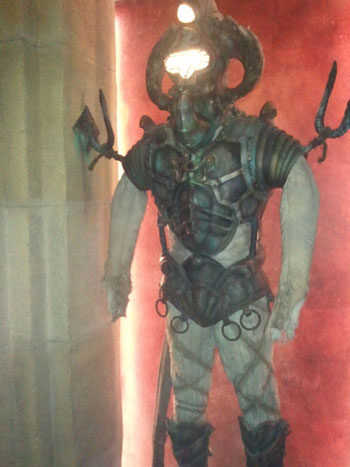 Food:
Food and drink options abound at Atlantis from buffets to Virgil's BBQ (pictured below). There are also several fine dining establishments, including several celebrity chefs such as Bobby Flay's Mesa Grill and Jean-Georges Vongerichten's Cafe Martinique.
If you are just there for the day, I STRONGLY recommend grabbing a Bahamian fry bread fish sandwich. For about the same price as their burgers at the pool side grill, this delight featured freshly grilled fish on Bahamian fry bread.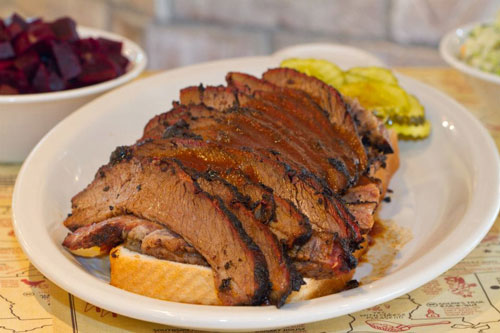 Unlike All-Inclusive Resorts, a stay at Atlantis does not include meals. However, they do have Three different Dining Plans to choose from. These include Breakfast and Dinner and range in price from $75 for the Value Plan, to $125 for the other two.
Racing Water Slides!
Water slides can be fun, but at Atlantis you can actually race your buddies. On this visit, I watched two guys compete with each other for a while trying to eek out that extra fraction of a second. At the base of the slide, you will find a clock that measures the EXACT time - so no more "uh huh! I beat you" ... read the clock, it never lies!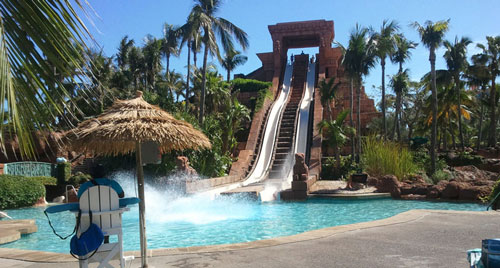 The Rapids - River Ride:
Outside of the water slides, the river ride Rapids and Current were probably the most fun I have had in a LONG TIME. I had some great video of the ride but that got lost when my video camera disappeared somewhere between the time when I got back to the US and the time I arrived home.
Regardless though, the shot below shows a narrow part of the ride where a series of waves is forced down a canyon so you have to hang on tightly or risk getting flipped.
The ride continues for a LONG while and ends up with a choice to go over a waterfall or through a crazy rapids area where I luckily managed to stay on my tube, but others around me flipped.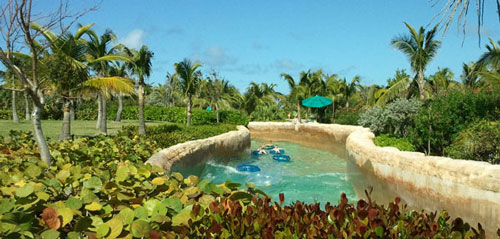 Pools and Beaches:
Sadly - along with my photos of The Rapids, my photos and video of the pool area were lost. However, I can say that the Pools and Beaches may be the final section in this review - but they are certainly not the least feature of Atlantis! As such, I have included a video from Atlantis' YouTube page:
Though I would have to say that the pools are much more exciting than the beach area, if you are visiting Atlantis it is nice to have both as options to cool down and relax!