Each year it seems like Pi Day gets more and more elaborate as marketing folks, social media geeks, and the media respond to this mathematical occurrence of 3/14 or 3.14. That's the number Pi for those of you who don't remember high school geometry!
Anyhow, this year we are in Vegas for the #MenWhoBlogLV trip with MGM Resorts and they have shared with us six ways that they are celebrating Pi Day across their various resorts. I'm looking forward to the Truffle Pizza Pie at FIVE50, what's your favorite?
Truffle Pizza Pie – FIVE50 Pizza Bar
No longer are truffles restricted to the realms of fine dining. Shawn McClain's celebrated pizzeria within ARIA serves up a decadent pie that is topped with truffle salami, béchamel, potato, fresh thyme and additional shaved truffles for good measure.
American Pie Cocktail – Citizen's Kitchen & Bar
Light Group's Corporate Mixologist Michael Monrreal created this all-American concoction that is as patriotic as George Washington giving Uncle Sam a piggy back ride while watching fireworks at a baseball game. The cocktail, available at Mandalay Bay, consists of American Harvest organic vodka and Leopold Bros. New York Sour Apple liqueur, which is balanced with spiced cider, apple juice and cinnamon.
Apple Pie Ice Cream – BLVD Creamery
What goes better with apple pie than ice cream? Well maybe the two mixed together! The inventive ice cream parlor at the front of Monte Carlo's new Strip-side plaza created this delicious flavor that contains cinnamon ice cream, apples, apple pie filling and crust.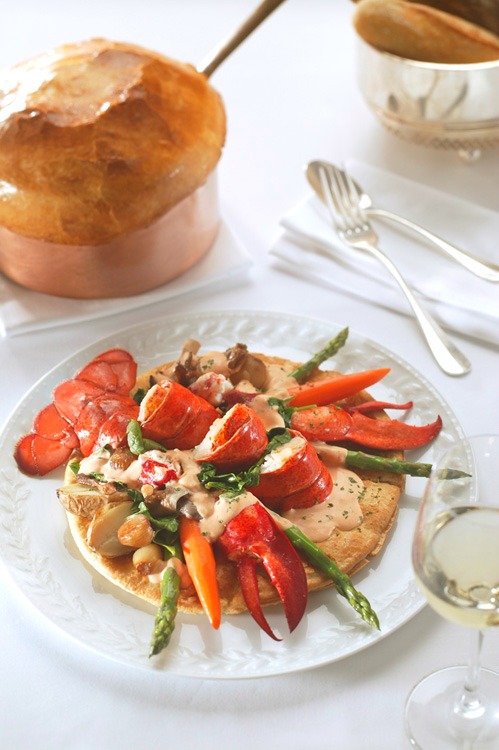 Lobster Pot Pie – MICHAEL MINA Bellagio
At Chef Mina's eponymous restaurant at Bellagio, guests will discover his famous spin on a comfort food classic that covers a meaty lobster with a creamy brandied-lobster sauce, black truffles and seasonal vegetables. The dish is served tableside in a flaky pastry crust before being reconstructed into the shape of a lobster in front of the guest.
Mom's Apple Pie – The Pantry
Pie traditionalists will want to head to The Mirage's new 24-hour café. With its focus on home cooking recipes, it is no surprise that its apple pie is an absolute delight. Dubbed Mom's Apple Pie, this homespun recipe tops the classic with rum caramel and vanilla ice cream.
Pi Wedding – Excalibur's Wedding Chapel
Those who want to pi the knot can head to Excalibur, where they have created a Pi Day wedding special that aptly costs $314.15 (including tax). The package that is only available this Saturday includes use of the chapel, music, officiant services, three-rose bouquet, photographer, champagne flutes…. And you guessed it – an apple pie!