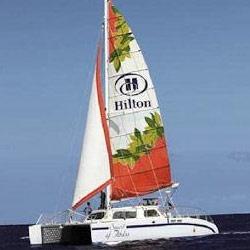 The Hilton Hawaiian Village in Honolulu offers a new experience for guests looking for a unique adventure now that the Spirit of Aloha catamaran is taking sail again.
There's the popular lunch snorkel cruise, which goes for 2.5 hours at 10:30 a.m., or the sunset cocktail cruises. A weekly Friday night fireworks cruise is especially popular.
The Spirit of Aloha includes a full bar with draft beer; a large fully-enclosed and covered cabin with table and bench seating; two full restrooms; freshwater shower; surround-sound system and multiple stairway entry points for snorkelers entering the water.
The 54-foot motor-sail vessel built by Gold Coast Yachts accommodates up to 48 guests on each excursion. Its captain and three lifeguard-certified crew members answer guests' questions about the ocean, navigation, sea life, and marine conservation. Whales, dolphins and green sea turtles are often seen on the tours, but most guys prefer to enjoy the views of Waikiki Beach (and its inhabitants) plus hang out at the bar with on-tap beers.
The Activity Director's Desk in the main lobby handles all reservations insuring guests have a memorable addition to their vacation experience. Guys will also find the submarine cruises from the nearby dock an appealing option.
In fact, these excursions (operated by an independent company) bring guests to a real submarine that descends into the ocean's depths to view the region's most exotic wildlife that live amid the sunken ruins of ships and planes placed into the water by the submarine company. Being below the depths of the ocean's surface by at least 200 feet is a harrowing, yet amazing experience that Hilton Hawaiian Village guests should not visit.
Passengers board the Spirit of Aloha from the pier at Duke Kahanamoku Beach, which was named after the legendary Hawaiian waterman and recently named to Dr. Beach's 2010 list of America's Best Beaches.  Duke, as he is affectionately known, spent his boyhood years on the grounds now occupied by Hilton Hawaiian Village and it was he who introduced the world to surfing.
Catamarans have been a part of Hilton Hawaiian Village's offerings for decades, dating back to the 1950s. Be a part of this manly experience and explore the marina life of this exotic hotel. It's the perfect way to get away from the crowds while enjoying the natural exposure of the Hawaiian islands that these amazing expeditions provide.