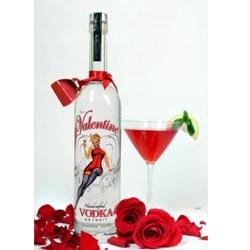 Ok, so Valentine's Day is almost over and hopefully you have given your honey something sweet to celebrate. Don't forget though, as my wife tells me, "Every day is Valentine's Day!"
So to celebrate your lovely lady, why don't you go out and get a bottle of Valentine's Vodka from what I am told is Detroit's first distilled spirit since prohibition. While Detroit strikes me as more of a guys place than a romantic destination, who am I to argue with a vodka named Valentine.
Begin Press Release ...
The name alone is the ideal marketing campaign for Valentine's Day, but Michigan-made Valentine Vodka has sweetened their packaging for the romantic holiday.
In early January, Valentine Vodka will release its elegant 750ml bottle with an individually-wrapped piece of artisan chocolate. Hand-crafted by Mimi Wheeler of Grocer's Daughter, the gourmet heart-shaped chocolate was developed specifically to pair with the smooth taste of Valentine Vodka. This special Valentine Vodka package will sell for $29.99 at retail outlets around the state of Michigan.
As Detroit's first micro distilled spirit since Prohibition, Valentine Vodka is well on its way to setting the standard for ultra-premium hand-crafted vodka with its clean, crisp and uniquely flavorful taste. As one of the first distilleries in the world to use a multi-grain recipe, Valentine Vodka proudly utilizes a blend of red Michigan wheat, two-row malted barley and corn, which all come directly from Michigan farmers and suppliers.
Grocer's Daughter also has growing reputation for quality, hand-crafted products. Based in the Leelanau County community of Empire, this family-run business prides itself on the use of all-natural and many organic and other naturally grown ingredients for its hand-crafted gourmet artisan chocolates.
The man behind Valentine Vodka is Rifino Valentine. A native of Leelanau County and a graduate of Glen Lake High School and Cornell University, where he earned a BA in Economics, Rifino spent 11 years on Wall Street as an independent trader before founding his own successful trading firm.
It was in 2005 that he returned to his home state to pursue his passion – to form a successful and locally-focused Michigan micro-distillery. After years of intense research and study, Valentine Vodka reached the retail market in March, 2009.
Through his hand-crafted products, Rifino hopes to draw on the inspiration and history that the City of Detroit brings when it comes to distilled spirits, as he develops and grows Valentine Vodka.
"We are excited to bring back a proud tradition the City of Detroit hasn't seen in over 70 years," said Rifino. "Few know about the pivotal role that Detroit played in the history of distilled alcohol during the Prohibition era in the 1920s and 30s. Literally overnight, Detroit became a multi-million-dollar Mecca of liquor – albeit illegal at the time – helping to shape the city's history during the 20th Century."
Currently, Rifino is distilling Valentine Vodka in Webberville, Mich. It is made one batch at a time, in limited quantities. Every step of the process is done by hand, from boiling the mash to the fermentation, from the three distillation runs to the charcoal filtering. Valentine Vodka is distributed at more than 400 retail outlets around the state, as well as being on the menu at select bars and restaurants throughout Michigan.
In addition to managing the day-to-day operations of Valentine Vodka, Rifino has undertaken the renovation the former American Forge building, in the heart of Detroit. In 2010, this 7000-square foot building will become the permanent home of the Valentine Vodka distilling, bottling and business operations.
"We are excited to move the entire manufacturing process to the city of Detroit," Rifino said. "Our goal is to bring an exciting new business to the downtown area and put Detroit back in the national spotlight for manufacturing world-class products."
For a list of retail outlets carrying Valentine Vodka, as well as a menu of signature cocktails, log onto www.ValentineVodka.com