The 2015/2016 ski season didn't disappoint. It has snowed practically EVERY weekend on EVERY mountain west of the Mississippi. After many great powder days with my ski/snowboard buddies, we decided to take a spring skiing trip to celebrate such an epic season. Over the past few months, I've been revisiting my collection of old ski movies and one resort kept popping up; Squaw Valley Alpine Resort. From Scot Schmidt in The Blizzard of Aahhh's to the McConkey (R.I.P.) documentary, and countless Warren Miller films, Squaw Valley was always showcased as a resort with great snow, amazing terrain, and a list of accomplished locals to back it all up. I ran the idea past my friends, and flights were booked that evening.
I live in Irvine, California, and was pleased to find that Alaska Airlines offers a direct flight to Reno/Tahoe on a daily basis. After a beautiful 45 minute drive from the airport, we arrived at Squaw Valley Alpine Meadows Resort shortly after 5pm, primed to catch the apres-ski crowd. We checked into our rooms and made our way through the village to Rocker@Squaw, an upscale pub with a great list of microbrews on tap, and great food. The overall vibe was buzzing but relaxed, with a patio full smiling goggle tans. It was here that we started to see just how many world-class athletes honed their skills at Squaw. While punching in my PIN number on the debit machine, our waitress casually mentions that Julia Mancuso (2006 Olympic gold medalist) made her first turns, as a child, on the run right outside the window.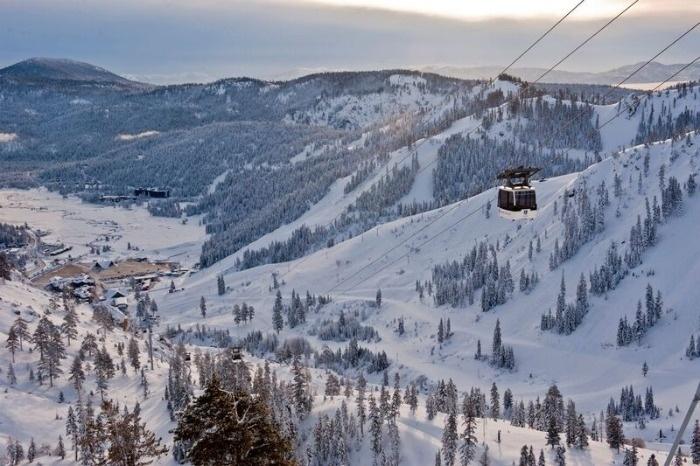 The next morning, we decided to meet at 9:30am outside of the Funitel station. For those who don't know, a Funitel is a smaller-sized tram that runs on 2 cables and is capable of operating in higher winds that a normal-sized tram or chairlift. I have to admit that I am pretty lazy, and having a late start to the day is one of the reasons why I love spring skiing so much. The ride up was quick and smooth and after about 8 minutes we walked out of the Gold Coast mid station under clear and sunny skies, clicked into our skis and were on our way. The snow was firm and fast and softened as the sun rose higher in the sky.
Voted the best chairlift in North America, KT-22 provides access to some of the best terrain on the mountain. Naturally, this is where we spent most of the morning. Runs like Dead Tree and Chute 75 had plenty of natural features and good coverage. We also paid a visit to the Eagle's Nest, a memorial statue commemorating the life of Squaw Valley skier Shane McConkey. Shane is responsible for inventing the rockered ski, which he did here at Squaw, as well as pioneering the extreme sport Ski BASE jumping. The statue was perched atop a rock outcropping just off the top of the lift, which has spectacular views of Lake Tahoe and is a very powerful place. After a few more runs on KT-22 and the Headwall chair, we made our way over to High Camp, the mid-mountain lodge, for some lunch and refreshments.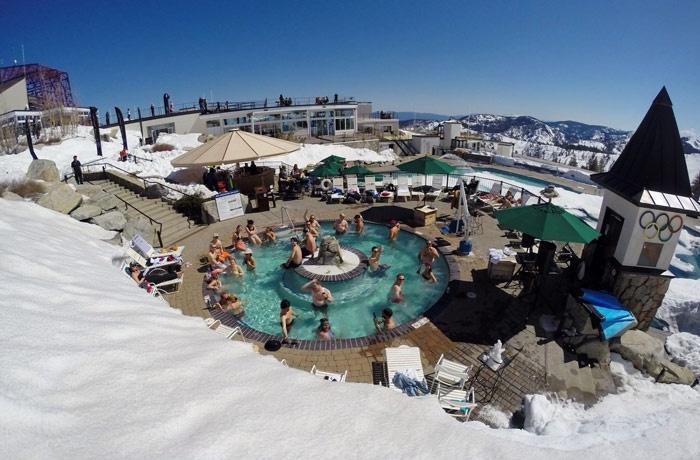 On its own, High Camp is reason enough to visit Squaw Valley. From the massive patio of High Camp you have a 270-degree view of the Squaw Valley and immediately, I knew why people refer to it as "Squallywood". You could see so much amazing terrain from your seat on the patio. Straight ahead you see the Pallisades, one of the most iconic ski zones in North America, which is flanked by KT-22 to the left and The Attic to the right.
High camp consists of 6 food outlets, 2 hot tubs, and a full-size roller skating rink. Luckily, we were able to find a table near the hot tub and grabbed a couple cocktails from the Umbrella Bar. Ski jackets were removed, zync was applied, and goggles were traded for Ray-Bans. The five of us kicked back, soaked up some sun and made fast friends with some of the locals in the hot tub. After a few more drinks, we made plans to meet our new friends later in the afternoon down in the village and made our way over to Alpine Meadows on the shuttle, which picked us up just outside of the Funitel building at the base of the mountain.
Squaw Valley and Alpine Meadows joined forces in 2012 and have plans to develop a base-to-base gondola, which will make it the Largest resort in North America. We rode several chairs over at Alpine Meadows, and found some great intermediate terrain on High Yellow Face, just a short hike from the top of the Summit Express chair. We even ran into USSA athlete and Olympian Marco Sullivan. By this time our legs were feeling exhausted, so we hopped back on the shuttle and made our way back to the base village at Squaw Valley to meet up with our hot tub friends.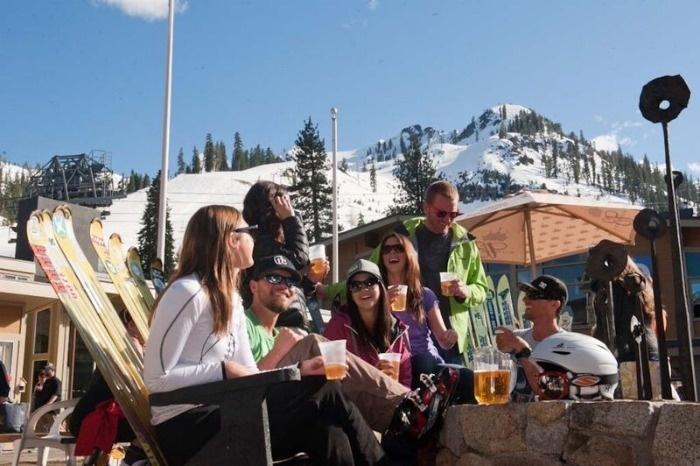 We decided to meet up at The Chamois (pronounced "Shammy" by the locals) for some apres ski drinks. Legend has it that more Budweiser draft is consumed here than at any other resort in California. The place was packed, with music pumping and people dancing, dogs roaming, and the sun shining. This place was alive. Everyone was in a great mood as we sang, danced, and worked on our goggle tans. After a few hours, we all agreed that we needed some food so we walked over to the PlumpJack Cafe & Bar. Operating a winery in California's Napa Valley, Plumpjack is known for being a high-end luxury wine brand, so needless to say, we were all excited to eat.
With excellent service and an expert mixologist on staff, we were treated to a wonderful 4-course meal which, of course, included wine pairings. For my main course, I decided on the pork chop, which was delicious and cooked perfectly. The mixologist's knowledge of Pisco had me ready for a great evening. After we finished up our desserts, we decided on a night cap at the Auld Dubliner, the village's Irish pub. After a creamy pint of Guinness, it was bedtime for me.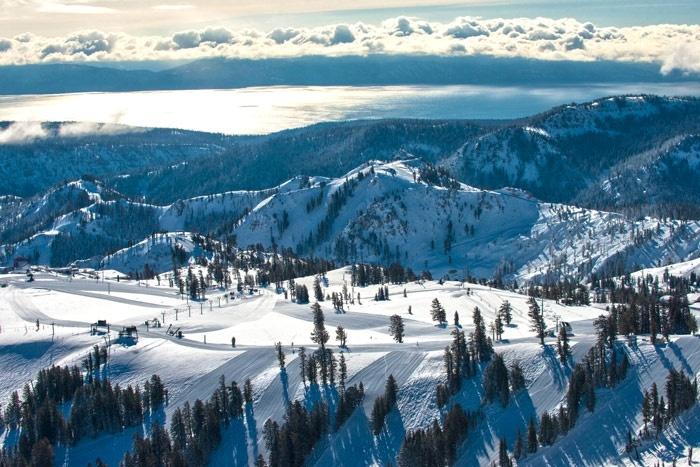 I woke up the next morning feeling a bit parched, but enjoyed the beautiful view of the resort as I cracked the blinds in my room. I made my way over to the Mountain Nectar juice bar for something refreshingly cold to sooth my throbbing head. I went back to the room, packed my bags, met up with the boys and we made our way back to Reno.
In hindsight, I've decided that I need to visit Squaw Valley Alpine Meadows again soon. There was so much to ski, to see, and so much to do but I didn't have enough time to enjoy it all. The spring skiing is easily the best country and the apres ski scene is on a whole new level. Next time, I'll be sure to pack my swim trunks