Squaw Valley - Ski, Party, and More!
We make money from support by sponsors, advertisers, and affiliate partners. As an Amazon Associate I earn from qualifying purchases.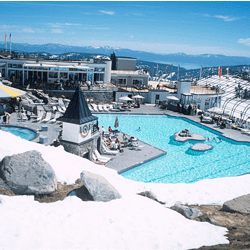 Lake Tahoe is one of my favorite ski destinations with some of the best places for skiing and other activities. If you are considering visiting the area, one resort that shouldn't be missed is Squaw Valley, site of the 1960 Winter Olympic games.
Today, Squaw still features some of the best skiing that Tahoe can offer, but also stands out as a fantastic spring skiing destination.
Between the vast, steep terrain and infamous après ski scene, Squaw Valley USA has everything a man could want in a ski resort. Squaw Valley is home to so many pro skiers that it has earned the nick name "Squallywood." It's a common to see skiers and riders hucking giant cliffs while riding the lifts or to run into some of the biggest names in skiing in the Squaw parking lot. That said, Squaw offers plenty of terrain for skiers and riders of all levels, with 45% of the mountain considered intermediate terrain. For more details on Squaw Valley USA's terrain please see attached "Fast Fact" Sheet.
In addition to incredible terrain, Squaw Valley also offers some of the best spring skiing in the nation. Squaw Valley is once again offering the longest ski season in Lake Tahoe, as the resort plans to stay open for skiing and riding into May 2010. Squaw Valley's annual snowfall of 450 inches and mountain topography featuring acres upon acres of upper elevation North-facing terrain are among the natural attributes that enable the resort to remain open through the middle of May each ski season.
Squaw Valley's blues skies, radiant sunshine, and deep snowpack epitomize perfect spring skiing conditions. Along with fresh powder, spring brings coveted 'corn' snow, when the snow freezes at night and then softens gradually throughout the day as it is warmed by the sun. Akin to fresh powder, the corn snow surface is soft and forgiving and makes turning easy and exhilarating.
No matter the time of year, Squaw Valley USA has what men want.
Squaw Valley Restaurants and Bars:
Ice Bar
Back for the 09/10 Winter Season, Squaw Valley USA's Ice Bar is not to be missed. The Ice Bar, which is located at Squaw's High Camp is made of 60 blocks of solid ice - each weighing 350 pounds.
The Auld Dubliner
In the spring of 2005 the Auld Dubliner Irish Pub opened in the Village at Squaw. Soon after its arrival, "the Dubliner" quickly became Squaw Valley's very own "Cheers." However, the pub appeals to more than just the local crowd, weekend warriors and vacationers fill the barstools too. The Dubliner has live music a few times a week and serves up huge portions of delicious Irish fare. With more Guinness than Dublin, the words "liquid-dinner" may cross your mind.
Blue Coyote
For sports and a casual dining atmosphere, diners and drinkers alike can head to the Blue Coyote. With a great spread of everything from poppers and wings to mouthwatering steaks, the Blue Coyote is your traditional male watering hole. Also a great place to head when the local network isn't playing your team's game.
Extreme Winter Sports
Freeride World Tour
Not much is manlier than extreme sports. Squaw Valley has been selected as one of the best freeride spots on earth by the Pro Freeriders Board (PFB) and asked to host one of the four main events that make up the 2010 Freeride World Tour. The valley will erupt with street parties, live music and a week of celebrations not to be missed including the world's most extreme athletes battling it out on the never before opened, TRAM FACE.
Spring Parties & Events
Pool Parties at High Camp
The Swimming Lagoon and Spa at High Camp is home to the best spring partying on the lake. With massive DJ pool parties, unbelievable spring skiing/riding, live poolside hip hop, the and the most breathtaking pool/hot tub/umbrella bar at el. 8200' this spring is going to be off the charts! Don't miss the Peaks & Lagoons Spring Party Weekend April 3-4, 2010.
Lake Cushing Classic
World's Biggest Pond Skimming Contest!
Daredevils strap on old skis, snowboards, or the creative pond crossing vessel of choice, and attempt to cross the chilly waters of Lake Cushing in front of a crowd of thousands. The date for the Cushing Classic usually falls in the end of April/early May and is contingent on when the pond melts.
Written by

oldadministrator

Page Views: 6948