T-Fal ActiFry - Bacon Fries Recipe!

Here is a follow-up to the ActiFry review we did recently.
Want to know how we made those awesome fries? Here's the recipe ...
I am not a chef, but I do know that bacon + fries = delicious and you can even drop some shredded cheese on here afterward to make it even better!
Preparation Time: 15 minutes
Cooking Time: 50 minutes.
(don't worry, most of this time is spent watching the game while the ActiFry cooks it up unattended)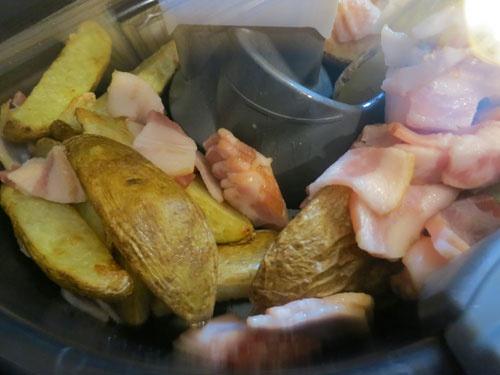 Ingredients:
2-3 baking potatoes
1 standard 14-16 oz package of bacon
1 ActiFry spoon of olive oil (optional)
Salt / Season to taste with standard table salt, Old Bay Seasoning, or Season Salt.
Preparation:
Slice the bacon into small pieces and place into the ActiFry - you won't need to add oil at this point since the bacon will provide plenty of grease to cook itself.
Start the ActiFry and let it cook for between 5-10 minutes or until the bacon looks like it is starting to brown and has released some grease.
While the bacon is cooking, it is time to slice up the fries - I tend to like them wedge cut and with the skins on but you can do as you wish.
Once the potatoes are ready and the bacon has cooked off some of the grease, stop the ActiFry, (safely) dump some but not all of the grease. - you don't want your fries swimming in bacon fat or they won't get nice and crispy!
Place the potato wedges in the ActiFry cooking basket and let it cook for 30-40 minutes.
Take your seasoning and sprinkle it on the fries, then let it cook another 5-10 minutes.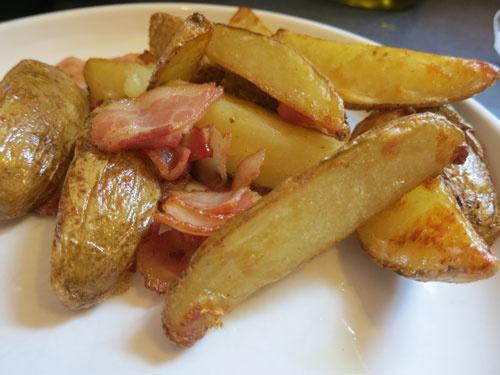 This should give you some DELICIOUS fries that taste as good as anything from a deep fryer but contain a fraction of the oil.