T-Fal ActiFry - Jerk Wings Recipe!
This is a follow-up to our ActiFry review that we did earlier.
This time, we are making Jerk Wings - though you can take this base recipe and add anything you want to season your wings!
I am not a chef, but I like to cook, so please excuse any lack of precision here.
Preparation Time: 3-4 hours (for the wings to defrost)
You can place them in a bowl that is easy to drain, leave them in the bag, or I tend to place them directly in the ActiFry, then drain from there before starting to cook.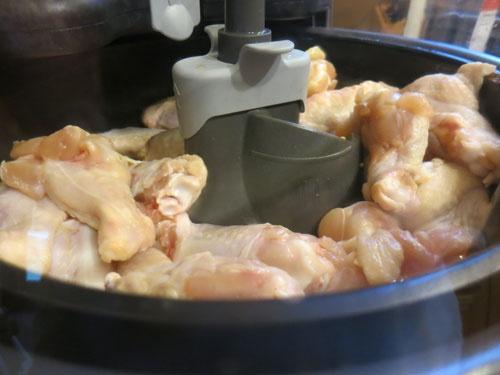 Cooking Time: 25-30 minutes
Ingredients:
One standard sized bag of frozen chicken wings. (must be thawed before cooking)
1-2 teaspoons of Walkerswood Jerk Seasoning (caution, this stuff is AWESOME but hot!)
1 ActiFry spoon of oil
Preparation:
Place wings in the ActiFry and cook for 20 minutes until the skin on the wings is starting to become crispy.
Place the Walkerswood Jerk Seasoning on the wings - place one teaspoon on one side of the pan and the other on the other side so that it gets spread evenly.
Restart the ActiFry and cook for another 10-15 minutes.
You can adapt this recipe for virtually any other seasoning preferred. I tend to let the wings cook almost all the way if using a powdered rub, or entirely if using a wing sauce.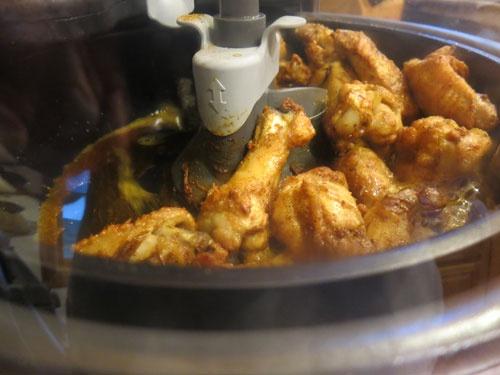 The nice thing about ActiFry is that the machine will move the wings around so there is no need for a mixing bowl and a spatula to do it yourself!