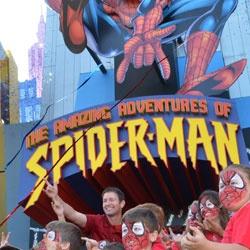 Press Release:
The Amazing Adventures of Spider-Man at Universal Orlando Resort – one of the world's most popular theme park experiences – is now even better. Mind-blowingly better.
The attraction reopens today with all-new 4K digital high-definition animation, a new highly-sophisticated Infitec 3-D projection system, a new music score and new high-tech 3-D glasses so that guests can experience the improvements the way the attraction's creators envisioned. The attraction's sets, audio system and lighting have also been upgraded.
The new animation comes to life across the attraction's towering visual spaces – some of which are more than four stories tall and just as wide. Live special effects such as heat blasts and water surges as well as the motion of the ride vehicle are precisely calibrated to match the animation so that riders will feel as if the entire adventure is happening to them.
As they reanimated the attraction film, the creative team added hundreds of new details and effects. Guests will see moss swaying in the wind, rats scurrying through the streets and hear electricity arching so close it will raise the hair on the back of their necks. And for the first time ever, Spider-Man co-creator Stan Lee will make a cameo appearance inside the attraction. Lee was meticulously animated in 3-D and placed in more than one scene inside the new animation.
"The Amazing Adventures of Spider-Man was so wonderful before," said comic book icon and Spider-Man co-creator, Stan Lee. "But now – with all of the new technology that's been added – it is indescribably spectacular."
"We took an incredible theme park ride experience and made it even better," said Thierry Coup, senior vice president of Universal Creative. "If you have been on this attraction before, then it will seem like the first time. If you have never been on it, then you will simply be blown away."
Here are the top 10 unique new elements in The Amazing Adventures of Spider-Man:
The action is more life-like than ever. Guests will actually see the movement of the characters' muscles and the changes in their facial expressions.

The new HD film animation combined with brand-new, highly sophisticated Infitec 3-D projection, allows guests to experience mind-blowing details they've never been able to…from the flames spewing from Hobgoblin's pumpkins to the electricity arching through Electro's body to the stitching on Spider-Man's gloves.

Guests will experience the ride's new details through all-new 3-D "Spider-Vision" glasses, complete with new lenses made of dichroicfilters for amazing color and clarity.

The enhanced attraction features a new original music score. It is the same Spider-Man theme you love – with a rockin' twist.

The ride vehicle's audio system has been upgraded from 8-channel to 16-channel so riders will be even more immersed in the action. Guests will experience 3-D sound quality.

All of the film animation for The Amazing Adventures of Spider-Man has been completely reanimated in 4K high-definition – that's one of the highest HD resolutions available.

Every single scene in the attraction has at least one new element.

There are hundreds of cool new details for guests to discover in the attraction. Lighting, sets, graphics, props and even scenic detail have been updated to further enhance the animation's tremendous improvements.

Legendary comic book icon and Spider-Man co-creator Stan Lee makes a cameo appearance in the new film animation.

The attraction experience continues to use the latest technology to provide guests a fully integrated and immersive experience with some of their favorite Marvel characters.
For more information about Universal Orlando Resort, visit www.universalorlando.com.
About Universal Orlando Resort
There are many ways to enjoy your Orlando vacation – but there is only one Universal Orlando Resort. It is a completely separate destination featuring two theme parks, three magnificently themed on-site hotels and a nighttime entertainment complex. It's the only Orlando destination where you are not just entertained – you are part of the most exhilarating entertainment ever created.
You can soar above Hogwarts with Harry Potter, swing above the streets with Spider-Man, battle aliens alongside Agent J, and help Shrek save Princess Fiona in Shrek 4-D. You can be courageous, be outrageous – and be extraordinary.
Universal Orlando Resort is owned and operated by NBCUniversal, one of the world's leading media and entertainment companies.