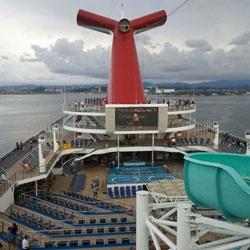 As you know, cruising has become a significant interest here and so I invited Austin Gambino from CruiseWeb.com to put together a series about taking a cruise as a great mancation option.
Read on for his insight into what makes taking a cruise a great mancation or lad's holiday option!
Stop looking at your twitter feed, shut off that music, and pay attention, because today, men, we discuss the Man Cruise. In an upcoming series of blogs, we will discuss why you should plan a man cruise, I'll drop you some insider tips on how to go about it, and take a look at some of the best man-stinations and man-scursions available. Pay attention, your next man-cation depends on it.
To begin, men, you must take three things into account: location, location, location. Let's be honest here, no matter what the vacation is, it's always about the destination. Man Cruises are no exception. As we will chronicle in the upcoming weeks, there are many man-stinations that would be ideal for a Man Cruise, it really just depends on your man crew and what you're looking for. Looking for adventure and rugged activities?
An Alaskan cruise is the perfect move; with dog sleds, mountains, ice fields, and deep sea fishing. Looking for comida picante, latin babes, and futbol? Plan a cruise to Spain. Don't worry, we'll get into these destinations more in-depth in the upcoming weeks, as well as suggest a few man-scursions (cruise excursions) that you may want to look into. Stay tuned men, stay tuned.
Since I'm a true dude, I decided to drop you a few insider tips ahead of time.
Don't wait and expect prices to drop, they will never be as low as they would be if you planned ahead of time. That's why you MUST plan as early as possible when putting together a Man Cruise, because cruise deals are always at their absolute lowest a year before sailing.
Research your cruise ship ahead of time. You do NOT want to end up on a kiddie cruise with wailing babies, pesky kids, and mediocre fare. On the same token, you do NOT want an extremely fancy regal voyage with a bunch of older couples. Be smart. Get on the old world wide web and take a look at some ship reviews.
That's about all the insight you're getting for today, but come back next week for our first comprehensive look at a man-stination: Alaska. Have a tremendous weekend, men.