Vegas may be one of those places that is overwhelming when you try to figure out where to go for the ultimate mancation. We had the opportunity recently to explore a fantastic choice that we heartily recomend you consider as well, The Palazzo.
In addition to being a great casino hotel, The Palazzo is also home to Lagassi Stadium, which may well be the pinacle of perfection when it comes to sports bars!
Gentlemen, I was in search of the perfect place to base myself for "Mission: Las Vegas." Not to get all spy crazy on you, because the mission for Las Vegas is absolutely to party and loose to track of time. Thus how difficult could this one be? However, given all the choices for accommodations in Las Vegas, I spent serious time researching and The Palazzo became the obvious choice. I invite you to prepare for this mission with me during our adventure at The Palazzo featuring several videos segments from our our amazing stay....
Was it the Italian "macho sounding name" that led me to this choice? At first glance it might appear so, but here at The Palazzo, Las Vegas is embodied at an elevated definition of luxury and hospitality - one of comfortable elegance, personal conveniences, infinite options and simple touches of home. This AAA Five-Diamond and Forbes Mobil Four-Star resort debuted in December of 2007 next to its sister-property, The Venetian.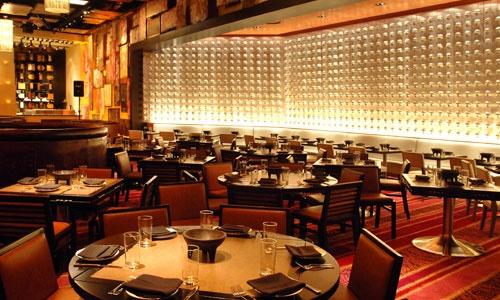 Ok, all those diamonds and awards seem appealing and even more so when I can gamble and win some money to buy rel diamonds for my lady. However, no matter how good my luck is, with the interior view of both The Palazzo and the Venetian, I feel like fortune has brought me here. Thus, this is a mission I'm glad I accepted!
In 2010, The Palazzo ranked first among Las Vegas Hotels in Travel + Leisure's World's Best Awards. From The Shoppes at The Palazzo with Las Vegas' first ever Barneys New York, and incredible LAVO to the largest Canyon Ranch SpaClub in the Americas and world-class dining, which is where I am beginning my stay at The Palazzo. I find my first escape of the day from the rest of the world in Vegas in the ultra-man cave Lagasse's Stadium by Emeril Lagasse.
You'll see in this video segment, it is tucked away in the lower level (basically the basement) of the Palazzo, away from all the sounds and life of the Las Vegas strip. Inside, I discovered solitude being surrounded by 100 HD TV's and unique, yet manly snack and meal creations by Celebrity Chef Emeril Lagasse. This is the sports fan's ultimate dream tailgate from the comfort of his own stadium box seating with beer flowing and more then 100 HD TV's. Some of the signature dishes include Emeril's Steak BAM'Wich, New Orleans Style Crab Cakes, Creole Reuben, BBQ Ribs and game-day favorites. The chicken wings "kicked up a notch" were my favorite!

All of this luxury and I haven't made it to my suite yet. So now, onto my suite which you can view in full in the video included right here The Palazzo features 3,066 palatial suites and each is specifically fashioned for convenience and comfort. Distinct features of the accommodations, starting at 650 square-feet, include: private bedchamber; sunken living room; remote-controlled Roman shades and curtains; two 32" flat screen televisions; 20" LCD television in the bathroom; a 130-square-foot
bathroom finished in Italian marble; wireless high-speed internet; in-suite safe and a personal fax, printer and copier.
The suites of The Palazzo range from 8,000+ square-foot presidential & chairman suites with private outdoor plunging pools to the 720 square foot Luxury Suite; nearly two times larger than the standard Las Vegas hotel room.

However, as much as I enjoy relaxing in the suite, I have an appointment at the Canyon Ranch SpaClub in The Palazzo. Canyon Ranch is a multiple recipient of Forbes Travel Guides Four-Star and offers a rich sampling of the programs and services that have made them the overwhelming choice for best spa according to the readers of Travel + Leisure, Condé Nast Traveler and Departures magazines.

The state-of-the-art 134,000-square-foot facility services guests of both The Venetian and The Palazzo resorts. With more than 100 daily offerings including fitness activities for all levels, massage and body treatments, exercise physiology, physical therapy, movement therapy, nutrition counseling and skin care and beauty salon services, there is something for everyone.

Today, I'm going for a man's facial. "From the ultimate sports destination and man cave I go to a facial?" you ask. I'll just leave you to watch the video segment from Canyon Ranch Spa Club which gives some insight on men's skin care and why we have an important role as men taking care of our thick skin! No matter what service you choose at Canyon Ranch, it is yet another escape offering another level of peace at The Palazzo.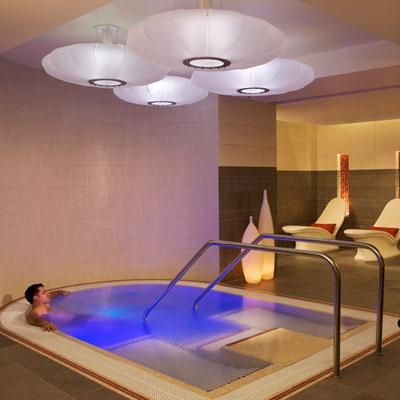 With a sea of endless dinging and nightlife choices including the Double Helix Wine Bar, Fusion Mixology Bar, CUT by Wolfgang Puck, I to hit the casino for some gaming as I contemplate what I will do with my night. The Palazzo's 105,000 square foot casino houses more than 120 table games and nearly 1,400 of the hottest slot, video poker and reel machines found on the Las Vegas Strip. The Palazzo is also home to the "Pocket Casino" in-running and gaming.

I'm receiving many tips to dine at Dos Caminos by Scott Linquist and Roberto Hernande. Like everything else at The Palazzo, this is far from your typical Mexican restaurant. I've often wondered at what moment the most gourmet and modern of all Mexican experiences might enter my life as I enter yet another escape South of the border within The Palazzo. Surreal décor like the approximately 1,100 skulls artistically positioned on wall bring a modern feel to Dos Caminos.

At the top of the list to favor here is the made-to-order guacamole. They'll let you choose your level of spice. I opt for between medium and spicy. A few minute later, I am presented with a generous portion of the best gauc I've ever tasted! Dos Caminos becomes just that bringing a grandé fiesta to Las Vegas, capturing the true spirit of Mexico. The menu features both traditional and modern favorites and more than 150 tequilas and many Mezcals. I imbibe on a few flights of of each along with a few of their signature margaritas. The servers knows those their spirits in a serious way and guide me to the best pairings with the food.

I have one called "Teatime in Jalisco" made with Milagro Blanco Tequila, Green Tea Agave Nectar and Lemon. This one is refreshingly unique blend of the essence of this delicious tequila accented by a citrus and backbone of green tea. Wow! My second margarita is the "Cruiser," which has Don Julio Blanco, Muddled Brown Sugar, and Pineapple. This is sweet compliment the citrus and playful flavors in the Tuna, Shrimp and Alaskan King Crag Ceviche Trio Sampler. For the main course I go for
the "Cochinita Pibil," a slow roasted suckling pig with sautéed plantains, habanero pickled onions, and achiote sauce. The depth of the flavor in this little suckling makes me feel no pain for the little fella, but much joy for my "Mission Las Vegas."

Almost accomplished, now I'm going for the Oaxacan Chocolate Mousse Cake with morita chile, pistachio ice cream. I'll leave with you with something to sweeten this deal more than just the dessert. From the dining, to the amenities, and the overall casino, The Palazzo also has some of the best hospitality I've ever experienced in Las Vegas. The staff are all very knowledgeable, passionate and go beyond the standard "hospitable Vegas standard" to give you more than you'd ever expect.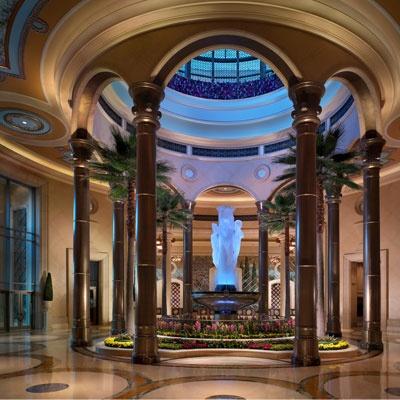 Now, I am say, "Mission accomplished!" I look forward to returning to The Palazzo again soon. Special thanks to Richard Hudock and Dawn Britt.