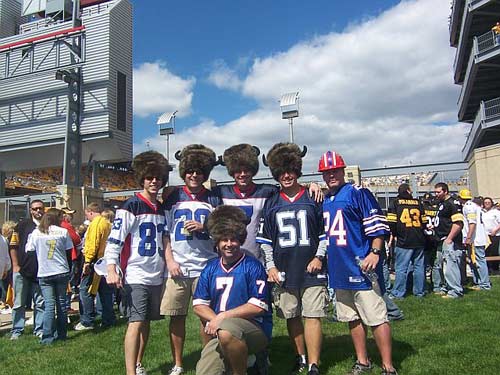 Our mission of not just talking about great mancation ideas, but actually showcasing some great mancations from our readers continues!
This mancation story was submitted by John from California. Since 2005, a group of friends and I travel to one's Buffalo Bills away game per year, Tampa in 2005, Houston in 2006, Pittsburgh in 2007 and this year will be headed to Arizona in October. We have nicknamed our group the 'Wandering Herd' and are very recognizable given the hats that we wear.
This trip provides an opportunity to see friends that we would normally not see during the year. The weekends are pretty much designed/organized the same. We all arrive before Noon on the Saturday prior to the game, tailgate Sunday (we have created several new parking lot games) and leave the Monday after. Our original group size was 5 and we have expanded to 9 this year. In order to be a 'Wandering Herd' member you must fulfill our small guidelines/code of conduct:
Must wear a 'Wandering Herd' hat
Must wear a Buffalo Bills jersey
If you are not 'technically' a Bills fan you must be one for the weekend, and resist saying anything that can be perceived as negative about the Bills
Must not be rude to the home fans, after all we are in their backyard - so treat people with respect
Must remove 'Wandering Herd' hat while sitting in seats watching the game
Must wear hat at all other times, inside and outside the stadium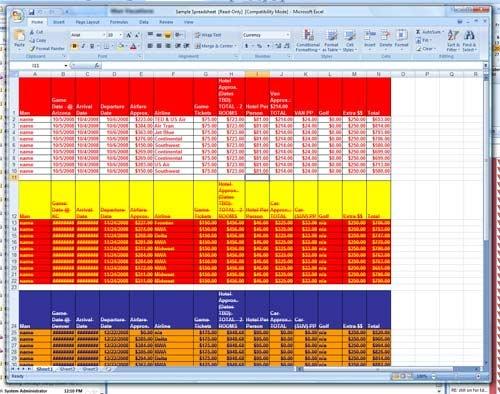 Logistics & Approval: When the NFL schedule is released the away games are selected and placed into a spreadsheet. The spreadsheet also incorporates estimated cost everything that is needed as well as estimated flight costs from the home location of each traveler. This year we have 'Wandering Herd' members coming in from NY, VA, CO, IL, and CA. This spreadsheet is a key point when 'requesting approval' from wives and girlfriends. It supports that fact we have thought about how much it will cost and organized far enough in advance that we can save for the trip. I can't say enough about the spreadsheet and the leverage it provides to get that all-important 'okay' to wander (go on the trip). I attached an example - names removed. Everyone votes and the location is picked, all destinations not picked are crossed off. If there is a tie the co-commissioners will select. We also incorporate 'Wandering Herd' Performance Awards at the end of the weekend.