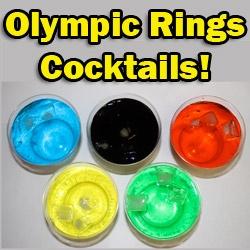 Planning a party to celebrate the Olympics?
Three-O has a cool set of recipes to get in the Olympic Spirit.
This is one of the fun things that I like about alcohol's is that you cna be super creative with it like the master mixologists at Three-O are with the following recipes.
Three-O Vodka sent in these recipes, let me know if you try them and how they work out!
Blue Skis
3 oz. Three-O Grape Vodka
½ oz. Blue Caracao
1 oz. lemonade
Mix ingredients in a glass with ice
Mountain Mist
3 oz. Three-O Citrus Vodka
½ oz grapefruit juice
½ oz pineapple juice
Splash of Triple Sec
Mix ingredients in a glass with ice
Black Ice
1 ¼ oz. Three-O Tripe Espresso Vodka
¾ oz. premium dark chocolate liqueur
½ oz. orange liqueur
Mix ingredients in a glass with ice
Curling on the Rocks
2 oz. Three-O Raspberry Vodka
½ oz. Melon Liqueur
½ oz. Triple Sec
Splash of cranberry juice
Splash of orange juice
Mix ingredients in a glass with ice
Olympic Flame
3 oz. Three-O Cherry Vodka
½ oz. Triple Sec
1 oz. cranberry juice
Splash fresh lime juice
Mix ingredients in a glass with ice