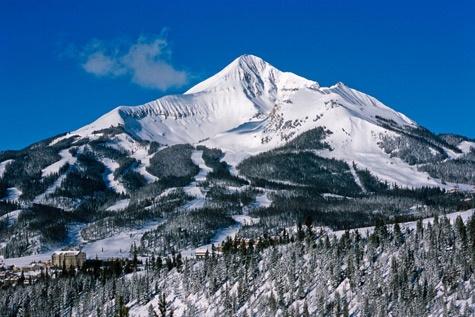 The best winter vacations include macho outdoor activities, and America's wild West is the perfect place to take part in the fun.
For the "biggest skiing in America," look no further than fashionable, friendly Big Sky Resort's (www.bigskyresort.com) nearly 6,000 acres of terrain. This hot spot offers lodging options at a variety of price points with dining, drinking and entertainment venues for every skill level. To reach this winter wonderland, fly into Bozeman airport and hop a bus with Karst Stage company that makes regular runs between the airport and Big Sky.
After a day of skiing, snowboarding, cross-country skiing or snowshoeing, regain some energy at legendary Yeti Dogs eatery at the mountain base for an all-natural hot dog or grab a pizza at Mountain Village Plaza. Summit Hotel's Carabiner Lounge offers après-ski entertainment with live music, local Montana brews, and a see and be-seen crowd. Fine diners will appreciate the succulent lamb shank or fresh pastas at Andiamo restaurant while a juicy burger or pizza is available at a variety of locations around the resort.
The elegant Summit Hotel, which hosted President Obama and his family and also Vice President Biden, features slopeside rooms or mountainview, multi-bedroom condos. The more affordable Huntley Lodge comes with comfortable bedding and rustic décor. Both feature outdoor heated pools and whirlpools, free wireless Internet, and numerous dining outlets. Access to the ski lifts and trails are only a few steps away.
More than half the slopes are considered advanced, but beginners have plenty of snow to conquer without fear as well. Snowshoe and cross country aficionados make a beeline for Lone Mountain Ranch (www.lmranch.com), an independent property featuring authentic log cabins, gourmet dining, and groomed cross country trails. Horseback riding, live music, and other camping activities are on offer.
The most unique dining option here is the Montana Dinner Yurt experience (https://skimba.com/home.html) invented and perfected by a couple of guys who wanted to introduce the majestic mountains at night to visitors. After a short snow cat ride uphill, diners reach a secluded mountainside corner lit by torches and a bonfire perfect for sledding. Dinner is served in a genuine Mongolian yurt with live music, steaming French Onion soup, and family-style service including fresh salmon and prime rib.
Bozeman/Big Sky is close to Yellowstone National Park's western entrance, another wintertime escape not to be missed. Renting a car and driving down the road is simple. The first stop along the way will be West Yellowstone, a town of a few thousand that swells thanks to its main entrance to the park.
Before entering the natural oasis, get one last fuel up at Wild West Pizzeria, a local favorite that has every combination of toppings imaginable on the menu. Then take a peak at the popular Grizzly & Wolf Discover Center (www.grizzlydiscoveryctr.org) for an appreciation of who really calls the park home.
Only five percent of visitors to Yellowstone arrive during winter, but the majesty of America's first national park grows when covered in fluffy snow.
Snowmobiles and snow coaches operated by Xanterra (the park's premier lodging provider, www.xanterra.com) are a great way to explore if traveling without a rental car.
To get the hang of snowmobiling, visit the family-owned Yellowstone Vacations (www.yellowstonevacations.com) in West Yellowstone to rent a snowmobile and hire a guide to explore the trails around Two-Top. Adventurers max out at 40mph while navigating the groomed trails.
Once primed on snowmobiles, hop a Xanterra snowcoach into the park. Head straight for famous Old Faithful geyser where nighttime eruptions during winter are a sight to behold as water crystallizes in mid-air. Most hotels nearby are closed during winter, but the modern Old Faithful Snow Lodge happily welcomes visitors into its elegant confines.
A fireplace warms the wood-trimmed lobby where live piano tunes and a popular dining room and bar await. In guest rooms, plump duvets, Keurig coffee machines, and free wireless Internet are well-used. The geyser is a short walk from the lobby and recently opened visitor's center.
Snowmobilers can explore with guided tours or aboard an all terrain-equipped snow coach. Driving through whitewashed canyons and snow-covered mountains can yield sightings of wolves, coyotes, elk, bison, and ravens.
Spend time at historic Mammoth Hot Springs Hotel near the Montana border before heading home. Built in 1871, the accommodations are simple yet cozy with new duvet-covered beds and fresh carpeting. The affordable rates include rooms with or without baths. This is the perfect base camp for a trip to Lamar Valley with the Yellowstone Association Institute (www.yellowstoneassociation.org) to observe packs of wolves or soaking in the nearby Boiling River heated with geothermal energy (good luck stepping out of the warm water when it's snowing!).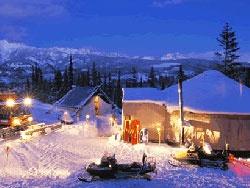 The western U.S. is home to dozens of popular winter getaways, but Big Sky and Yellowstone are two favorites offering a solid package of adventure for the heartiest of outdoorsmen.