Thanksgiving is fun, you get to spend time with family, drink and eat a bit too much, watch football, boast about your accomplishments of the past year and then do dishes, struggle with what to do with leftovers, juggle too many dishes and not enough space ... Wait? What? That's not fun but it tradition and if you are brave enough to try something new there's a great option this year from the folks over at Buca di Beppo - one of my favorite restaurants.
The real question is what are you going to do with all that time you saved?
Here's our top 10 Ideas:
Hide out in the den and start your Black Friday shopping
Sneak a pie out to the back porch and hang out with the guys
Watch even more college football!
Give your wife an extra hug and kiss (she deserves it!)
Thank your mom for all the hard work she put in before curb-side Thanksgiving dinners from Buca di Beppo were available
Do an extra check on your Christmas lights to make sure they are ready to turn on tomorrow
Grab your tablet and start planning your next mancation
Amaze the younger members of the family with spectacular tales from previous Thanksgiving disasters in the past such as the time Aunt Nancy burned the turkey or the time Uncle Stewy ate too much green bean casserole
Have a spirited conversation over which is the BEST Christmas movie
Relax and enjoy how it feels to be the Thanksgiving Hero this year!
Italian restaurants are always about big family style Thanksgiving dinner and so Buca di Beppo knows how to serve up a feast for Thanksgiving! To make thing even easier, they are giving us two options this year - Thanksgiving Feas Pans to pick up curb-side and take home, or you can dine in.
Choice of Sliced White Meat Turkey (or Hickory-Smoked Ham)
Homestyle Gravy
Roasted Garlic Mashed Potatoes
Spicy Italian Sausage Stuffing
Green Beans
Cranberry Sauce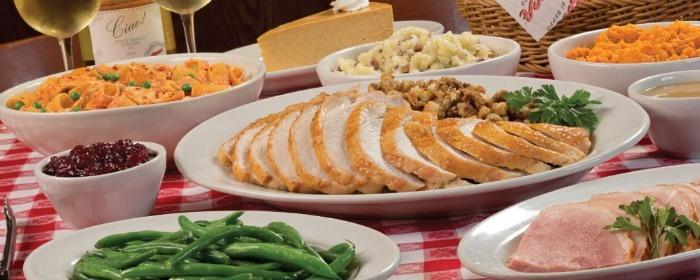 Pricing starts at $15.99 for 10 guests or $299.99 for 20 guests and you can customize with any of Buca di Beppos's traditional Italian sides as well as a pumpkin pie for additional cost.
If you prefer the dine in option, they have you covered there too with a 3-person meal for $53.99 and a 6-person meal for $98.99 that includes pumpkin pie.