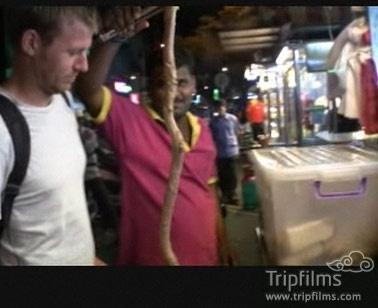 Man Tripping fan, Kyle Smith sent us word about a video on one of his favorite sites, Tripfilmss where two Canadian guys exploring Penang, Malaysia get their first taste of "Torpedo Soup".
Well, it would be more appropriately labled "Bull Cock Soup" but who in the world would eat it if it was called that.
Anyhow, Tripfilms has tons of other great videos from mancations and guys weekends all over the world. It is a great site, so I recomend that you head on over there and check it out!
Watch as the guys get their first taste of Torpedo Soup ...
Ok, so while I am pretty open about trying new things, I think I would have to pass on Torpedo Soup.
How about you guys? Anyone else tried Torpedo Soup recently?