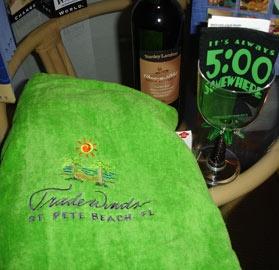 If you haven't been here before, St. Pete Beach is located just south of Tampa and St. Petersburg and has a ton of great stuff for guys looking for a quick escape. While suprisingly winter is a slow time down here, I had a great time and would absolutely recommend that you consider it for your next guys weekend too!
While sipping a Miami Vice at one of Tradewinds's several pool-side bars, I had a chance to chat with bartender Garrick Roe and some of the guys about their favorite places to go and things to do.
Tradewinds Resort features two properties that guests of each can share in the amenities at both. I stayed at the Sandpiper, the smaller, more private of the two resorts as their guest.
The other property is the Island Grand and is more geared towards families and meetings (though it would be great for a guys weekend too!). Sandpiper is ideal for mancations and romantic trips because it caters less to families as more family friendly amenities are found at the Island Grand.
The following is a collection of inside tips from Garrick and other guys at Tradewinds that I talked with while wandering around the resort. If you have any other suggestions let me know!
Bars:
There is no shortage of bars in the St. Pete Beach area, and the resort that we are staying at, Sandpiper has plenty by itself. However, to get the real local flavor it is always best to venture off site and go where the locals go. Two places everyone agreed on were Caddy's and Ka'Tiki, both in Sunset Beach.
Also, if you are staying at Sandpiper, you will want to check out Jimmy B's Beach Bar where they claim to have more than 200 frozen drinks available, but just the live music and the beachy cool atmosphere makes it worth visiting.
Golf:
While there are many golf courses in the Tampa area, the guys at the bar absolutely recomended checking out the Belleview Biltmore. If traditional golf isn't your thing, Tradewinds has an on-site mini golf course and disc golf is apparently pretty popular around here too as I was told to check out the course at Maximo Park and Beach in St. Petersburg.
Waverunner Rentals and Watersports:
Tradewinds has a ton of watersports activities available right from the beach infront of the resort, but the one we are looking forward to most is to hop on some waverunners and see what's its like. They also have parasailing, water trikes, and other activities. However, this is a mancation, so lets go racing!
Giant Inflatable Slide:
Designed for kids, but open to all ages, Tradewinds has a GIANT inflatable slide open in front of the Island Grand property. If you are really into it, they sell unlimited slide passes so you can even do a tournament with your guys to see who is the best slider.
Hot Tubs and Pools:
The ocean isn't the only game in town here at Tradewinds and they have some great pools that are nice and warm (important because the ocean can be pretty cool in the winter (69 degrees today). One of the nice things about Tradewinds Resort is that they have several adults-only pool areas so that you can escape from the sounds of crying or screaming children while you are relaxing and having fun with your guy friends.
Hammocks:
So you have been up racing waverunners, swimming in the ocean, and drinking fantastic drinks from the bar ... it's time to relax in the hammocks on the beach! Not much more needs to be said about these but it was nice to take a brief nap before heading inside to write this article!
Fishing Charters:
Come on, you are down in Florida so you have got to at least consider grabbing a fishing rod and angling for some snapper. I am told that Reel Animal Fishing Team is a great group to go out with and plus they are celebrities here in Florida as they have their own fishing radio show on ESPN too!
The Beach!
Ok, the beach is probably why you came to St. Pete Beach rather than someplace else. Let me tell you, it is one heck of a nice beach with white sand, extremely clear water, no mud, and very few stones either. Also, the slope of the beach is really nice, so the waves are small and you can walk out quite a ways so that as you throw the football back and forth and taunting each other you don't bother anyone.