In an age when Mexico and the Caribbean are just as accessible as Mexico, it is hard for Florida resorts to stand out.
Luckily, Tradewinds's Sandpiper and Island Grand are in great condition, offer tons of great activities for guys including wave runners, a giant beach slide, a great beach, friendly staff, and it is close to tons of great local places including a cigar bar, Cuban restaurants, and beach bars.
Two Resorts in One!
Tradewinds Resorts is actually two resorts that are right next to each other, separated by a small resort in between. Guests of Island Grand and Sandpiper are welcome to use facilities at the other resort, including the slide, pools, paddle boats, beach cabanas, bars, and restaurants.
The resorts are located on St. Pete Beach, which is just south of St. Petersburg Florida and south west of Tampa. This means that the resort is very accessible and since Allegiant flies into St. Pete there are some cheap flights too ($79 each way from Chicago / Rockford!).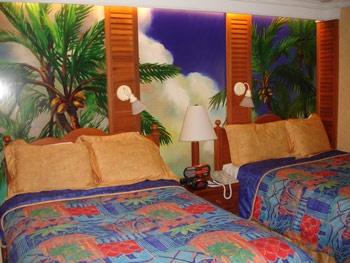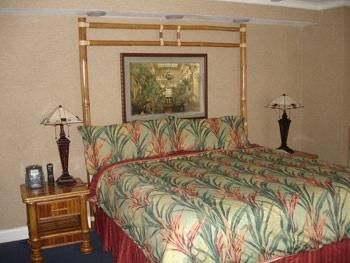 Both resorts feature a very tacky - but fun and appropriate colorful tropical decor that immediately places you in vacation mode. Facilities were all in great shape as well - something my travel agent friend Stephanie had warned me that was not typical for many other Florida beach resorts.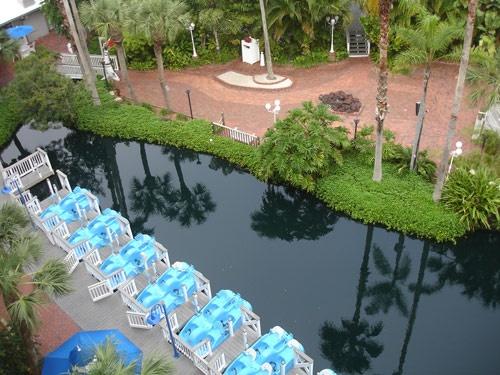 Island Grand:
As the name suggests, the 585 guest room Island Grand is the larger of the two resorts and has more of the on-site facilities including the paddle boats, beach slide, water sports rentals, and the two of the three restaurants.
One of the great things about Island Grand is that if you are looking to bring man's best friend with you on your next guys weekend Island Grand will welcome your dog. They don't just tolerate dogs, they actually have dedicated dog facilities.
Other aspects of Island Grand that make it stand out is that you can rent paddle boats and meander through the resorts network of canals, or if adventure is more your style, there is a giant, inflatable, beach slide directly in front of the resort that welcomes adults as well as children.
Sandpiper Resort:
Located a quick 2-3 min walk up the beach from Island Grand is the quieter, more adult oriented Sandpiper Resort.Featuring 159 guest rooms it is significantly smaller than the Island Grand.
That doesn't mean that it isn't a great option for your next mancation though since smaller and quieter also means less kids. After all, who wants to be surrounded by other people's munchkins when escaping from your own!
While Sandpiper doesn't feature an upscale restaurant or a brunch buffet like Island Grand it does feature what in my opinion was the better of the two restaurants we tried. Piper's Patio is located right between the adults-only pool and the main pool and is perfect if you are looking for a great sandwich, nachos, or other beachy food.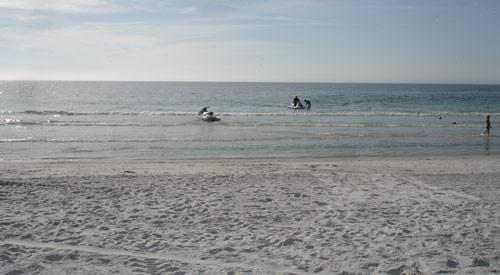 The Beach and Activities:
Tradewinds features all of the water sports activities you would expect at a resort on the Florida Gulf Coast. I had the opportunity to try a wave runner for the first time, and unfortunately left my hat as it flew off while trying to break my previous speed record of 63 mph. At about 65 mpg my hat flew off and I discovered that wave runners take a LONG time to slow down to a speed where you can turn around.
The sacrifice was worth it though, as it was a heck of a lot of fun racing my companion on the relatively calm waters.
Because of how calm the water is there, it is also great for snorkeling, kayaking, swimming, and they even have pontoon boat tours that pull right up on the beach if you are looking for a dolphin cruise.
No matter what your choice of activities the water sports and beach staff was fun and friendly.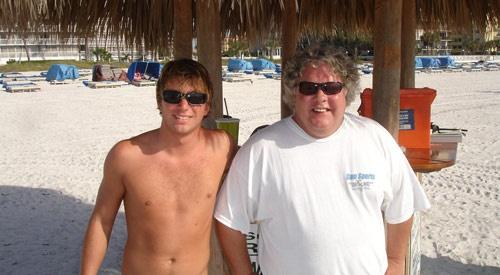 Other Stuff in the Area:
While Tradewinds does have some nice bars on the resort properties, sometimes it is nice to explore the area too. Right next door to Sandpiper is a fun beach dive bar that boasts 200+ different frozen drinks (a challenge I tried to take on but failed miserably).
This is where you may experience what it means to have a daiquiri "St. Pete style" ... after pouring the rum my drink I noticed the bar tender then filled up my straw with 151! This is a great kick and later I noticed that other bartenders did a similar trick, including our friend Garrick back at Tradewinds (though he used Cruzan instead).
St. Pete Beach has a Beach Trolley that goes along the main strip, so if you want to stop by a cigar bar, The Latin Quarter is only a short ride, there are several Cuban restaurants, and more bars all easy to get to WITHOUT having to worry about driving.
FTC Disclosure: We were guests of Tradewinds and received complimentary room, some meals, and some activities.