In Star Trek they have holodecks and we've experimented with Virtual Reality for decades now - but it's never been seamless. We're almost there though, and so I was very excited to be invited to be among the first to try out Virtual Reality at Level Up inside of MGM Grand Las Vegas. This is as close as we've come to being able to experience immersive virtual reality environments and it is absolutely one of the best adventure experiences in Las Vegas today.
What makes Virtual Reality special is that features multi-player games where you can roam freely, without being tied to stationary equipment. This means that you can forget about your desk or living room and instead allow your eyes and ears to place you somewhere else.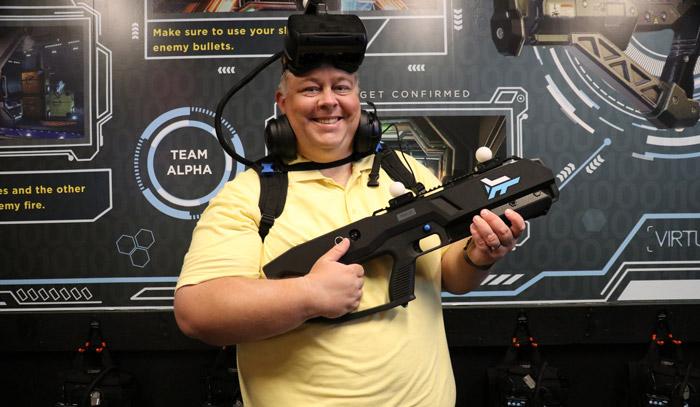 Most people who play Virtual Reality games today, do so with their phone inserted into googles, or have those goggles connected to their computer. Virtual Reality is powered by Zero Latency's technology that melds the same gaming hardware that you can get at home (Razer's HDK2) and Razer headphones, but you are wearing a high-end Alienware laptop in your backpack. Motion is tracked in the arena using the same technology seen in Playstation VR. This looks a bit weird initially, since each player has lighted balls on their head and guns so the computer can calculate player positions accurately.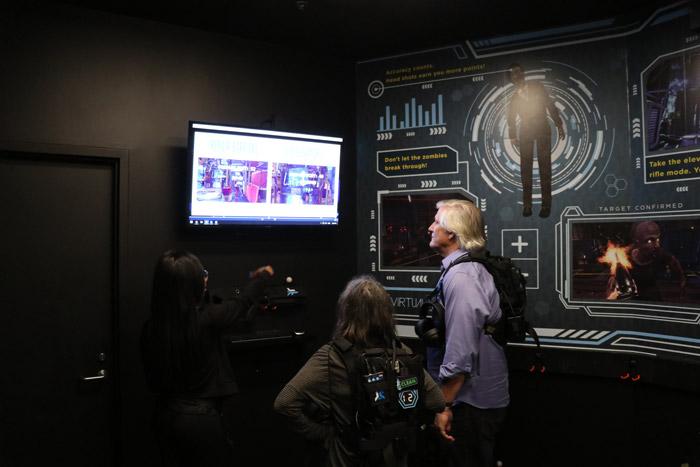 After suiting up, players receive a mission briefing from the game(s) that they have selected. Virtual Reality currently has three options but I'm told that new games will be added every few months to keep things fresh.
The current offerings include a package of 30 minutes worth of game play for $50 per person:
Zombie Survival (15 minutes) – The team is trapped in a zombie apocalypse, with the undead lurking around every corner ready to attack. Armed with a comprehensive arsenal of weapons, survivors must band together to take down wave after wave of zombies and rebuild safety barriers before extraction by the rescue team.
Singularity (30 minutes) – Something has gone wrong in a secretive military research space station. While investigating the mystery, teams must battle rogue robots and killer drones through narrow corridors and the zero-gravity environment of space.
Engineerium (15 minutes) – This puzzle adventure is set in a fantastical world with flying whales, giant parrots and colorful creatures. Players of all ages are challenged to solve physics-based problems as a team to advance along floating platforms high above the exotic planet below.
Right now, since they are new (opened Sept 8, 2017) so you can still walk up and jump in the next game, but reservations are recomended. On the website, guests will create an account and select a specific time, games, and number of players.
This is PERFECT for bachelor parties as well as other groups since you have the option of booking all eight spots so you have the game to yourselves.
After the briefing, it's time to put on your headset, grab your gun and enter the 2,000 square foot gaming arena. You'll be joined by up to eight other players, but all the games are currently collaborative so there's no fear of campers or snipers to ruin your day.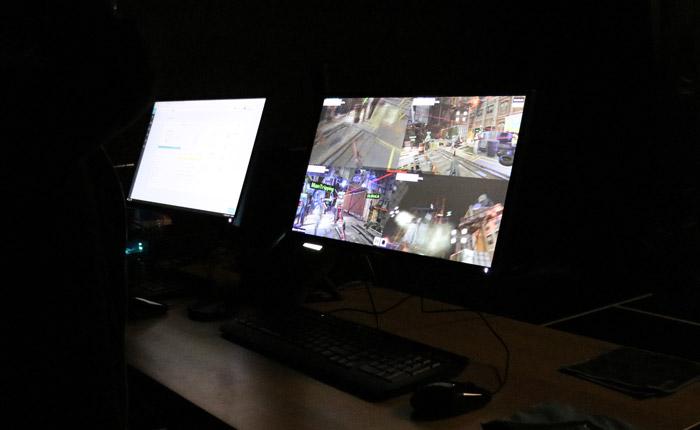 While the arena is generally dark, players will be connected to the "game master" who is observing the match. In addition to ensuring that the game is executed seamlessly, the game master also serves to help players avoid bumping into each other - or the walls.
In our session though, we didn't have any problem with that and in-game visual prompts helped to ensure that players maintained their own spaces.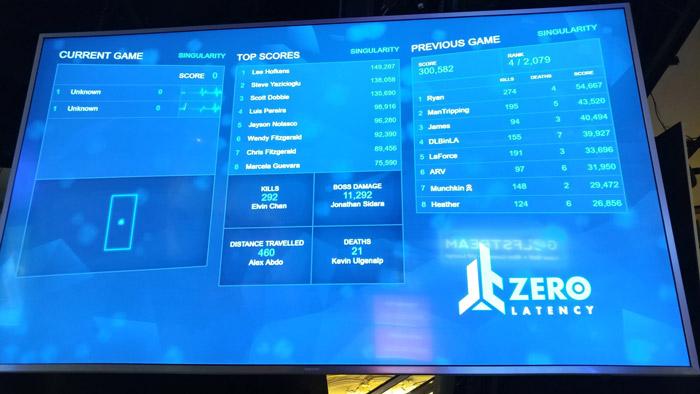 I've used many different VR technologies over the years and so I was very nervous initially that 30 minutes seemed like a long time to be in the game. However, to their credit - the technology and game software didn't cause me any nausea or dysphoria that I've experienced with VR at home. Similarly, the resolution was high enough that I was able to suspend my disbeliefe for a few moments.
At points in the Zombie Survival game I was genuinely freaked out when I turned around and discovered that there was a zombie attacking me from behind and another couple were climbing down from the roof top.
In total, we played for 45 minutes and the only problem that I had was that my googles fogged up a bit. It's tough duty defending yourself from an onslaught of alien robots that are hell bent on destroying you and your friends, but Virtual Reality one of the most fun experiences that I've ever had in Las Vegas!