Choosing a new laptop is tough, but it used to be a lot easier - Windows or Mac right? Today there is a third option - Chrome but with all the great attributes (lower price, easy to use, light and portable, long battery etc.) comes one really complicated but sometimes hidden attribute ... the processor that runs the whole thing. On the surface it would seem that wouldn't make much of a difference but this IS a laptop and you need a chip designed for that ... not a chip designed for one thing at a time like on your tablet or mobile phone. Truthfully, this is a sponsored post on behalf of Intel but I've been wanting to write this for a while to share my story and why I love my Toshiba Chromebook with an Intel processor!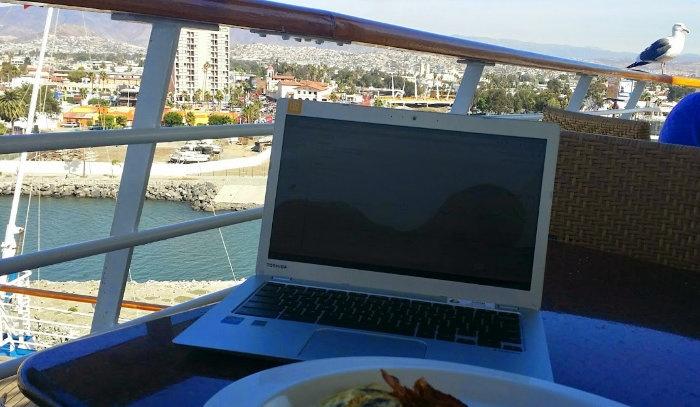 I do most of my work from my desktop and on my phone or tablet when I am out of the house but when I traveled I had to lug an ancient laptop that weighed a ton with me on trips. It was heavy, it had a short battery, and frankly it didn't look cool when I opened it up next to my friends who were happily banging away on their Macbooks.
After some consideration and reading a to of laptop reviews I knew that I couldn't afford a high-end laptop. Even after looking at laptop deals I knew I didn't want to "settle" and I realized that I do most of my work inside of Chrome on the desktop anyhow, so moving to a Chromebook was an easy choice with lots of great options including the Acer C720 featuring an i3 processor and Toshiba Chromebook 2 featuring a celeron processor from Intel as well as others such as the Samsung Chromebook 2 that featured an ARM processor.
For some, it may be enough to have a device that will be used with only a few tabs open and not running multiple things at once and so an ARM processor might be a good fit. However, for me I knew that I was going to be editing photos, listening to music, watching movies, as well as writing articles, editing websites, and doing email. In short - I was going to be using it as a laptop and that demanded that I go with a chip designed for that purpose ... an Intel chip just like that inside my desktop PC.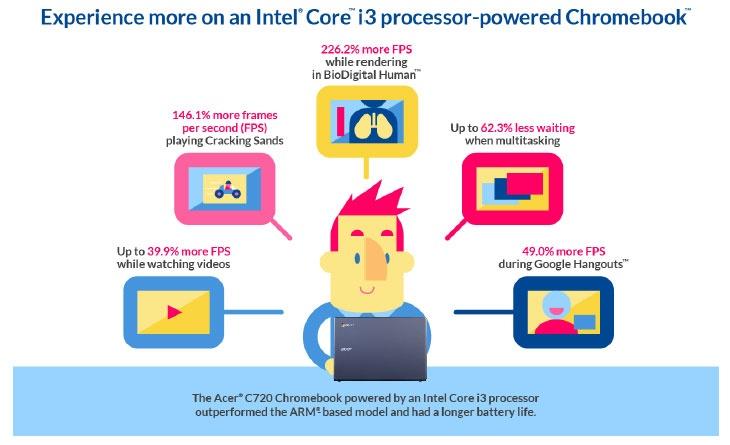 Chromebook statistics can be boring but here's some numbers incase you don't believe me - that means your videos will have up to 39.9% more frames per second (less jitters or lagginess), you will experience 62.3% less waiting time when multitasking, and 49% more frames per second in Google Hangouts too. For me in the simplest terms means I'll be able to get my work done faster and spend more time having fun and checking out cool stuff when I travel. Since the battery life is also typically 7.8% longer compared to Chromebooks running ARM chips it means that you are getting a faster device that will also last longer!
This video puts things into comparison great too ...
It's really simple - while Chromebooks started out as "cheap as possible" devices, it is still a tool that you need to get work done during the day and play at night so it's critical that it meets that expectation. This is no longer a situation where you are considering a disposable device like a $99 tablet. These are devices that you will depend on for work as well as play and that means you need something that can do multiple things at the same time so you can get on with having more fun.
For me, I am extremely happy that I chose an Intel powered Chromebook. The battery life is phenomenal allowing me to charge it at night and use it throughout the day without worrying about where I'll be able to find a charging spot. Its more than fast enough to do Google Hangouts, edit photos, and write blog posts like this. Even video performance is remarkable when watching movies that I dowload.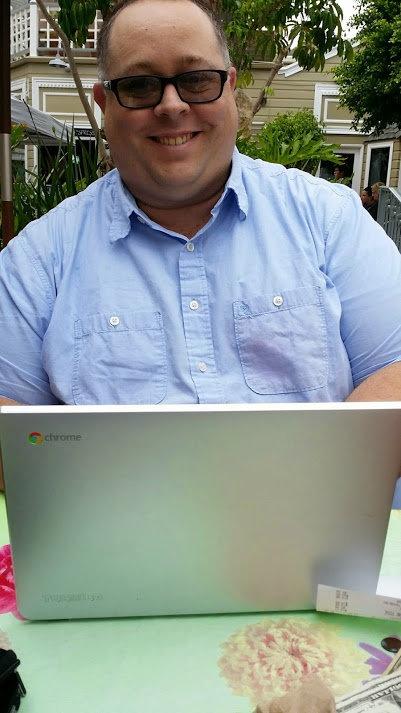 While many of you are avid travelers, this freedom and flexibility could also mean that you can charge your laptop at home and be able to play games or watch movies during your commute to AND from work without worrying about charging it before you come home. It means that if you are going to class that it will work all day and do pretty much everything you need through the browser as well as additional apps you can install through the Chrome Web Store.
This is a sponsored post on behalf of Intel but all opinions are mine.