You can go whitewater rafting in the midwest? ABSOLUTELY! At Wildman's Whitewater Ranch in Niagara, WI, you can spend the morning surfing the rapids, and the afternoon enjoying a challenging rock climb, or perhaps a competative game of paintball!
It was just this past fall when I took a trip up north to the woods of Wisconsin. Joining me was four of my buddies from work on this weekend retreat.
We ducked out of work a little early on Friday afternoon, and drove up to Niagara. Upon our arrival, we grabbed a late drink at Bombers BBQ and had a "few" more drinks back at our secluded cabin. There's no better place to bond as men than hidden deep in the north woods of Wisconsin, and there is almost no where in the North Woods better than at Wildman Whitewater Ranch. Even the name screams mancation!
Saturday morning we woke up, and headed out to the rapids! I have to admit, I was a little concerned since it was late October and in the low 30's outside, however, the wet suits were more than sufficient in keeping us warm. I also never expected such a work out! We were all a lot more sore that night than any of us imagined!
After the rafting adventure, we headed back to Bombers BBQ for some good old fashioned home cookin'! We feasted like we haven't eaten in weeks, and headed back to the cabin. We decided to see what Niagara had to offer, and decided to hit up the local gentleman's club! Let's just say, it's not quite like it is in Chicago!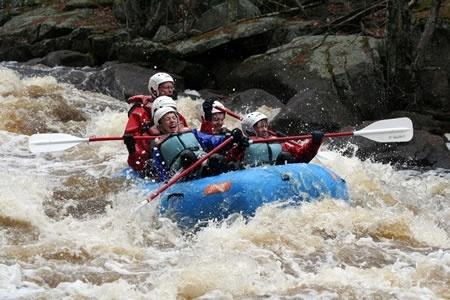 The following morning, we woke up on a wet, cold, rainy day, and hit the mountain for some hardcore rock climbing and rappelling! I was the first one to step foot on the mountain and begin my climb of over 100 feet. 90 feet later, I made it just near the top of the peak where I could no longer squeeze my hands, (or feel them at all!) and rappelled back down to the ground. My friends all began their climbing journey after as the rain picked up. Of course, they used the wetness of the rock as an excuse for not making it as high as I did!
We closed out the weekend with a little more man drinking back at the cabin with our newly acquired rock climbing guide friend. We stayed the night and made that early trip back to Chicago Monday morning just in time for work!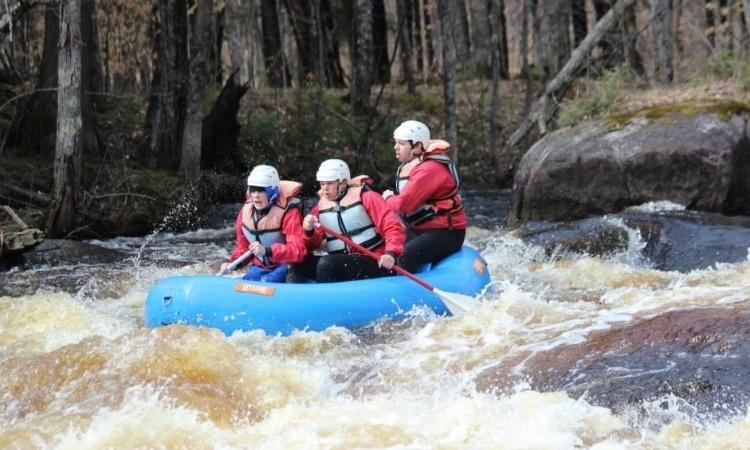 For your next weekend guys getaway, I would highly recommend the Wildman Whitewater Ranch!