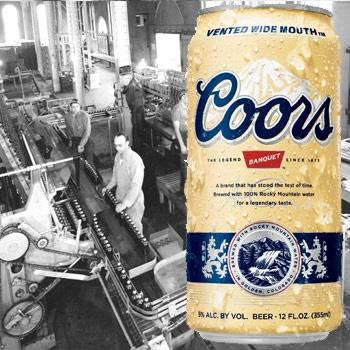 In 1859, prospectors discovered large quantities of gold throughout the Rocky Mountains, and Colorado's gold rush was on. The search for gold led to the founding of many new communities, including Golden, the birthplace of Coors Banquet. 

Now Coors is celebrating the 150th anniversary of Colorado's gold rush with a contest that every guy should love - a trip to a brewery and beer for a year! Coors Banquet, which began quenching miners' thirst in 1873, is giving its fans a chance to strike gold. Through an online sweepstakes running now through Sept. 30, Coors Banquet Facebook fans will have the opportunity to win a one-year supply of Coors Banquet*, a VIP trip for two to the Coors Banquet Brewery, a book about Golden and a live goldfish named Banquet.
So if you are looking for an awesome Rock Mountains mancation this is an opportunity you shouldn't ignore!

Colorado's gold rush and the creation of Coors Banquet go hand-in-hand," said Pete Coors, chairman of MillerCoors.
"On this 150th anniversary, we proudly hold up a Coors Banquet to toast the men and women whose hard work and sacrifices led to the formation of Golden and so many other great cities throughout Colorado."
To enter the sweepstakes, current and new Coors Banquet Facebook fans can visit www.Facebook.com/CoorsBanquet and fill out an official entry form. The Coors Banquet Gold Rush Sweepstakes will randomly award 150 prizes, with one grand prize winner and 149 first-prize winners. The first-prize winners will receive a six-pack of Coors Banquet*, a book about Golden and Coors Banquet merchandise - all cool stuff for your next guys vacation!  The Grand Prize winner though gets the VIP trip to Golden Colorado where he will receive an exclusive look at the brewing process and history of the Coors Banquet historic brewery.

Rocky Mountain water and two-row, high-country barley are the most important ingredients in our brewing process" said Keith Villa, MillerCoors brew master. "We're excited to welcome one of our fans to experience firsthand the care and dedication our team puts into brewing this classic beer."

Coors Banquet is brewed in the same brewery in the base of the Rocky Mountains where Adolph Coors introduced it in 1873.  As legend goes, area miners would throw parties during the 1800s called "banquets." Coors was the beer of choice for the thirsty miners, and it quickly earned the nickname "banquet beer." 

To enter the Coors Banquet Facebook contest and read the complete rules, please visit www.Facebook.com/CoorsBanquet.   To find out more about Coors Banquet's history, please visit www.Coors.com.
And if you win, let me know ... I would love to add your photos and story to Man Tripping!
*The one-year supply of beer will be delivered in the form of a check for $600, and the six-pack of beer will be delivered in the form of a $10 check.