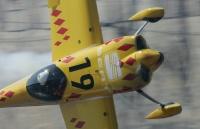 Click here for: 2010 Windsor Red Bull Air Race information.
Last year the Red Bull Air Race was split between Detroit and Windsor but this year apparently the host is just Windsor, though of course you should be able to observe the air race from either side of the Detroit River.
This year's event will be held June 13-14 and hopefully with lower gas prices it will be an even bigger success than last year, when nearly 750,000 people watched the air race.
Unlike last year when the naming rights and air race festivities were split between the Detroit and Windsor sides of the river, this year will be entirely Canadian. This is in large party due to the Canadian tourism agency that funded the 3.2 million dollars to bring it back, while the city of Detroit has other concerns besides tourism. As a result, all of the official activities will be on the Canadian side, including the airport, viewing stands, and other events. That isn't nessisarily a bad thing though as the two cities are seperated only by the river and the city of Detroit will benefit greatly from the tourist traffic being drawn to the officially "Windsor Red Bull Air Race".
Tickets for the Red Bull Air Race ...
While official air race ticket prices have not been released yet, they have opened the doors somewhat to give us an update on what air race ticket packages will be available:
General Admission Tickets - Detroit
General Admission Tickets - Windsor
Hospitality Business Class Race Club - Windsor
Hospitality High Flyer's Lounge - Windsor
Hospitality Race Club - Windsor
Not sure what to expect from the Windsor Red Bull Air Race?
Here is a video that was taken of last year's Detroit / Windsor Race - if this doesn't get you excited about coming back to Detroit, then probably nothing will!
We'll be updating this page with more information as we get it in, but there is also an awesome Red Bull Air Race Facebook page that has tons of information about the air race pilots, schedules, and other information. You can also visit the official Windsor Ontario Red Bull Air Race tickets and information page.