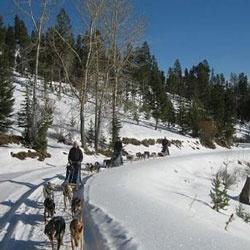 Champion dog sled racer, Jessie Royer, will begin training and selecting her 2013 Iditarod dog team at Triple Creek Ranch along with the help of resort guests this winter. Royer, who competed in Iditarod as a top finishing woman from 2008 – 2011, will return for the 2013 race.
To prepare, she will instruct Triple Creek Ranch guests on the basics of harnessing, hitching and steering a sled dog team.
In support of Royer's 2013 Iditarod race, beginning Jan. 5, 2013 and continuing through Jan. 20, Triple Creek Ranch is offering complimentary half-day dog sled excursions, and will contribute $300 to Royer's Iditarod J-Team for every guest who participates. On Jan. 21, Royer and her handpicked dog sled team will head to Alaska for final training for the March 2, 2013 race. In severe winter conditions the Iditarod Sled Dog Race pits mushers and their dog teams against each other in a 1,200-mile dash from Anchorage to Nome, Alaska. Dog teams must be highly trained and conditioned for the race. This winter at Triple Creek Ranch, guests will have the opportunity to help ten-time Iditarod racer, Jessie Royer, train. Priced from $950 per night, per couple, this all-inclusive Winter Dog Sled Package includes:
Complimentary dog sledding with Jessie Royer from Jan. 5, 2013 – Jan. 20, 2013 Elegant accommodations in a private cabin with wood-burning fireplace, private or nearby hot tub, king log post bed and more Activities: horseback riding, hiking, nature and birding tours, skijoring (a form of skiing where participants are drawn by mounted horses), archery and more Breakfast, lunch, snacks and gourmet dinners, house wines and spirits.
Royer will lead the way with participating guests on training runs through Montana's mountains and vast forests with up to five sleds and 40 dogs running in tandem. "Our guests are thrilled to have the experience and my dogs love the workout," Royer said. "It's great for everyone involved." Triple Creek Ranch's donation to Royer's race will help cover Iditarod expenses, which can total more than $60,000 for equipment, supplies, logistics and dog food.
For more information on Triple Creek Ranch's Winter Dog Sled Package, please visit www.triplecreekranch.com or contact 800-654-2943. For more information on Iditarod racer Jessie Royer, please visit www.huskypower.com. To learn more about Iditarod Sled Dog race, please visit www.iditarod.com.