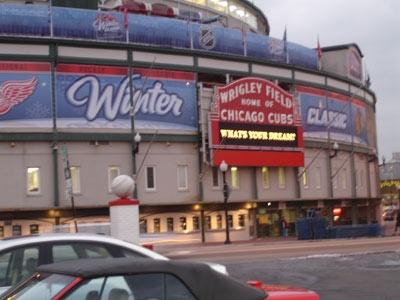 Chicago in January is always pretty cold and icy and to be honest the concept of sitting in Wrigley Field in the winter isn't high on my list of things to do. However, this could be just the excuse you need to plan a Chicago mancation to see the Hawks and Wings at Wrigley. Assuming you can get tickets!
After all, how often do you get a chance to watch an NHL game outside? Or for that matter, how many hockey games take place in a 95 year-old baseball stadium?
The answer to the first is that this game will be the the 3rd time in NHL history that a professional hockey game has taken place outside. Last year the Sabres hosted the Penguins and snow actually fell during the game! Before that, in 2003, it was the Edmonton Oilers hosting the Montreal Canadiens. As to the second ... NEVER! The historic outdoor hockey game will take place January, 1 2009 and start at Noon Central Time. For those who can't make it, the game will be televised on NBC. Unfortunately, ticket information is not currently available for the game. As soon as ticket information is available, we'll let you know how to buy tickets to see these two awesome hockey teams play at Wrigley Field! Until then, it is time to start collecting ticket information rumors from around the net ...
Wrigley Field Hockey Ticket Rumors:
Tickets will be available via lottery, but Cubs season ticket owners will not receive preferential treatment due to the lack of interest in previous special events at Wrigley. (source)
I contacted the Wrigley rooftops managers and they have no ticket information for this event yet, but the Ivy League Baseball Club has started a tickets waiting list.
A Blackhawks season ticket holder tells me that he was told that when the Wrigley Field hockey game tickets go on sale that 'Hawks season ticket holders will receive priority.
I'll be adding more Wrigley Field Hockey Ticket rummors and facts as I get them. If you have a ticket rumor, let me know ...