Beers, Wines, and Whisky all have experienced the "pairing" treatment, but what about the mighty cigar? Well why not? You smoke your meats, you stand around the grill waiting for ribs to finish cooking with a beer in hand, why not enjoy a cigar while you're at it.
Well, that's apparently what Punch Cigars thought and they even released a cool sampler pack that includes a smoker box so you can smoke your meat while smoking your ribs. Additionally, they partnered with Barry "CB" Martin, Char-Broil's lead blogger and grilling expert to create some great cigar and grill recipe pairing ideas.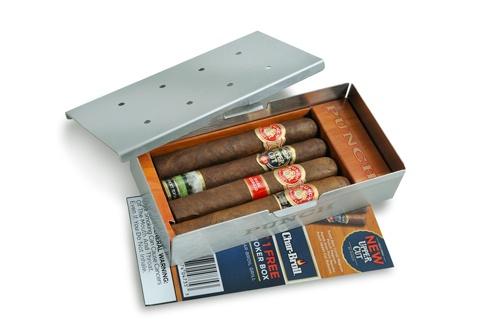 Cigars and grilling seem to go well together, but it looks like you took the concept a bit further and are actually doing cigar pairings. What inspired you to do this?
Punch Cigars and Char-Broil partnered together to kick off the grilling season and celebrate summer. We chose to highlight cigar pairings to show consumers how easy it is to match favorite recipes with Punch cigars to bring out the best flavor in both.
What is your favorite recipe and cigar pairing?
For me, nothing is better on the grill than a great steak. My favorite recipe is EZ Grilled Hanger Steak "Moutarde", a sweet and spicy take on a classic cut of meat. It pairs well with Upper Cut by Punch Grand Corona, a cigar with complex flavors that complement a zesty recipe like this.
What makes for a good pairing?
The most important thing to remember when pairing cigars is to match flavor profiles – recipes with spicy flavors pair well with a bold cigar while foods with a more delicate taste pair best with a milder smoke.
Smoking a cigar and grilling outside are both great components for a summer mancation. What are some of your favorite places to go with the guys?
I love to get outside whenever I can. For me, the best place is the beach. I'll pack up my Grill2Go Ice in my rig, head out to the water and relax. It's great to fish, or enjoy the day with buddies and just kick back and grill every meal. Nothing beats laughing and relaxing while enjoying a Punch cigar.
What are some things most guys don't understand about grilling?
Starting the season with the proper preparation is a step that is easy for guys to forget. If your grill isn't ready, none of your recipes will come out right.
Also, grilling isn't always about cooking your meat over a blistering grill the entire time. I get the best results from my "sear & hold" technique - once you've seared the outside of your meat on your hot grill, you need to STOP grilling and finish cooking the meat at a lower and indirect temperature.
We try pairing Cigars, Ribs, and Bourbon!
{youtube}fjnTpDZnSB8&rel=0{/youtube}