I've been a cigar smoker since my early days in the Navy, now 25 years later I've upped my cigar storage to the next level. Recently we received a NewAir CC-100 Cigar Humidor. After having had it 3 weeks now we think it's great! This "Cigar Cooler" is a new idea for me but makes sense. I once lost a couple of hundred cigars because I bought a few hand rolled from a vender in the Dominican Republic that were buggy. A few weeks later I discovered why you don't buy questionable cigars!
It reminds me of a wine cooler on the outside with its classic square shape and glass door but the inside is pure humidor. It has a Spanish cedar drawer and two shelves to store individual cigars and boxes. The internal temperature is adjustable from 54 Deg F to 74 Deg F. The idea for the lowering of the temperature is to help prevent mold, helps repel damaging insects to include the tobacco worm, and it also adds to the aging process of the cigars.
I have the NewAir CC-100 humidor in my office and it looks stylish and is a conversation starter. You can keep the door closed and still admire the beauty of the cigars while they are at rest in their optimum humidity. It's very quiet, easy to use and set up. I followed the included instructions and was able to hit the ideal humidity on the hydrometer in 2 days.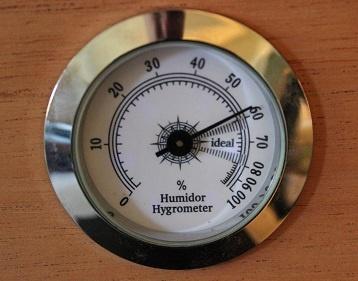 I've been able to keep it at a 70% humidity level using a crystal gel solution. The inside has 2 shelves' that are big enough for some boxes and a drawer near the top able to hold individual cigars. It's rated for 250 cigars but if you like the larger ring size and length then it's going to be a little less.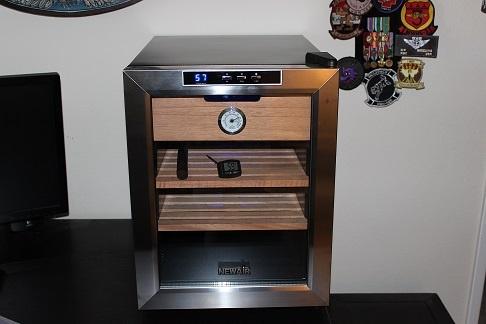 I saw a few reviews that made note of a difference between the set temperature and the actual temperature in the cigar section. I have monitored my CC-100 with an independent internal thermometer and the results show no more than a one degree difference between the built in temperature reading on the door of the humidor and actual internal temperature. To me that's pretty good! The NewAir CC-100 cigar humidor is covered with a limited manufactures warranty if you need servicing. I as a 25 year cigar smoker will tell you that this humidor is about to replace my other 3 wooden ones. Hope you all have a great smoke!