This post is intended for an audience of adults age 18 and older. Disclosure: This shop has been compensated by Collective Bias, Inc. and its advertiser. All opinions are mine alone. #CueTheNewYear #CueVapor #SatisfactionAtLast #CollectiveBias
There are now many Americans that vape regularly in the United States. But how much do you know about vape systems and e-cigarettes that produce water vapor vs other substances? Personally, I'm fascinated by this space and brands like Cue™ Vapor System as an entire industry has been developed with thousands of new options beyond what people once had available. For those of you who have New Year's goals related to lifestyle changes, this is a great way to crush that goal. Ready? Let's take a look at how to better understand how vaping works.
Unfortunately, these thousands of options have created a nightmare for those curious about the space. There are vape systems with and without tanks, some you can re-fill and others you can't. There are dozens of device styles and manufacturers as well as mods to customize the experience. However, for most people they simply just want to ingest nicotine in a more pleasant and satisfying way.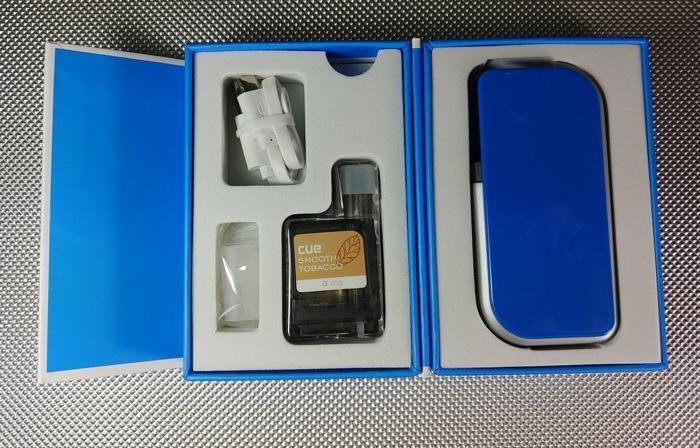 That's where the Cue Vapor System comes in. It was designed to be simple and easy to use, attractive to hold, and affordable so that the user can get a true sense of satisfaction. While some vape systems require you to add juice manually to a tank - a process that can get messy - the Cue Vapor "click and vape" technology makes things much easier. All I had to do was remove the cartridge from the foil pack and slide it into the spot in the device and press till it clicked.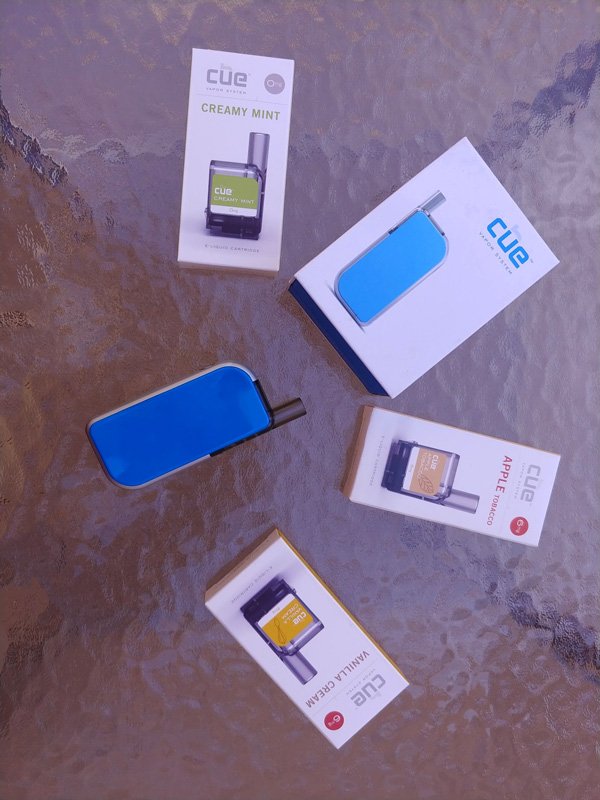 You can shop for these items on the Cue Vapor website by clicking on the products above. You can also sign up for their subscription program and save 15% on cartridges! Visit their store locator here.
Let's take a look at how a Vape Works ...
While there are many options out here, all vapes have the same primary elements. It's just how they are designed that makes all the difference. With Cue Vapor, there are four main parts we're going to look at.
e-Liquid Cartridge
Atomizer Coil
Vape Chassis Design
Vaping Tip
The fifth is a hidden one and that's the company that stands behind the product as well as the feel that the device has when you first open the box and ultimately hold it to your lips. Of the various vaping systems that I've used, Cue Vapor stands out. For instance, from the ordering process to the packaging and ultimately the feel of it in my hand felt closer to the experience of buying a new phone than a new vape.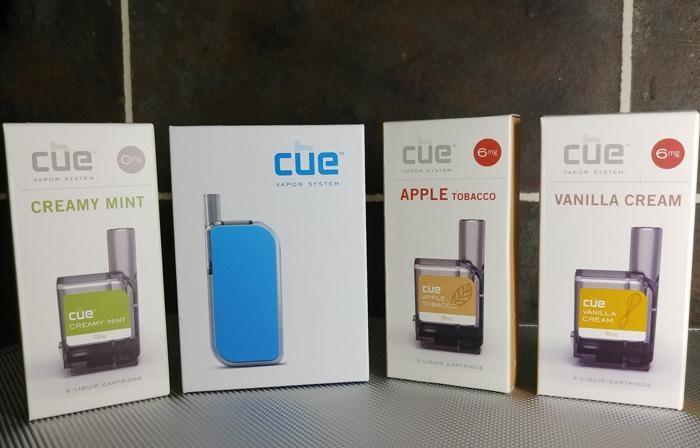 e-Liquid Cartridge
Vape systems operate by converting the liquid containing flavor and various amounts of nicotine into vapor. Cue Vapor uses a mixture similar to most others that includes a blend of propylene glycol (PG) and vegetable gylcerine (VG) with food-grade flavorings and either Omg, 3mg or 6mg of nicotine. While some vape and e-cigarette systems use a refillable tank where you can buy e-liquid in bottles, Cue Vapor uses a patented pre-filled disposable closed cartridge. This makes switching between flavors or replacing empty ones similar to how you would ink on a printer.
Flavors are one of the big reasons why people love vaping. There are tons of options here ranging from Creamy Mint to Apple Tobacco, and Vanilla Cream as well as many more available on their website. Since these cartridges are spil proof and easy to click in and click out, you can switch flavors easily.
Atomizer Coil
This is the part of the vape system that heats the e-liquid and turns it into vapor. There has been a lot of technological innovation in the past few years since vaping was originally introduced and these coils have been key in that. In the Cue Vapor, it uses a sub-ohm system meaning that the resistance on the coil is less than 1.0 ohm. Compare this to a traditional e-cigarette that has a resistance of approximately 1.5-2.8 ohms. Lower resistance coils like this one means that the coil will be able to draw more power from the battery and ultimately vaporize more of the e-liquid. This in turn results in a bigger cloud, more intense flavor, and a warmer vapor that is more enjoyable for most people.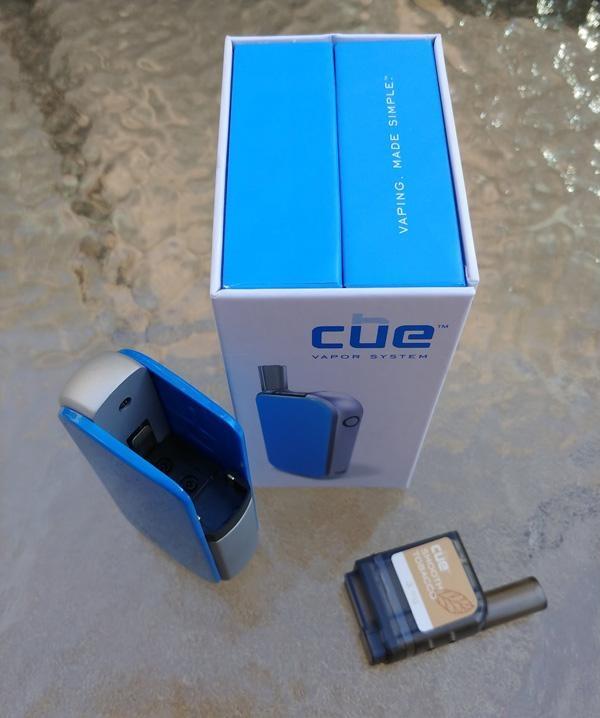 Vape Chassis Design
This is obviously completely subjective but there are plenty of styles available today when it comes to vaping. This ranges from e-pipes and e-cigarettes to "mods". Cue Vapor falls into the latter category because it is a handheld device that isn't intended to look like something else. However, this is confusing since "mod" also refers to a modifiable vape and Cue is very much a self-contained or "closed" system intended to work without any tinkering.
When it comes to vape chassis design, it's important that you pick something that is going to be comfortable in your hand both in terms of materials used as well as the size of the device itself.
I'm very impressed with how Cue Vapor looks and feels. The industrial design is simply fantastic here and while there are some vapes I wouldn't want sitting on my desk, I would have no issue with this sitting plugged into my laptop and charging via the USB cable.
Vaping Tip
Once again, this is something that is going to be subjective from one person to the next. In some vape devices, the tip is a seperate part that is removable so you can wash or toss it in the trash when it gets dirty, with Cue, this is part of the cartridge. For those that like to share, don't worry - they've included a "Buddy Tip" as well. Personally, I think this is a great design since you don't need to worry about any extra parts and it's "consumable" since you just toss it out along with the rest of the cartridge when you are done.
Another consideration here that's important to consider is will the device allow you to adjust the airflow and change your experience.. With Cue, there are two air holes on the side of the cartridge so you can simply cover one to make it more "natural" feeling or leave the plug in the airhole.
Crush Your Goals This Year!
Whether your goal is to try new or different nicotine levels like the 0mg, 3mg or 6mg options you have with Cue, or simply make a different lifestyle choice, devices like Cue Vapor make it much easier to crush your goals in a simple and easy to use device.
You can buy the Cue Vapor System online or visit their store locator.
NOT FOR SALE TO MINORS. California Proposition Warning statement: "WARNING: This product can expose you to chemicals including nicotine, which is known to the State of California to cause birth defects or other reproductive harm. For more information, go to www.P65.com. WARNING: This product contains nicotine. Nicotine is an addictive chemical. Cue™, the Cue Logo and Vaping. Made Simple.™ are trademarks of Digirettes, Inc.