Tradewinds Island Resortsis actually two delightful resorts right next to each other on the beautiful white sands of St. Pete Beach. We stayed at the Sandpiper Resort, which is smaller, more romantic, and more geared towards adults. Though many of the amenities, restaurants, and bars were located in the Island Grand, we didn't feel like we were missing out on anything by being at the smaller of the two.
After all, this is supposed to be a romantic vacation, so laid back, more private, and quieter are absolutely assets!
EDIT 5/2013: Sandpiper Resort is now Guy Harvey Outpost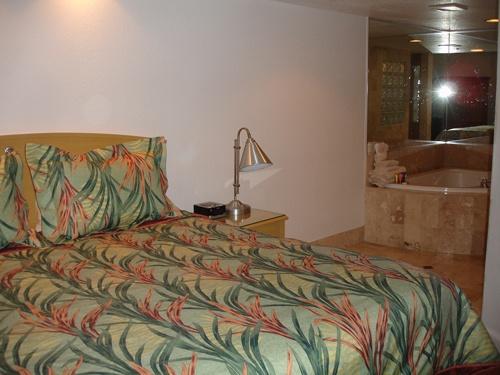 We enjoyed our Romance Room, complete with a whirlpool tub, and wet bar with microwave and mini-fridge (perfect for chilling wine).
This is the view from our hotel room at Sandpiper. Waking up each morning to the sound of waves (even small ones) set the mood perfectly for a wonderful day - whether relaxing on the beach with a pina colada, relaxing in the Adults-Only Oasis Courtyard, or just relaxing in bed with someone special. Relaxation is what this place is all about!
If you are looking for something more energetic though, just down the beach (a short walk) is Sandpiper's sister property, Island Grand. Island Grand is the more typical "everyone" resort and this is where activities such as paddle boats, jet ski rentals, para-sailing, banana boat rides, speed boat tours and more can be found. Also, Island Grand is host to a giant inflatable slide on the beach if you are looking for something wild like that.
For romantic exercise though, our pick would be to check out one of the paddle boats (below) and do a leisurely tour around the canals at Island Grand.
After all that excitement, it is time to grab a cabana down by the beach and just lay back, relax, and watch the birds. The beach in front of both of the Tradewinds Island Resorts are fantastic for relaxing, sipping a cold drink, and people watching, or just chatting with your partner.
While there are TONS of great romantic things to do in the St. Petersburg / Tampa area, if you have a car, one thing you should absolutely try to do is visit Crystal River and swim with the manatees. We selected Birds Underwater for our adventure and it was a spectacular experience (even though we had to leave at 4 a.m. to get there before dawn. Manatee tours start early and Birds prides themselves on being among the first off the dock (and that means the first to the Manatees!)
Just the sunrise was worth the early morning departure though!
Once we got to the manatee sanctuary area, Heather and I had the opportunity swim around with the manatees, and interact with them. We haven't had the chance to swim with dolphins yet, but there is something special about looking into the eyes of these fantastic but misunderstood creatures. It was fun to watch as the calves were far more eager to come up to us and play than their parents who by now had probably just given up on man.
Back at Sandpiper, it was time to do more relaxing at the pool! This is the beach front pool that is also super convenient to both Pipers Patio Cafe (sandwiches and "beach food") and the bar (fantastic icy drinks!)
Tradewinds Island Resorts also has the standard resort amenities like a spa and rather nice workout facilities. One of the unique aspects of the resort though was that it is dog friendly. This is great if you are looking for a romantic getaway and just can't leave the dog at home. Dogs are only welcome at Island Grand though.
Heather says:
It's a tough call picking my favorite part of Tradewinds! Racing jet ski's with James was lots of fun, but relaxing on a hammock on the beach was super relaxing too!
James says:
I definitely had a blast riding jet ski's but I think the bartenders made Tradewinds special. While Sandpiper was smaller, I really liked the fact that the average person staying here was a bit older, fewer kids / teens, and it still had great pools. Also, it was a quick walk down the beach to a fantastic margarita bar, or the other way for dinner at the Island Grand.
FTC Disclosure - our stay at Tradewinds Island Resorts was hosted by Tradewinds.