Way back in the day, "insurance" used to be something I chuckled at when they asked me if I wanted it. Things changed after I had a couple cracked screens including one that broke less than a week after I got it. While insurance is still something that I'd recommend people consider as an option on their electronics, the screen has become less of an issue for me over the past few years since I've been protected by something called "Corning® Gorilla® Glass". While I haven't stopped dropping my phones and the paint hasn't stopped scratching off, the screens have resisted breaking - something I can't say for two of my tablets that didn't contain this "magical" technology.
What is Gorilla Glass Though?
When I bought my current phone - a Samsung Galaxy Note 4, I was happy to see that it featured the latest technology and Gorilla Glass was one of those features. However, aside from it being protected by a "Gorilla" (that sounds cool right?) I had no idea what it actually meant until I decided to look deeper.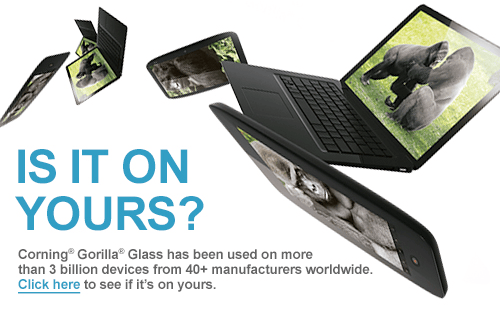 Before we do though, you can check here to see if your smartphone or tablet has Gorilla Glass.
Since its introduction in 2007 then, it has continued to undergo extensive updates and today we have Gorilla Glass 4 which aside from being even thinner and lighter is also tougher, performing 2 times better than competitive glass designs during 3-foot drop tests, where it survived up to 80% of the time!
How is Gorilla Glass Made?
Corning has a proprietary fusion manufacturing process where molten glass is fed into a trough called an "isopipe" until the liquid glass overflows and rejoins the glass from the other side at the bottom where it is then drawn down to form a continuous sheet of extremely thing glass that is measured in microns.
Next, the glass goes through an ion-exchange process where large ions are stuffed into the surface creating a compression state and placed in a hot bath of molten salt at 400 degrees Celsius. This causes smaller sodium ions from the glass to leave and larger potassium ions replace them creating a layer of compressive stress that creates a surface that is highly resistant to damage.
How Tough Is It?
What this Means for You When Traveling ...
Travel can be tough on your phone - from texting while walking down a cobblestone street to leaning a bit too far over to catch that perfect shot, this is virtually a war zone for your phone. That doesn't even take into consideration your phone being shoved into a back next to keys, can openers, and other gear that might scratch a typical screen.
There's a good chance that you already have a Gorilla Glass screen on your device, but if not it's time to consider checking that out before you make your next cell phone purchase so that you'll have one less thing to worry about next time you go out on an adventure with your buddies!