With the exception of twisty turny roads, driving to Las Vegas from San Diego is a great way to test out what a car is made of. There is a great combo of stop and go traffic, high speed roads that are long and flat to test mileage, and it's just long enough at about 4.5 hours to tell if the car will be comfortable on a long road trip ... without finding out and being stuck with it. The Hyundai Azera is an interesting beast - somewhat stuck between two incredible cars, the Sonata and the Genesis and it blends the two extremely well to create a fantastic option for someone that still needs a "family car" but wants many of the features and comforts found a luxury car like the Genesis.
With that in mind, we set off to put the Azera through it's paces ...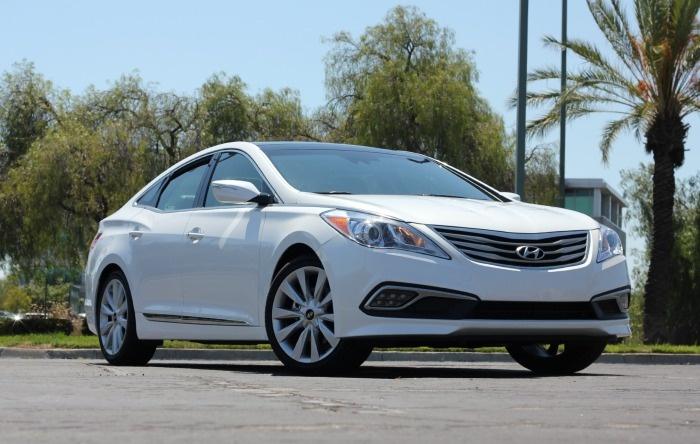 We were driving the 2015 Azera Limited with an MSRP starting at $38,200 and includes a 3.3L 293 hp V6 engine rated at 20/29 MPG City / Highway. Across the entire trip, we found the fuel rating to be very realistic but cruising through the flat roads in the desert on cruise control we averaged 30 mpg. The car handled fast desert roads, mountains, and traffic adeptly with a responsive engine and good braking.
The first thing that Heather and I both noticed during our drive was that the Azera is remarkably quiet. With the exception of occasional wind noise, we could almost whisper to each other - that's how quiet it was.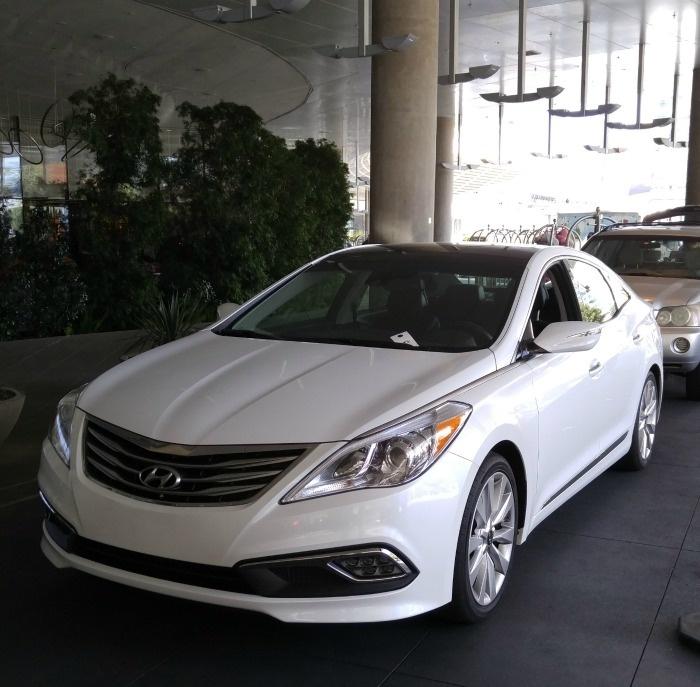 Second, the car is simply striking with a look that looks like it was sculpted out of liquid metal. Hopefully these photos reflect how stunningly beautiful this white paint is. I've NEVER loved white, but Hyundai did something special here with the way the chrome accents integrate with the otherwise white body and lines such as the one one the hood and the turn signals on the mirror just make this car look alive.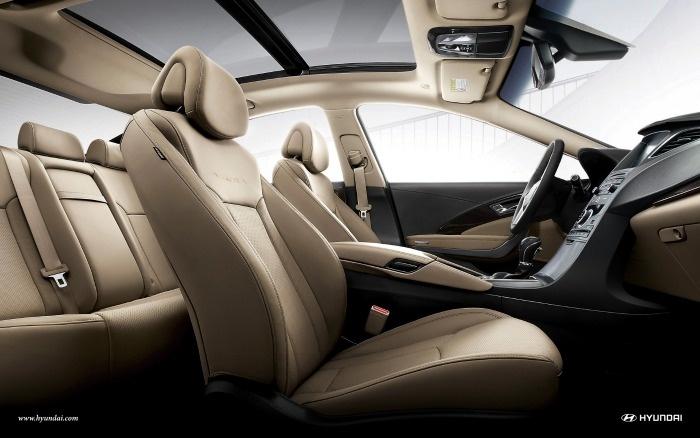 This sculpted look continued inside as well and while the exterior looks beautiful, it's the interior that sets this car apart. Not only did they sculpt with plastic and leather, but the accent lights to give the Azera is brilliant blue glow and make the car feel like it is alive.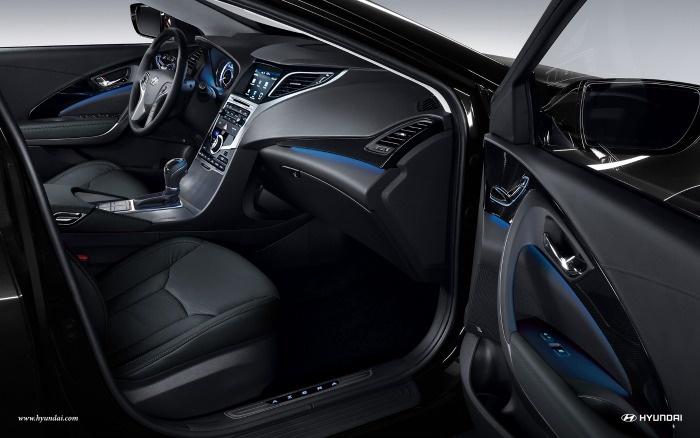 With 123.3 CU FT of interior space, the Azera boasts "best in class" space. This extra space was welcome and there was plenty of room to stretch out during the long drive. Even the leg room in the back seat was good.
On a long road trip, I love to have seats that are super comfortable and these came in at about 90% for me. The 12-way adjustable power driver seat was a huge benefit and so was the adjustable seat cushion extension. However, the seat cooler and head rest fell short for me. I would have appreciated more rapid and more pronounced cooling as we drove through 112 degree desert roads.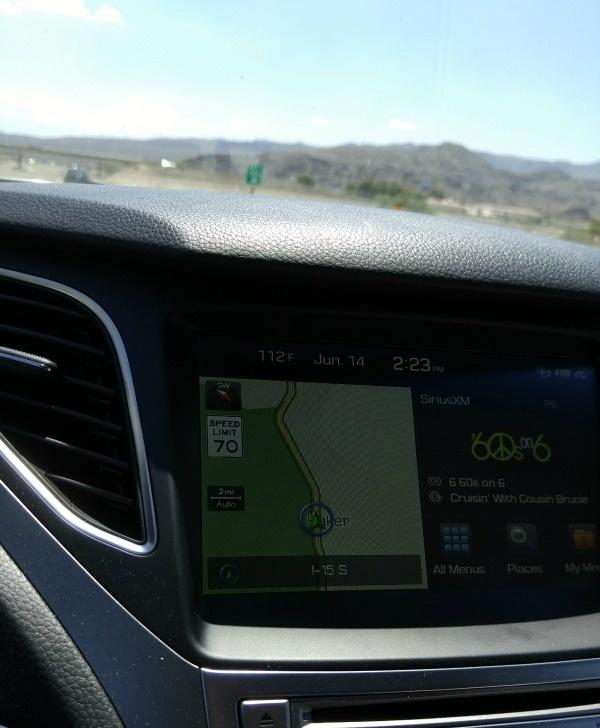 However, the fact that it had built-in rear (automatic) and side (manual) window shades did help keep things cool in the car and thankfully the AC worked extremely well.
Once on the strip, the panoramic sunroof was a fantastic feature that allowed the passengers to look up at the beautiful lights at night.
Finally, I was very impressed with what the Azera engineers did with center console. Instead of making the radio and info screen face vertical, they angled it and placed a cubby behind it. This makes it so that the buttons are still easy to reach for the driver but now there is a space behind it with a charging port and space to store misc cords, pens etc. that are essentially out of site but still easy to reach.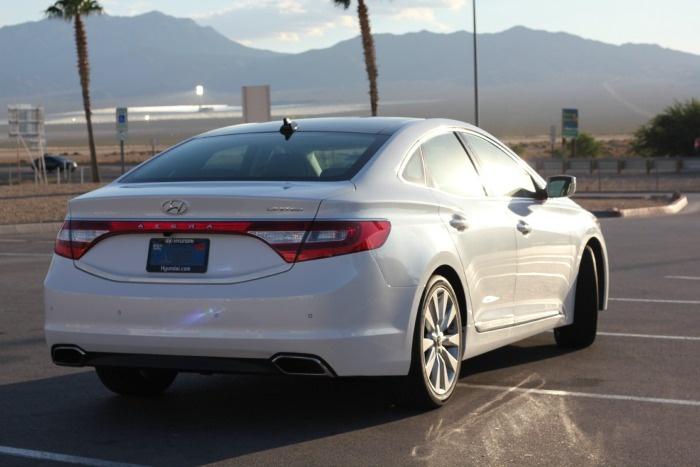 As I stopped for food and gas at the California / Nevada border, it struck me that the Azera was very much like the place where I was sitting at that moment. On one side of the road was a Fashion Outlet, on the other was the largest solar plant in the world. On one side of the border was California - a land of technology and people looking to push the boundaries of what was possible and on the other was Nevada, home of of the fun, glitz, glam, and luxury of Las Vegas.
The Azera is sort of like that too ..
It's fuel efficient, packed full of technology, looks amazing and is ready to deliver fun and excitement - either pulling off the line or carrying you in style to your next business meeting or a fantastic date night.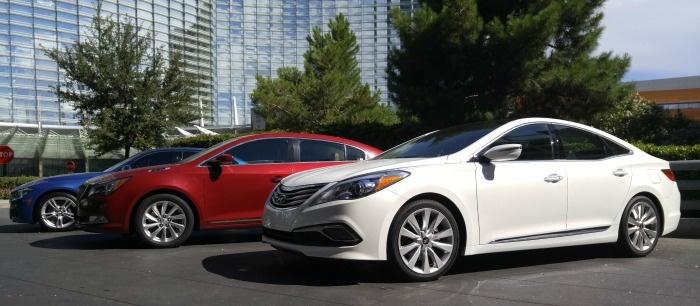 It's hard however to fully evaluate the 2015 Hyundai Azera. The only complaints I could possibly muster about it is that I want "more". More power, more luxury, more technology, more style. That isn't to say that it is lacking in any of those categories but it whet my appetite for something greater and maybe that's the purpose. While it delivers 90% of everything I could want, if I was an owner I can imagine that it would inspire me to one day be able to move from "luxury lite" to full luxury like with the 2015 Genesis that starts at only $38k ($51,500 for the 5.0L 420 hp V8 Genesis). Compared to it's peers though, it's a great product and I'd be more than happy if this was my everyday driver.
At the end of the day, the Azera occupies a great space at an affordable price point. It is able to deliver a near luxury experience clearly above that of the typical "family car" but in a package that is as fun to drive as it is to look at.