The current generation Dodge Challenger "borrows" more than a few bodylines and exterior cues from the classic, and highly collectible, first generation 1971 Dodge Challenger. FCA knows well enough to leave the new/old bodylines alone as Challenger has steadily been increasing sales and has reached a milestone; it has surpassed the once mighty Camaro to become the no. 2 best-selling retro pony. In 2018 Mustang sales were 75,842 (7.4 % drop), Challenger with its 10-year old platform, had a sales increase (3%) to reach 66,716 units. As for Camaro, the bottom dropped out as sales slid to 50,963 units (25% drop) in 2018.
What's New With The 2019 Dodge Challenger SRT Hellcat?
So, that was last year – here's what's going on in 2019. The biggest change is the available Widebody fender flares (part of $6,000 Widebody performance package option) that adds 3.5 inches to an SRT Hellcat's or Scat Pack Challenger's overall width. The thick extensions permit the addition of 20 x 11-inch "Devil's Rim" split-five spoke aluminum wheels, wrapped with 305/35ZR20 Pirelli P-Zero tires.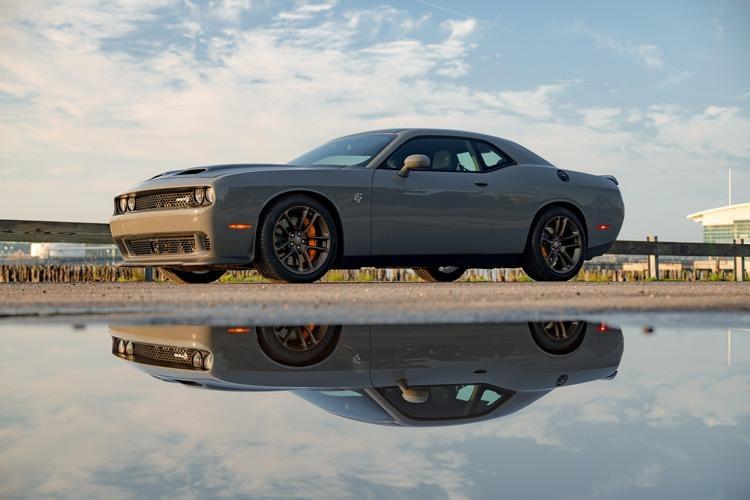 Race Car Power to the People
Not too long ago the Hellcat's lofty horsepower numbers were only found under the hoods of race cars. Today, underneath Challengers' enhanced classic pony car lines, Hellcats are fitted with the second most powerful, volume production V-8 ever bolted into production vehicle. My test car came with a killer supercharged, 6.2-liter V-8 churning out 717 hp. and 656 lb.-ft. torque. Backing it up is a TorqueFlite paddle-shifted, eight-speed automatic transmission. An optional, stiff-clutch 6-speed manual is available if you can handle it.
For the racer crowd, the Hellcat HEMI V-8 comes with a trick low-temperature circuit with two air/coolant heat exchangers integrated into the supercharger housing. FCA indicates that this setup is engineered to keep air temperatures below 140 degrees Fahrenheit, under extreme ambient conditions, while enabling airflow of up to 30,000 liters per minute. And it works, engine power will not be de-rated due to cooling demands after 20 minutes of hard driving on a road course at an ambient temperature of 100 degrees Fahrenheit. Translation: cooler, better breathing engine makes the highest power longer.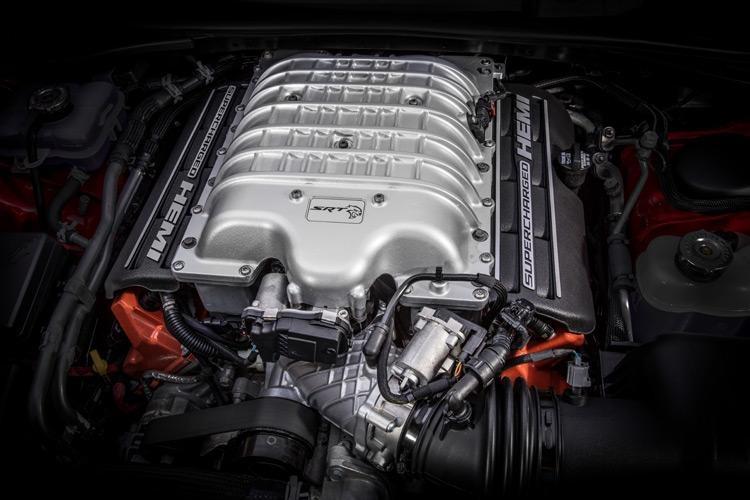 Performance Upgrades You Can Use Everyday
Upgrades to the exhilarating driving experience include a new electric power steering (EPS) system for SRT Hellcat Widebody models replacing the hydraulic setup on the regular model, and Drive Modes for selectable steering tuning. The optional 305/35ZR20 Pirelli P-Zero tires provide track-capable, 3-season grip.
This Gun Fighter Will Travel
In my time with the hellcat, I was challenged by kids driving their Dad's BMWs and guys driving some shade of Shelby or side-brand "tuner-edition" Mustangs. Well, acceleration can be scary/wonderful depending on which front seat you're sitting in. Most people have no experience with hairy, instant, crazy power. How about a sub-four second 0-60 time and a quarter mile of 11.8 seconds at approximately 125 mph? And with more practice I could have gone faster.
The new dialed-in steering and wide tires make this a much better car to whip around town or throw on a track. Pavement irregularities and anything but smooth, dry pavement make Hellcat squirrely.
2019 Dodge Challenger Hellcat - An Everyday Brute
Hellcat Challengers feature SRT Performance Pages, accessible from an 8.4-inch center dash touchscreen. Performance Pages are your command center for the engine, transmission, steering, and traction-control, launch adjustments. There's comfy, supportive seating for up to five passengers and a huge trunk for all your gear.
Classic Lines But Still Current
While the design may be 10 years old, Dodge continues to upgrade Challengers technology. From the Performance Pages, Navi system, high-powered audio and Uconnect features and safety keep the Challenger line up to date on tech.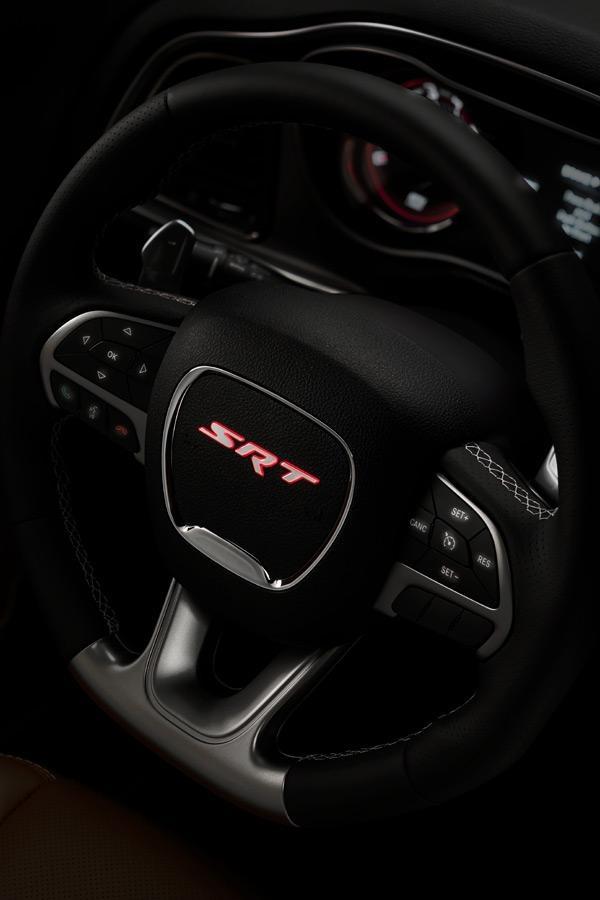 This Dodge Challenger SRT is an unbelievable combination of speed, exhilaration and yet you can drive it in traffic, pick up groceries and race it on the weekend.