Driving the new 2019 GMC Sierra Denali can be summed up as feeling like a boss ... Fundamentally it's very similar to the Silverado but now you've gotten a promotion. Better interior, smoother ride, snazzier exterior design and features like the Heads up Display, MultiPro Tailgate, and CarbonPro bed that thrust it into another level. Not just compared to the Silverado but frankly this is my favorite full-size truck since it does more than look and feel better, it drives better too.
To be completely honest, looks can often be deceiving. With the launch of GMC's Sierra AT-4 cousin I feared perhaps the Sierra Denali would be simply something that looks good when your supervisor comes to visit. While clearly someone buying the Denali trim level is more focused on looking and feeling good on pavement vs risking damage while on the trail it was adept at both.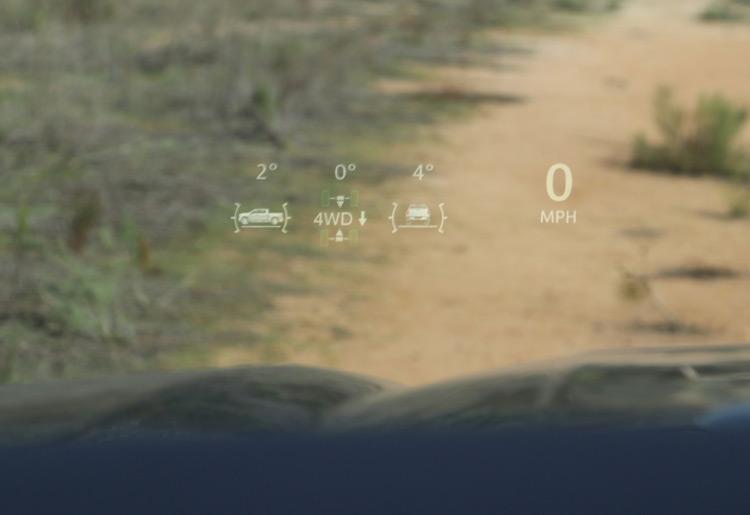 On or off the trail, a Heads up Display makes a huge difference when it comes to keeping your attention forward on the path in front of you. I was impressed that there was an off-road mode here that showed the degrees, drive mode, and speed. On-road it will show the speed limit instead of angles and drive mode. Not only is this important for tackling tough angles on a trail, but for towing it is a great reminder to help with monitoring speed and stress on the engine or brakes.
The 2019 Sierra Denali also features an all-new Traction Select System to help you maintain control on different surfaces and weather conditions. It also features a continuous damping adaptive ride control system to keep the ride as sooth as possible on or off road. The system uses sensors to monitor both the road and vehicle while accelerating, braking, cornering, and trailering and adjusts the suspension for maximum comfort as well as safety.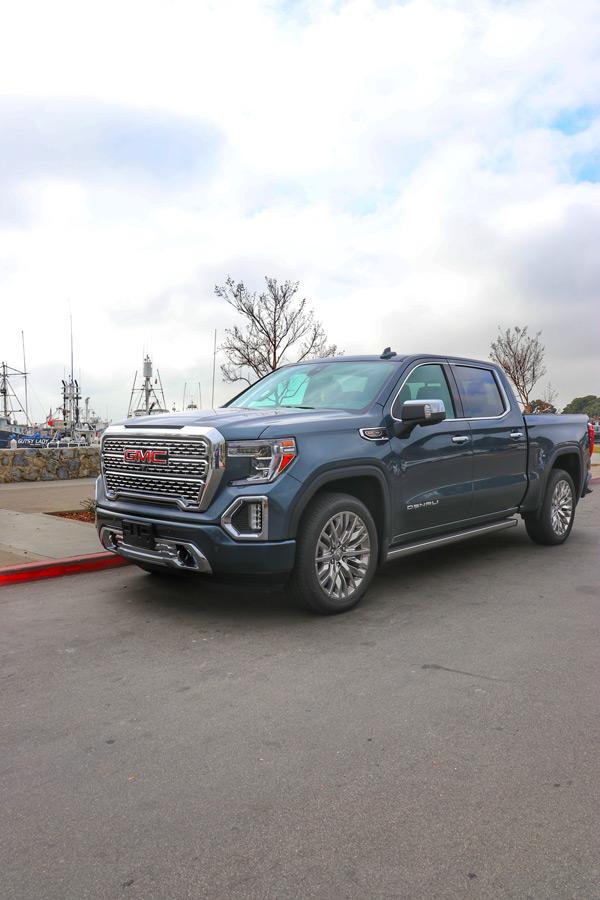 As fun as off-road driving is, (and this truck is very capable) we spent most of the time on-road. Engine options including a 5.L V8 with Dynamic Fuel Management (355 hp / 383 lb-ft torque) or 6.2L V8 with DFM and a 10-speed automatic as we tested (420 hp / 460 lb-ft torque). In late 2019 they will be releasing a 3.0L Duramax Turbo Diesel with inline 6-cylinder paired to an all-new 10-speed automatic as well. The Sierra Denali 4WD with Crew Cab has a towing capacity of 9,600 lbs.
Fuel economy ranges from 17 city / 23 highway for the 2WD with 5.3L V8 to 15 / 20 with the 6.2L V8 and the truck features a 24 gallon tank.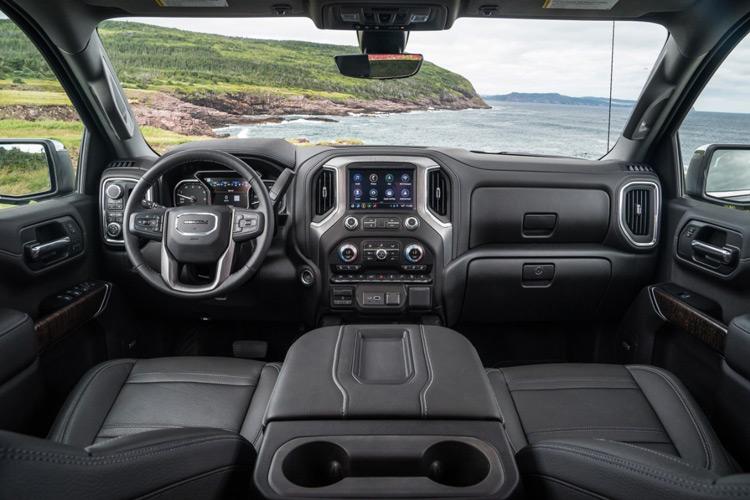 Inside the cabin, like the Silverado, there's plenty of space for two big guys to avoid rubbing elbows. As a bigger guy that also has a long torso, I had no issues with headroom and even in the rear seats it was acceptably comfortable.
From a design perspective, you won't feel like it's a step down jumping out of a luxury sedan an into your truck. Front seats are heated and ventilated leather seats with a 10-way power-adjustment system. There's leather pretty much everywhere you can put it including the steering wheel and trim is open-pore ash wood. Where you see metal it's real aluminum and not just chromed plastic.
While that infotainment screen is smaller than what's available on the new Ram it doesn't feel as busy as other systems. In fact, the camera system makes driving, parking, and trailering a breeze.
This is a full-sized truck and nothing in this class is really adept at navigating urban parking spaces, tight drive-thru lanes and other spaces designed for smaller vehicles. However, when driving the Sierra, it just felt right. I knew where the corners were and when I needed to check - I had the HD Surround Vision system and Rear Camera Mirror. Specifically, the camera angle that I liked was a view of the two front wheels to tell how close they were to the curb since that helped greatly with navigating tight corners while picking up lunch at a drive thru!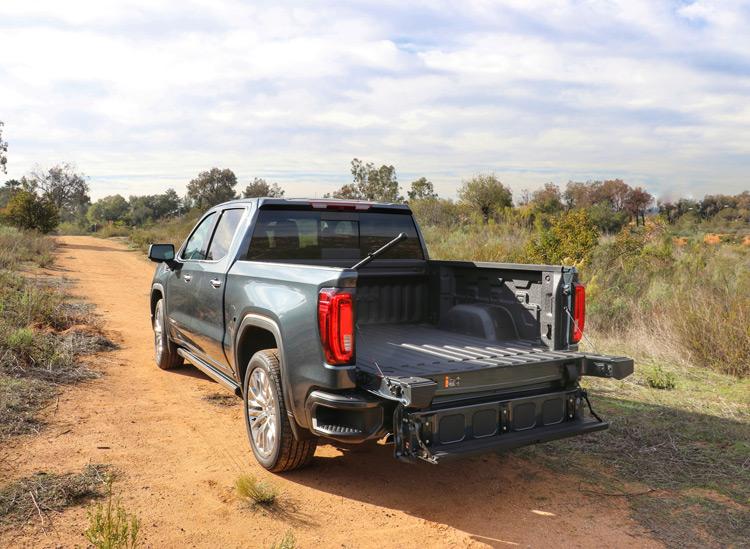 The GMC Sierra Denali inherits the CornerStep from the Silverado but adds the optional MultiPro Tailgate.
To be completely honest I'm not going to swing either direction with this new tailgate design. The purist says, "that's just one more thing to break". However, as a truck designed for work but who's owners will likely not be beating it up, this is a super cool feature that makes the truck just that much more useful.
The six-function MultiPro Tailgate does make it easier to step up into the bed - both by dropping a big wide step low to the ground as well as offering a rugged handle to help you into the bed. What I found it most useful for (I wasn't working on a construction side or making runs to home depot), was being able to sit comfortably on the tailgate and enjoy lunch while listening to some music.
For those hauling loads though, being able to drop a portion of the tailgate so that long pieces of lumber for instance fit flat - it's going to be a great feature.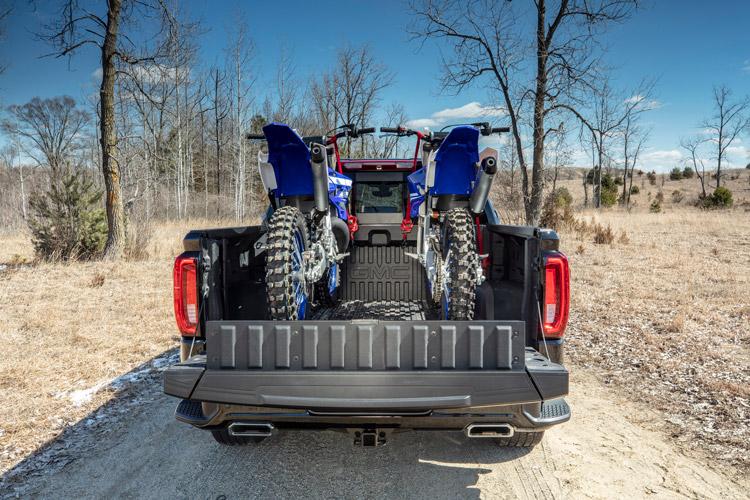 CarbonPro Carbon Fiber Bed Now Available too ...
Though not available when we tested this Sierra Denali, they now also offer the industry-first Carbon Fiber Bed. This option will drop the bed's weight by 25% while improving corrosion resistance, strength, durability and scratch resistance. It also increases the cargo volume for the bed by 1 cubic foot. GMC tells us that the material here is similar to what is being used in super-car design as well as aerospace to provide strong, light materials that can help this truck improve already solid performance.
For those of you concerned about damage or puncturing the bed, we're told that they did tons of testing including dropping 450-pound water-filled steel drums, driving a snowmobile right on to the bed with metal studs, and even pointing the exhaust from a generator right at the corner to test heat resistance.
In addition to these features alone, it's also worth noting that you no longer need a spray-in-bedliner or wheelhouse liners.
CarbonPro is available in the 2019 model year in limited quantities but will be more common on the 2020 model year and beyond.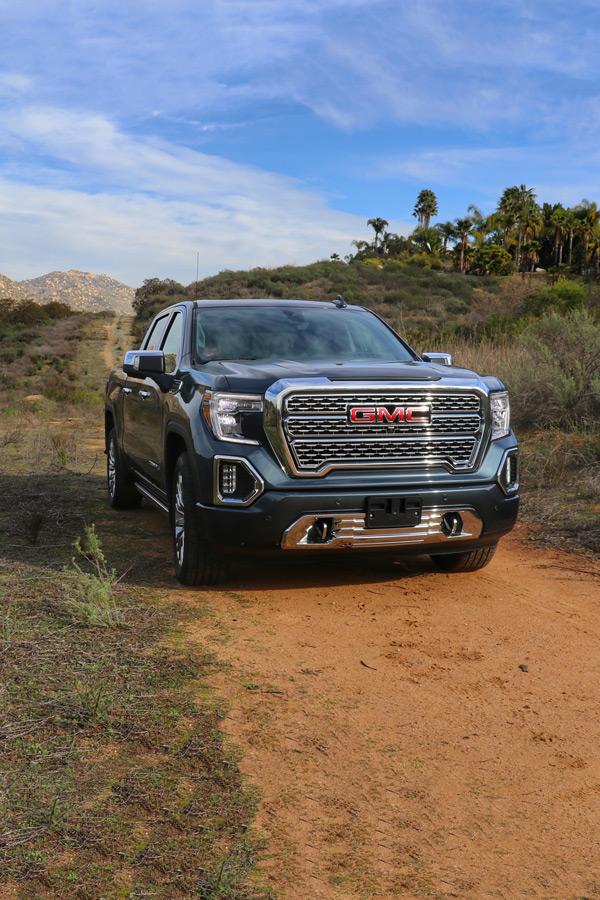 Honestly I can't say enough about the 2019 Sierra Denali - It's quite literally everything that I love about the Chevy Silverado ... but taken to the next level.
Pricing starts at $56,295 for 2WD and $59,595 for 4WD.