RAM surprised a lot of people when it launched the all-new 2019 RAM 1500 last year. Having traditionally been the third of the top three in terms of pretty much everything including sales numbers it aggressively asserted itself as a top choice. With specs and styling on its side, the new RAM has now unseated Silverado for the number two spot in terms of US sales. It is way more than just focusing on volume sales, there's a lot of really cool stuff that RAM added to this generation to make is more than your daddy's truck.
Historically, trucks have been designed for work more than comfort. This means that features such as safety technology, electronics, infotainment etc. have been put to the side. This time around, RAM has completely thrown that playbook out the window and run over it a few times. From a features perspective, this truck - has pretty much every feature that you'd expect from a full-sized SUV. The RAM 1500 Laramie includes an optional 12" infotainment touchscreen (8.4" in our vehicle), four-corner air suspension, a complete set of safety features, adaptive cruise control, heated and ventilated 12-way power adjustable driver and passenger seats, and a 19-speaker sound system. They've also added Active Noise Cancellation in the cabin to make it more quiet and a host of fuel saving measures to make it one of the most efficient trucks on the market.
Also, while it is an option on other trucks - the model RAM sent us had a keyfob rather than a physical key which was a nice touch. More importantly, it was an indicator that certain conventional pieces of wisdom about "truck buyers" no longer apply here.
Engine options range from a 3.6 L V6 with "eTorque" with 305 hp/269 lb-ft torque (combined) to a 5.7 L V8 HEMI with "eTorque" 395 hp / 410 lb-ft of torque (combined). The net result here is a boost of 90 lb-ft on the the 3.6 L Pentastar engine and 130 lb-ft of torque on the 5.7 L V8 HEMI. This is similar to what FCA is doing with Jeep, RAM's engines also now have the addition of an electric motor to boost low-end torque and improve performance as well as gas mileage.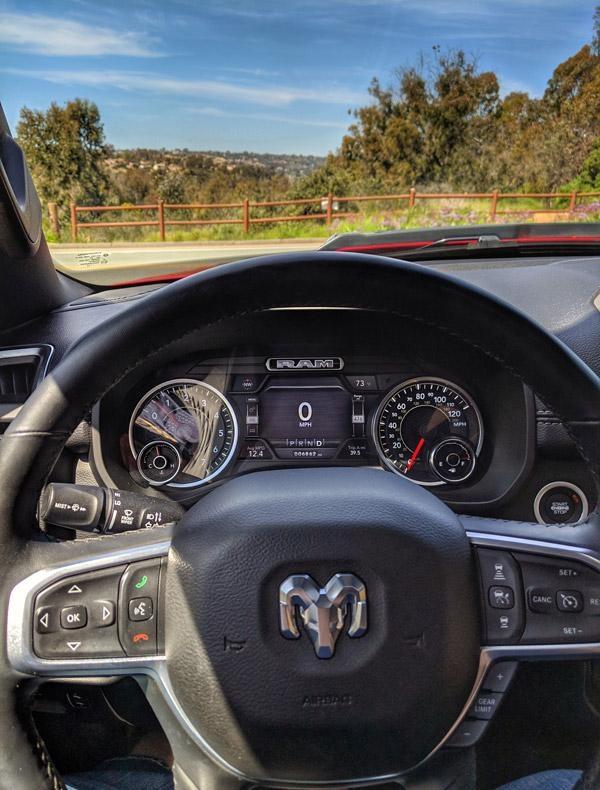 However, despite all these nice features the price remains competitive and more importantly the numbers not only match but often exceed the competition where it matters ...
Fuel Economy: 19 / 24 with the 3.6 L V6 and 15 / 22 with the 5.7 L V8 HEMI
Towing: up to 12,750 lb with the 5.7 L V8 with eTorque
Make no mistake, this is still a vehicle that you can get your job done with, regardless of whether that's towing a boat to the lake or a load to the construction site.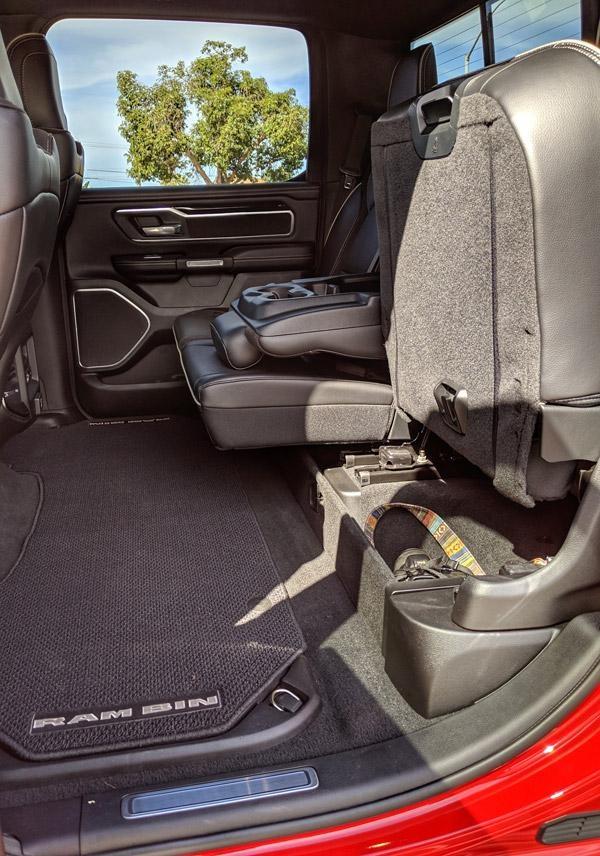 Size wise, it's also the biggest out there and that's both a blessing and a curse. Frankly speaking it was challenging to navigate parking spaces, drive-thru restaurants, and shopping malls. While it's not "that much bigger" +1" wheelbase vs Silverado, the truck feels just that much more bulky. This is likely something that owners would adjust to in time but it was a disappointment for me during the week that I drove it around town in San Diego.
The upside of this space though is that it absolutely KILLS IT with interior room. The RAM 1500 Laramie is hands down the most comfortable and spacious option out there. This includes a whopping 45.2" of legroom in the rear seats, storage compartments everywhere you could possibly dream of (including a "RAM BIN" under the floor. While headroom is a little lower than competitors I didn't feel that it was an issue for me.
Overall, what RAM has done with their new 1500 truck is pretty darn impressive. There's a lot here that Chevy and Ford should take notice of but at the same time I love both of those trucks for what they are too. Instead of looking at this simply as a "Chevy needs to do what RAM did", I think this is a critical point in the history of truck sales and what RAM has done is potentially expand the market by creating something new and different. Those who want something more traditional and conservative have their options and the next generation of truck owners that grew up on SUVs now have theirs.
The 2019 RAM 1500 Laramie starts at $40,040 and as tested was just over $50,000.