When it comes to modern SUVs, few are good at both on and off-road. They are focused on tuned to compromise and lean towards fuel efficiency on-road - or all out off-road ability. While I can talk for days about the need for more true, body-on-frame SUVs, the Toyota Land Cruiser is the epitome of what an awesome SUV should be. It offers a solid, perfectly refined driving experience with no compromises and brings you back to an era when sitting in the driver's seat of an SUV made you feel special. We took the 2019 Land Cruiser on a road trip to Scottsdale, AZ for Spring Training and it was one of my favorite driving experiences in a long time.
Toyota refers to the Land Cruiser as a "Timeless Icon" and it is absolutely that, but it's so much more than that. Starting at $85,015, there's just one trim level of the Land Cruiser and it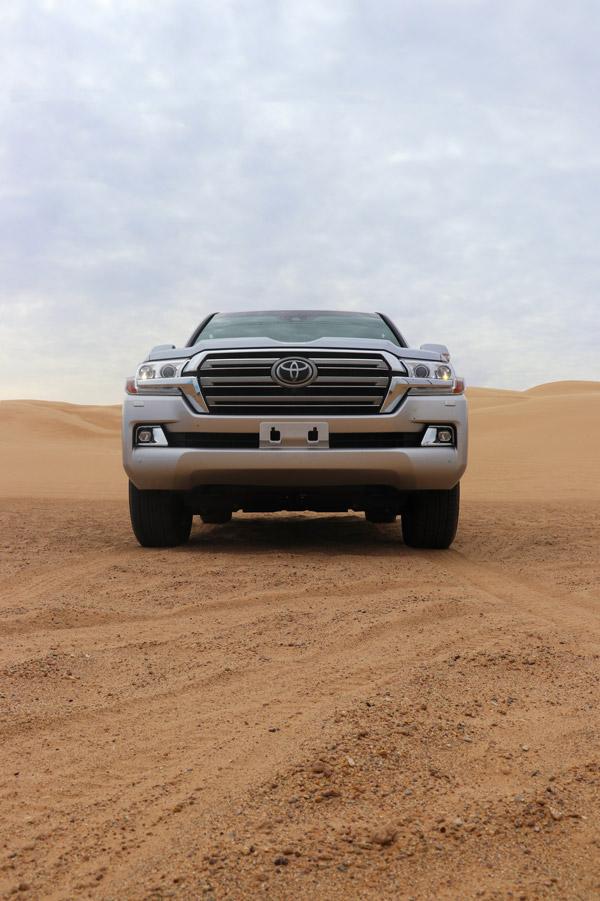 For those of you curious about gas mileage or speed, it's not that sort of SUV. At 13/18 mpg connected to an 8-speed transmission and a 5.7L V8 engine pumping out 381 hp and 401 lb-ft of torque, this vehicle is quite literally about cruising. It's not fast and you aren't towing huge loads (though it beats the Sequoia at 8,100 pounds), but you are going wherever you want to go in both comfort and style.
While I don't want to dismiss modern environmental concerns, the Toyota Land Cruiser draws from a different era. While it has continued to be refined over the nearly a decade since this generation was originally produced, the goal here is reliability, comfort, style, and capability. For instance, one of the first things you'll notice when you enter the vehicle is that there's no 2-wheel-drive. It's always 4-hi or 4-lo. As a result, the Land Cruiser is ALWAYS ready for adventure but fuel economy suffers and so does it's ability to make tight turns.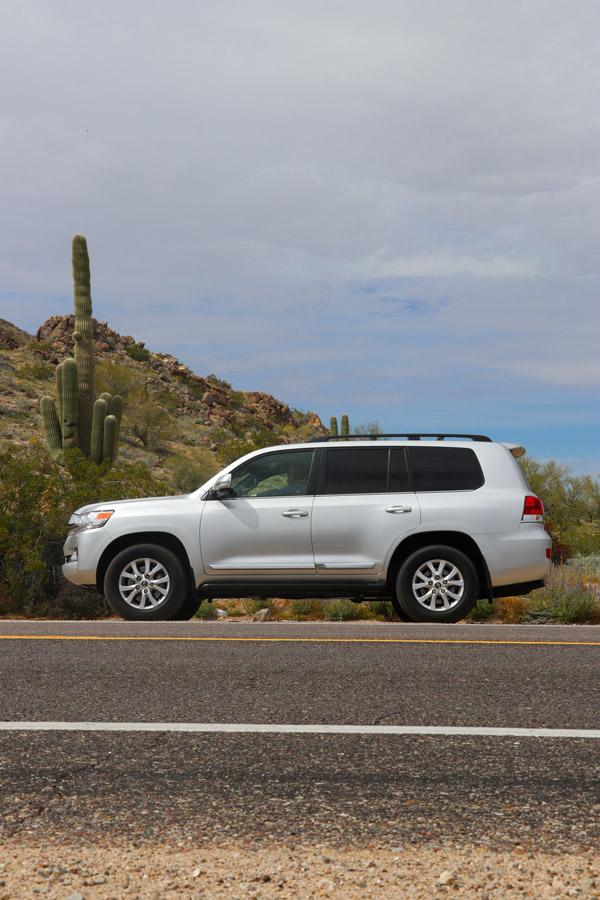 As we traveled through the desert from San Diego to Phoenix, a route with flat, straight, desert roads, that I normally like to zoom zoom through, I didn't feel like doing that in the Land Cruiser. I didn't need to because the experience of cruising down the highway was enjoyable by itself.
Along the way, creature comforts such as the center-console chiller box, super comfortable seats, JBL Audio system with 14 speakers in 10 locations helped make the journey as enjoyable as the destination. For passengers in the rear seats, there were two large seat-back video systems to keep passengers entertained.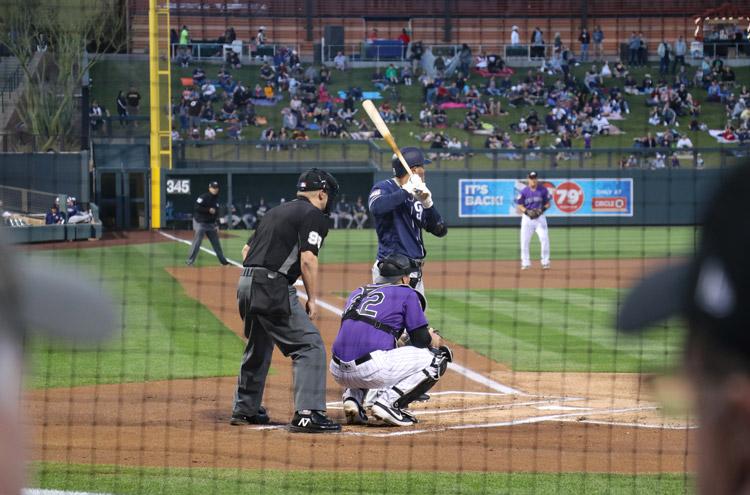 The reaction I get from most people is sort of like what people ask when they hear a baseball star's new salary - wow, almost $90,000 for a Toyota? Is it worth it?
My answer is that if you are someone who can afford it and demands the ultimate in refinement then absolutely. This SUV is nearly perfect. While other vehicles focus on releasing "all new" versions every few years, Toyota has let the Land Cruiser mature. At a certain point, luxury isn't just about more new features, it's about something deeper. What I found while driving the Land Cruiser was that this meant no creaky suspension or extraneous noise. There were no weird wobbles that you might find in other SUVs while making a tight turn or cruising down the highway at high speed. All of that has been refined out of the Land Cruiser and I'm told that from an engineering perspective, this vehicle serves as the benchmark for every other car, truck and SUV in the Toyota portfolio.
For the guy who wants the best ... this is it.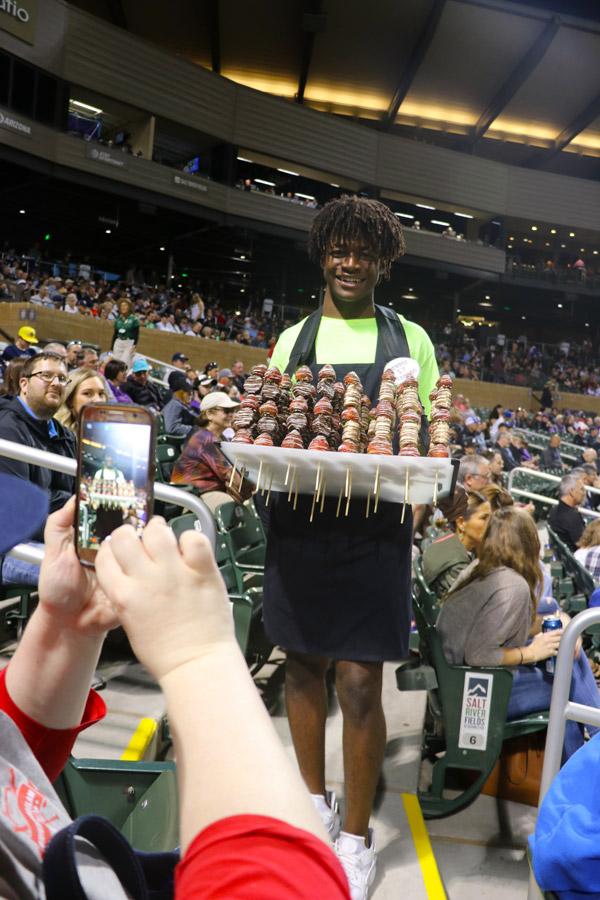 We spent three days driving around Phoenix and got a chance to play with the other functions of the vehicle too.
For a large 3-row SUV weighing 5,815 pounds it was surprisingly nimble in traffic and while the brakes were pretty aggressive - they were very effective in stop and go traffic. Toyota Safety sense is now standard across all of the fleet and that includes the Land Cruiser. This includes a Pre-Collision system with Pedestrian Detection, Land Departure Alert with Sway Warning System, Automatic High Beams, and Dynamic Radar Cruise Control. It also has Blind Spot Monitoring, Front and Rear Parking Assist Sonar, and rain-sensing wipers which we didn't really get to check out thankfully!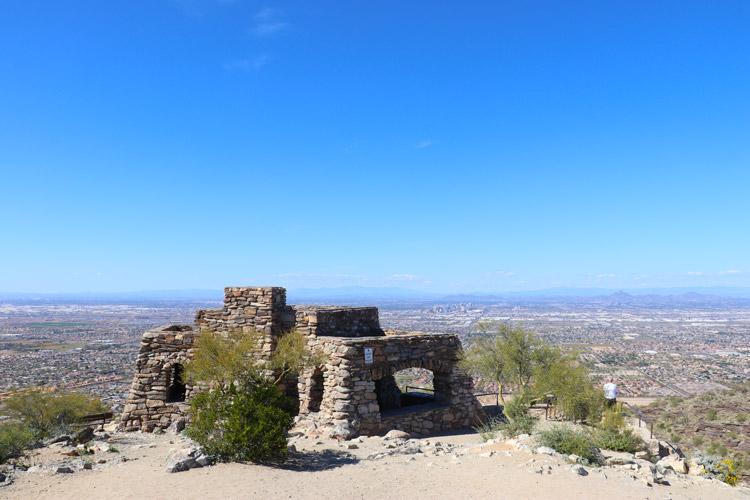 Over the course of our road trip, we began to explore progressively more challenging terrain. The Land Cruiser performed remarkably well on highways and suburban roads - this is something I expected since that's where I see it being driven most often.
However, we wanted to test it out on some twisty mountain roads and so I decided to take it up Dobbins Lookout, a scenic viewing area perched atop a mountain overlooking Phoenix. The roads here featured tight turns and periodic steep grades. While the Land Cruiser is a big, heavy SUV, the sway was less than I expected and transmission shift points as well as engine performance were better than expected. While some trucks I've driven might groan or creak on a tight turn - there was none of that.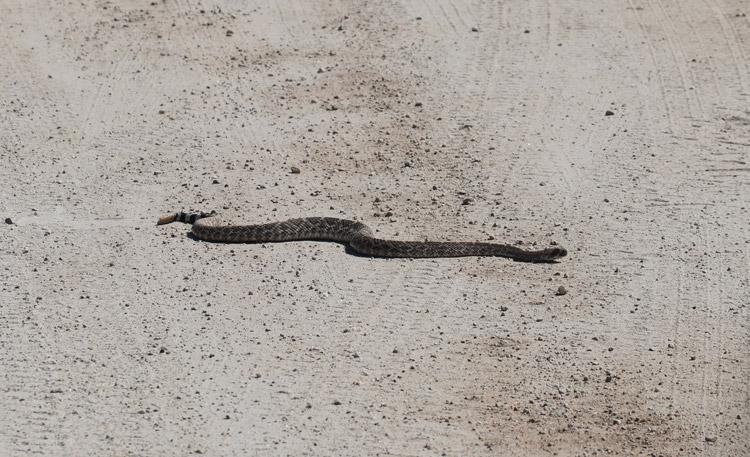 Our next test was to take the Land Cruiser off road so on the way home we stopped at Robbins Butte Wildlife Area.
Guarding the path was my rattlesnake and for a moment, Heather thought I was going to get out and take closer photos. I'm not that stupid and frankly it was too comfortable in the Land Cruiser to bother getting out. So, we just sat there for a while and then slowly went around the snake.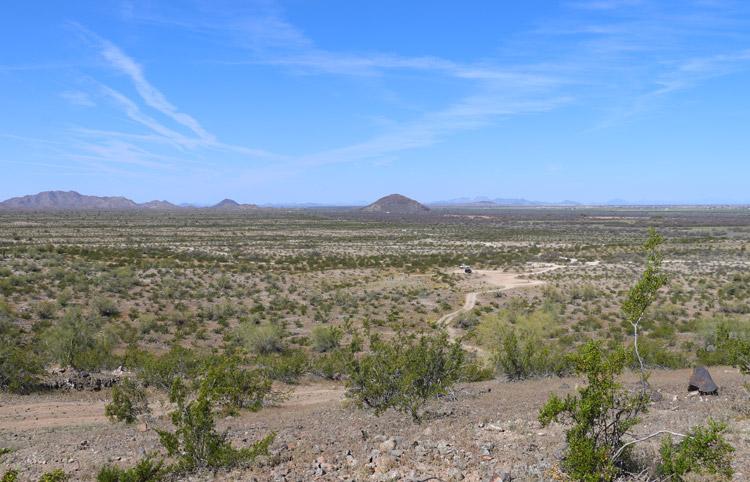 Robbins Butte is located right off of the 85 connecting the 10 to the 8 and offers a fun mixture of relatively easy trails and beautiful views.
Watch out though, hunting and shooting are permitted here so watch out for that. While we saw a rattlesnake, the area is also home to mule deer, bighorn sheep, rabbits, small game birds and other wildlife that enjoys drinking water from the Gila River.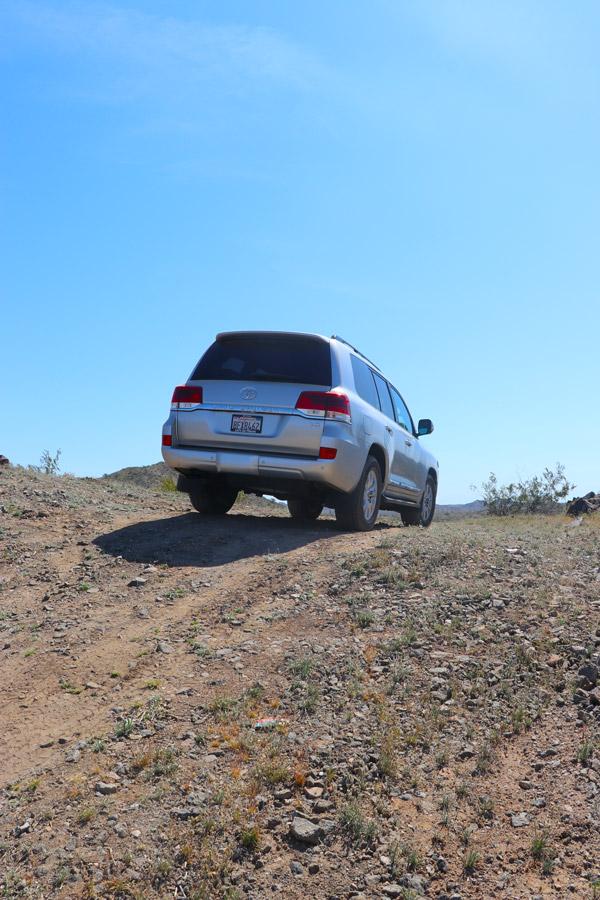 Honestly I as a little nervous taking a vehicle this nice on trails where it could get damaged but with the approval of Toyota, I took it on some short but moderately challenging trails here.
While this isn't a TRD Pro, I was surprised to discover that it has skid plates (front suspension, radiator, fuel tank, and transfer case) standard, though the running boards are aluminum so don't count those as rock rails. It also has front and rear frame-mounted tow hooks, 8.9" ground clearance, 5-speed crawl control with Off-road Turn Assist, Multi-terrain Select and solid angles for getting you where you need to go. This includes 32 (approach) / 24 (departure) / 21 (break over). When you compare that to the Tacoma TRD Pro (35/19.1/23.9), that's pretty impressive overlanding capability for such a large vehicle.
My chance to get the Land Cruiser dirty was very brief but it was a giddy pleasure since most vehicles that are this capable are brutish and rugged where comfort is an afterthought. To be able to crawl up a mountain, cruise through a sandy wash, and then grab an ice cold drink from the center console while looking out over the terrain contemplating which trail to take next is a privilege.
The 2019 Toyota Land Cruiser isn't for everyone and probably most buyers will never take it off pavement. However, it's nice to know that it can take you whenever you want to go whenever you want to.