Towels are towels right? You use them in the garage and the shop to clean up messes and in the kitchen, you need them for the same purpose too. However, at first glance, it might appear that a kitchen towel is just a kitchen towel but ultimately there are a ton of different fabric choices from Linen to Terry Cloth, and of course all-natural cotton.
Adding new items to your kitchen is fun and there are a lot of things that you need to think about purchasing. You want to be sure to research everything involved and, more often than not, you want to save some time and money buying the things that you need the most.
That being said, there are a lot of questions that you need to work with as you start looking at the big picture of buying dish towels. How do you know that you're buying something that works for your purposes? What is best for you?
In this article, we're going to explore all of the types of material that you may find when you're looking for dish towels, and what they may be best for.
Linen
Do you have a lot of dishs that needs to be carefully taken care of? Maybe you're worried about scratching it, or doing some other type of damage when you're wiping it off? This is where linen really shines. They can be used to wipe down the most fragile of items, and they won't leave lint behind either.
Linen towels are what you'll see most often for tea towels, although flour sack tea towels are gaining in popularity. They feel thinner than other materials, but they're quite absorbent and they dry much more quickly than some of the other types of material that you can find. Just hang them up and they'll be ready to go fairly quickly. They also don't make any sort of fluff when you take them out of the washing machine, so they won't leave lint on your fine China after you wipe it down.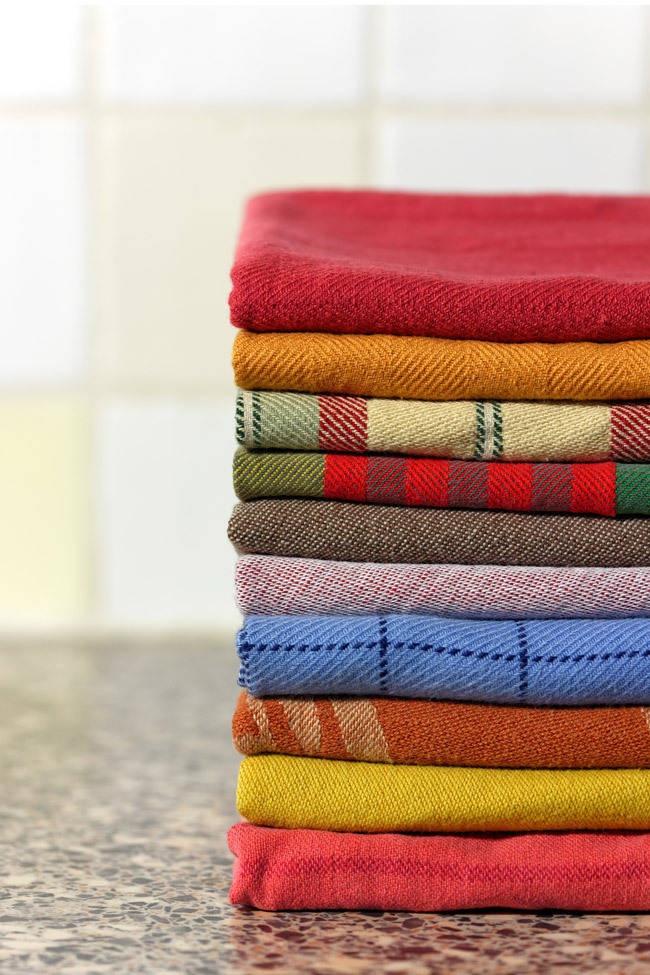 Terry Cloth
Terry cloth has gotten a lot more popular in recent years, mainly because of its versatility. There are a lot of people out there who only use terry cloth towels in their homes. They're very soft, and the loose sewing method actually makes it that much easier to soak up liquids, even if they're dense liquids.
Terry cloth does have a lot of lint to it, however, which can be problematic if you're trying to ensure that you can get everything off of your dishes. It's much better suited for cleaning up oils, grease, and other viscous liquids that you may spill at one time or another in your kitchen. Even if you just have one of these in your kitchen, it'll do a lot of good.
Cotton
Cotton is, likely, the most common material that you're going to find as you start looking at any sort of towel. It's an affordable option that can be used in all sorts of contexts, making it easy for you to just grab one, no matter what sort of kitchen issues that you're facing. They can take on a lot of liquid, as well.
Don't overlook cotton, either. In many cases, cotton is going to be cheap and, depending on how it is woven, it can end up being just as durable and long-lasting as the other types of material that we're talking about in this article.
If you see flour sack towels in your searches, don't overlook them. They are really absorbent, super durable and useful for both cleaning and cooking. Look for a quality product that's tightly woven and has solid hems. If you want a really good example, it's this flour sack towel from Mary's Kitchen Towels – it comes in many different sizes and colors (I have them in 27x27 inches red, black and white).
Nanolon Fiber
Nanolon fiber towels, like terry cloth towels, are great if you are someone that is constantly worried about how much of a mess that your kitchen can be. These towels are made from super absorbent materials, which makes it easier to clean up the big messes that sometimes occur.
Having a few of these around, especially if you're cooking a lot or you have kids in your home, can be really useful. They have an issue with leaving lint behind, however, so you want to be sure that you consider that as you're looking at what you want to use.
Seeking out solutions for your dish towels does not have to take a lot of time or research to complete. In many cases, you will be able to shop around on the web and get your hands on exactly what you need for your effort. When all is said and done, you'll have a set that makes sense and allows you to get everything that you're looking for from your dish towels.