About five years ago I first met with the folks at AfterShokz at CES. In a sea of gadgets and gizmos they stood out then, and for some reason few have followed in their footsteps by developing bone conduction stereo headphones since that time. One of the important segments that they were not competing in though was a headset with an attached microphone. While call center workers have experienced the frustration of wearing a headset for hours at a time ... it was 2020 that showed millions of people around the world how frustrating it can be to have something stuck in your ear for hours at a time.
Frankly speaking, when it comes to high-quality audio fidelity, I prefer other devices such as high-quality, closed back studio monitor headphones. That is a different sort of experience though. The beauty of Aftershokz is that they are extremely lightweight and don't cover your ear. This means you hear everything around you naturally but can still listen to phone conversations, YouTube videos, Zoom meetings etc. with surprisingly clear audio. That isn't to say that you can't use them to listen to music, but by the nature of their design it is challenging to simply turn the beats up loud and enjoy the full audio experience. However, I find it a great option for watching TV when my wife is working in the same room so I don't bother her but can still hear if she needs to ask me a question.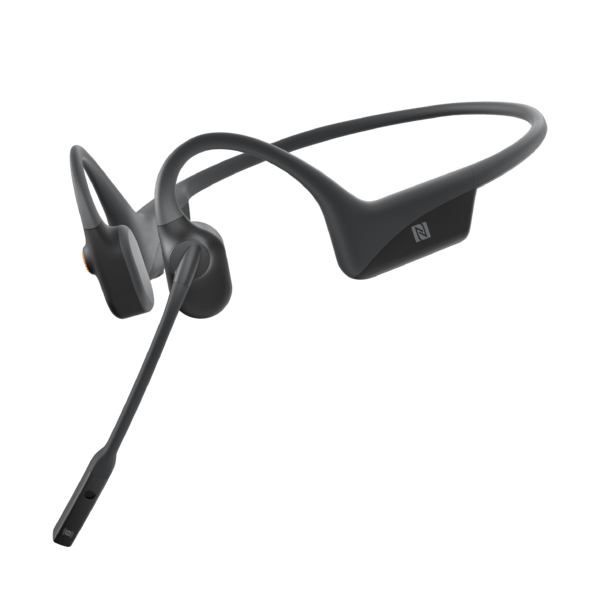 When in the market for a new headset for talking on the phone with, some features are a requirement. AfterShokz delivers a new headset that cancels noise even in crowded rooms, has multiple day battery life, and is sturdy and comfortable with a water-resistant design. The AfterShokz OpenComm headset is worth the price of admission, and users will be thrilled with some of its key features.
Noise-Canceling Boom Microphone
16 Hours of Talk Time
Multifunction Button
IP55 Water-Resistant
These AfterShokz feature the seventh-generation of their bone conduction technology and while at first it is a little weird since you are probably used to "hearing" the sound coming into your ears, now it is coming right into your skull through vibrations. Don't worry though, this is a very similar technology to what the United States military and other tactical operators around the world already use. It is safe and reliable.
The microphone operates conventionally though and features a DSP noise-canceling system to help reduce ambient noise. In our review of the technology it seemed to work well with me on a Zoom meeting and my wife downstairs talking on a conference call.
While these are clearly intended for business applications, you can use them for gaming as well, though the audio fidelity is not going to be as precise, though for casual fun just sitting on the couch and trash talking with other players it works well enough for that and is more comfortable than a heavy gaming headset.
tecOverall, we're pretty impressed by this latest edition to the AfterShokz lineup. They are priced at MSRP $159.95 on their website and you can also buy Aftershokz OpenComm on Amazon.com.