I travel a lot! Regardless if it is a long vacation or short day trip, one thing that is constant - I am concerned about my loft when I'm not home. While I trust my neighbors and management company, the reality is that other people have keys to my home and I've always wondered if they came in and visited while we were away. Similarly, I think virtually every doggie daddy has wondered what our fur babies do while we are gone.
So, for the past 3 weeks I've been testing Arlo out to answer some of those questions ...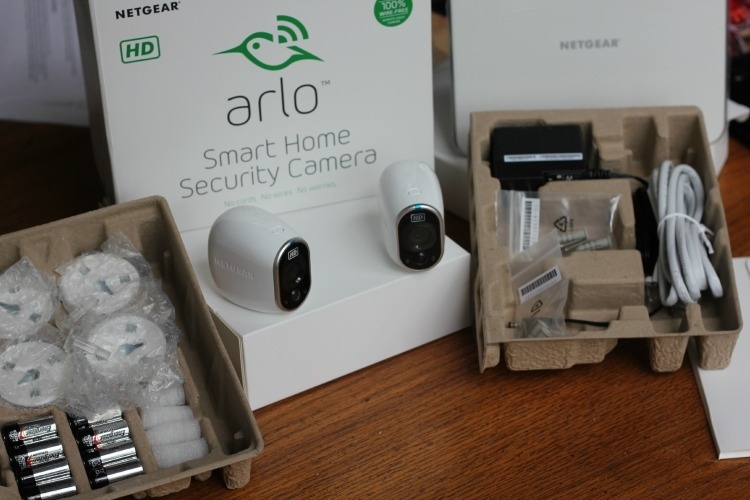 Arlo is available in a few different packs including: $199.99 (1 Camera), $349.99 (2 Cameras), $449.99 (3 Cameras), and $499.99 (4 Cameras). Inside the box is everything that you'll need to get started and I was able to set everything up in less than an hour. Your time may be longer if you are physically attaching the mounts to a wall with the included hardware though.
The first thing you'll notice is that the cameras feel really high quality. I've gone through my share of camera systems that just feel super cheap and plasticy but these feature a fantastic industrial design. Plus, the cameras themselves are weatherproof so you can mount it outside, wireless so you can mount it anywhere, and even has a magnetic base so that it attaches easily to the included mounts (or any metal surface). Additionally, these cameras feature a Night Vision mode so I can watch my dog even in the dark.
For my house, I happen to have a radiator with a flat surface facing the door so it was extremely easy to mount one there and another on a shelf between a couple books facing the living room couch.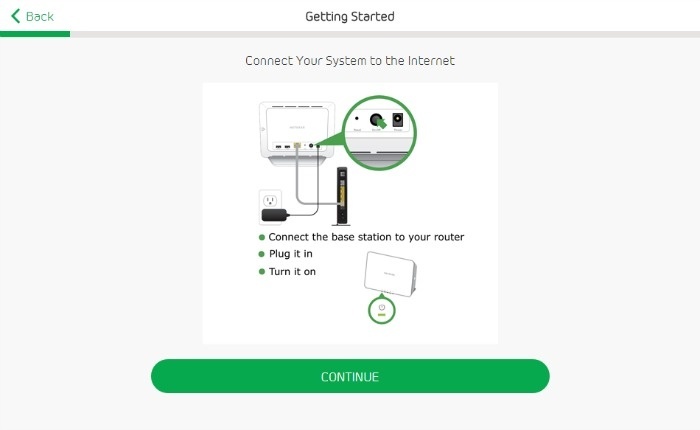 The next step was connecting what is essentially a wireless router to my existing netgear router. The software prompts made it extremely easy to provision the cameras and connect to the online arlo.netgear.com site.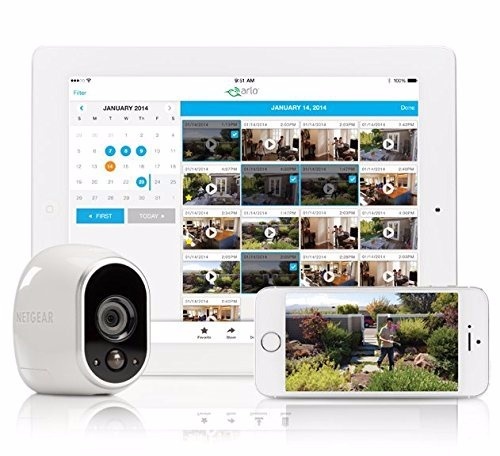 Once connected, you can easily access the video streams through your computer by connecting to the web interface or through the mobile app available for both Android and iOS devices.
Through the app, you can configure the cameras to go into "motion sensor" mode where it will start recording when it detects motion and save that video in the cloud so you can check it out later. The "Basic" level of the subscription includes 7 days of cloud recordings for free, but if you are planning a longer trip, they also offer "Premier" ($9.99 / month) and "Elite" ($14.99 / month) which offer 30 and 60 days of recording.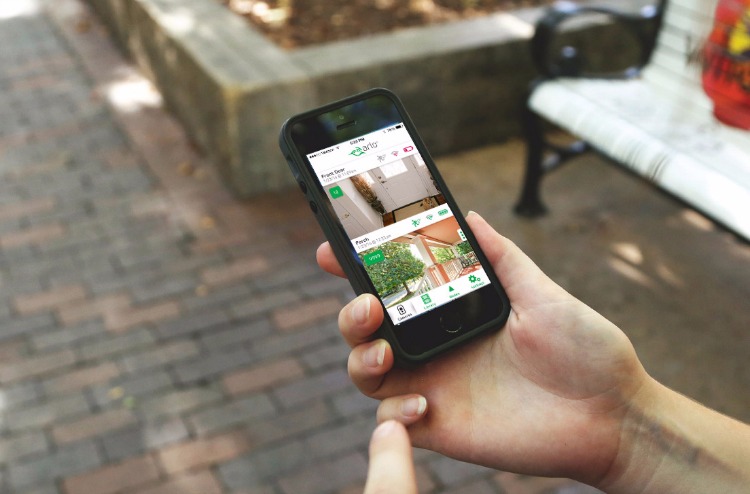 So What Did I Discover?
This was a fun experience as I was able to answer one of the burning questions I have had for years. My wonderful dog chooses to lay next to the door when we are gone. I had always assumed that she preferred to sit on the couch or in her bed where it is comfortable. However, it appears that her preference is to sit with her butt against the door so she knows the second anyone comes near. I guess this is her protective instinct!
The other thing I discovered is that it's super fun to check in and spy on her. Being able to check on my house while away is a great concept because otherwise there is always that fear of "did my house burn down while away?" or "when my security guy put the package inside the door did he explore the house at the same time?".
So far, I haven't had that problem and if I do, I'll have concrete video proof that it did so that makes me able to relax a bit too.
What Do I Still Wish For?
1) I wish the batteries were rechargeable. In an ideal world we wouldn't have to worry about swapping out batteries and could just occasionally plug it into recharge. Since it's already internet enabled you could even get a nice email advising you when you get below 7 days of juice or something like that.
2) I wish that there was audio or even better two-directional audio so I could hear my dog and speak to her when I am away. This is probably an even bigger desire if I was using it to monitor a baby or if it was mounted outside to speak with a delivery person.
3) I wish they offered a "cameras only" version. I already have a wireless router and it seems like they could save some money and allow me to save space on my already crowded shelf by letting me connect these cameras directly to the existing wireless network.
Final Words ...
Overall, Arlo is a great option for someone looking for an extremely capable and easy to use camera system to monitor their home, pets, and kids while out of the house. NetGear has done a great job with this product and it is clearly moving them beyond a utility electronics company into a true consumer electronics company that is poised to be a leader in the smart home space.
Plus, by being able to monitor things back home it will also help you enjoy your vacation more with the confidence that everything is ok.