With hurricane season fully upon us and winter storms on the horizon, a lot of you are probably looking at solutions to keep your power going even if the grid goes offline. We've talked about the incredible power capabilities of the Ford Lightening to power a house during an emergency but BLUETTI has an even better solution, one that doesn't require you to buy a whole new truck. The new BLUETTI AC300 along with the LFP battery module, B300 is a solar power station that can max out at 6kW / 24.6kWH!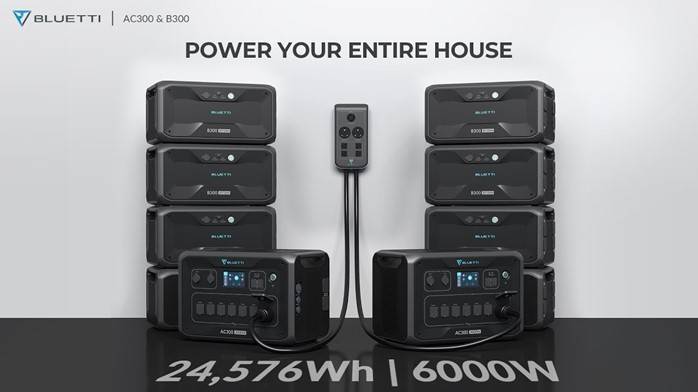 One of the things we love about the BLUETTI power station is that it is completely scalable based on what needs you have and you can always add additional modules to increase capacity as your needs grow. The AC300 and B300 as well as solar panels and related accessories are available now on their website ranging from $10,999 for a kit featuring 6 PV200 solar panels, 2 AC300, 4 B300, and a P030A power outlet. Combined, that kit delivers 240V, 6,000W at 12,288 Wh, and 1,200W of solar power. This kit is designed for whole house power solution and would be a great option for folks looking to power an off-the-grid hunting cabin or retreat.
On the other hand, BLUETTI has packages that are perfect for short-term emergency use, RVs and campers, as well as tailgating.
BLUETTI AC300 is 100% modular and can accept up to four of their BC300 battery modules per unit. When connected to the solar panels, they can also receive up to 2,400 watts of MPPT solar charging input to keep them filled up but when it is connected to AC power, you can charge even faster ... up to 5,400 watts.
All of this can be controlled through a mobile app connected to the power station via wifi.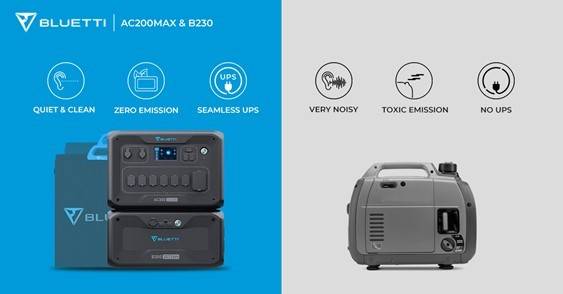 Solar and Battery vs Traditional Gas-powered Generators
The vast majority of generators and emergency power backup systems are powered by gasoline, with a few of the larger industrial ones utilizing diesel engines instead. Not only are these generators noisy but they consume fuel and produce significant quantities of fumes.
When we would have hurricanes hit our house in North Carolina, we had a generator but had to always keep the garage door open. This meant that we couldn't operate the power during the storm itself and even after the storm it wasn't a great solution because fuel was always in high demand.
With a modular solar panel plus battery pack power station solution like this one from BLUETTI, we could have removed the solar panels and brought them inside and left the AC300 and B300 parts indoors where they would be dry and well protected. This would certainly have been nice for keeping our fridge operating so we didn't loose food. However, the creature comfort value to being able to keep laptops and phones charged as well as being able to watch movies would have had a huge mental health benefit as well.
Modern solar panels have a lifespan of 25-30 years compared to the fuel-thirsty generator as well.
For folks with off-the-grid cabins, this means you could keep the batteries filled while operating a mobile internet station to keep an eye on the property through the use of security cameras. With a generator powering your cabin, that just isn't possible.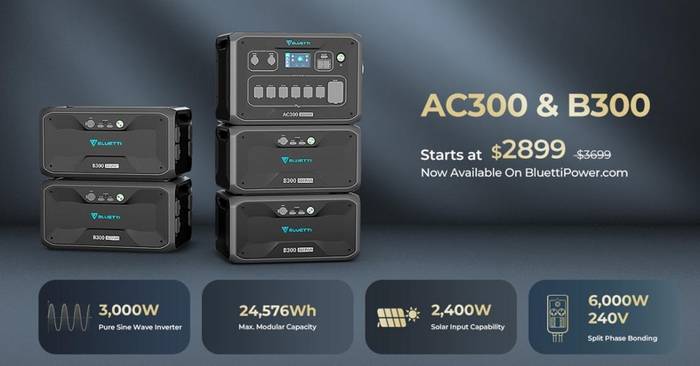 How To Get The BLUETTI AC300 Power Station
The BLUETTI AC300 Power Station products can be purchased directly from their website, https://bluettipower.com in a variety of configurations ranging from pre-configured kits to individual units. Additionally, the AC200MAX is now back in stock.
BLUETTI is currently running some great offers, so make sure to head on over to their site and check it out.
Orders are expected to be delivered in 3-5 weeks from the purchase date so if you need something for the upcoming winter storm season, make sure to check them out today.