Chase Freedom Examines Holiday Shopping Habits
We make money from support by sponsors, advertisers, and affiliate partners. As an Amazon Associate I earn from qualifying purchases.
This is a sponsored post written by me on behalf of Chase Freedom for IZEA. All opinions are 100% mine.
Did you start your holiday shopping yet or are you like the millions of other guys out there that procrastinate till the last moment?
If you haven't started yet, don't worry! There's always time to shop and when you do so with Chase Freedom you can get up to 10% cash back on purchases up to $1,500 from Amazon.com, Zappos.com, Diapers.com, and Audible.com through December 31, 2015. To help examine how consumers holiday shop, Chase Freedom commissioned a survey that showed some pretty interesting results.
Not surprisingly, the survey found that 77% of shoppers who have rewards credit cards say they are likely to treat themselves to something special with the rewards they earn while shopping for gifts for others. For me, that sounds pretty consistent and is honestly one of the reasons I hate shopping in stores, since I end up browsing and finding stuff I didn't want, don't need, but now crave.
As part of their survey results, Chase Freedom prepared an infographic to showcase the findings:
If you happen to be on your phone and the infographic is tough to read, no worries. Here are the core findings:
85% of holiday shoppers surveyed 'gift themselves' while shopping for others
69% of those surveyed who gifted themselves while holiday shopping for others did not have buyer's remorse and half (48 percent) of them even felt a sense of happiness
60% of holiday shoppers who have a credit card that offers rewards or points are likely 
to spend their rewards on gifts for others.
The one thing that seems consistent here is that there's a lot of shopping going on and it looks like I'm not alone in my pattern of gifting things to myself!
The survey also revealed what men and women buy themselves during the holidays:
Trendy items (Male 28%; Female 42%)
Small luxury items (Male 27%; Female 42%)
Electronic or appliances (Male 42%; Female 18%)
Holiday decorations (Male 20%; Female 37%)
Game for a group (Male 24%; Female 13%)
Fad items (Male 10%; Female 12%)
So do these lineup with your personal shopping patterns?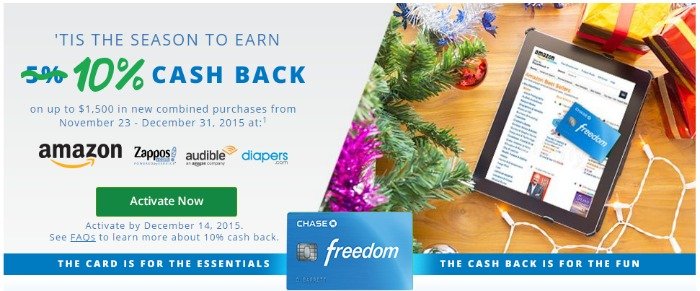 If you are a Chase Freedom cardholder, gifting yourself is a whole lot easier using the new mobile app. With the Chase Freedom Mobile app, you can redeem rewards right on the spot when paying in-store. Want to learn more? Click here.
Written by

James Hills

Page Views: 4772