It's spring and that means that it's time for "Spring Cleaning" ... that's never fun for anyone, but now's a great time to clean up your garage. While you might have shoved stuff in your garage over the winter, chances are you could use some extra space this summer for everything from a mancave, party pad, workshop - or even parking a car. We like the idea of turning it into a mancave most though!
For most of us, a garage is second only to the basement as a place to chuck stuff to be stored for an indefinite amount of time. It doesn't have to be that way and your garage should be one of the most versatile areas of your home. Not only can it serve as place to protect your cars from the elements - but with it's big open door it make a great covered area to entertain as well as work on projects.
Survey The Garage Space and Determine What Stays and What Goes
This is often the hardest part since it can be difficult to determine what to keep and what to get rid of. After all, everything MIGHT come in handy ... right?
The simple solution here is to start with the easy part. Put things into four different categories:
Trash and Recycle: Anything that hasn't worked in more than two years, expired chemicals, open bags of seed, and motor fluids in open bottles should all be disposed of. With regards to engine fluids though (especially motor oil) make sure to seek out a place to dispose of it properly or recycle. Luckily this part is made really easy with brands like AutoZone who offers free oil and battery recycling at all of their stores. Anything metal such as old mowers, yard tractors, and blowers should also be recycled.
Sell or Donate: This is the toughest category since nobody wants to depart with items that they, "might need" at some point in the future. This is especially true for boxes of old clothes, electronics such as older TVs that still function but you don't need, and older power tools. I know that when I had a garage, whatever I replaced in the house ended up in the garage ... and stayed there. There's a thin line for some items between Recycling and Donating. For instance, home improvement and DIY projects may have resulted in extra window frame, sinks, pipes, tiles, and shingles as well as other items. While it might be a challenge to sell these items, some local organizations such as Habitat ReStores (part of Habitat for Humanity) will take construction / building material donations as well as appliances and housewares that are still functional.
Store at a Storage Locker: Chances are that there are things just sitting in your garage that you might need only once per year such as Christmas decorations or perhaps baby furniture that you don't need right now ... but don't want to get rid of. Additionally, a storage locker is a great place to rotate sporting equipment seasonally. For instance taking hockey and ski gear and putting it in storage during the summer and making space in the garage for your fishing gear during the summer. Take all of these items and place them in a self-storage locker. Not only will self-storage companies like SecurCare offer storage rentals to protect your boxes, storage bins, furniture and other items but most also offer secure space to store boats, UTVs and RVs too.
Keep: Now that you've moved most of the stuff out of your garage, you should be left with just a few items. This will likely include yard equipment such as tools, mower, edgers, wheelbarrow etc., automotive tools, bulky furniture such as tables, chairs and couches (keep this if you are planning to make it a party pad or mancave!), appliances such as fridge / freezer, and workbench / tool chests.
Clean and Organize the Space
Now that you have a big open space cleared out from all the clutter, take this opportunity to sweep it clean of dust, cobwebs, and any animal waste such as dead bugs that may have collected there. If you have windows, this is also a great time to clean those as well as replace any old bulbs with energy-efficient LED bulbs that will last longer and cost you less in electricity usage.
You should also take care of the cold season considering one of these garage heaters, which will keep you warm despite the cold outside.
Create a Plan for Your Mancave Party Pad
Now that you (hopefully!) have a big open area, consider it your canvas. Figure out what you want to do there and then add items to build out the space. For instance, in the garage space I had back in Chicago I wanted to have some arcade games and space to easily bring my grill in / out to cook, as well as have a nice workbench for projects. Oh ... and my couch too! You can do all of that or leave it wide open for maximum space to gather.
The best way to go about it is by including a few key sections in your plans, as this way you can dedicate specific areas in your man cave to different activities. For example, you could choose to have a snacking area that features a mini fridge and a store cupboard filled with your favorite food and drinks, or you could establish a kind of technology section that plays host to gaming devices, a television or a computer to keep yourself and your visitors occupied for hours on end. Think about your passions and hobbies and try to include them in your man cave party pad plans - if you have an interest in music, you can plan to invest in some equipment like a guitar and a beat machine so that you can jam out to your heart's content. There are so many options to explore, so if you take the opportunity to make a plan or lay out that you can follow, then it will be far easier to turn your man cave dreams into a reality. Try not to go overboard, as filling your garage to the brim will only make the space feel cramped and contained.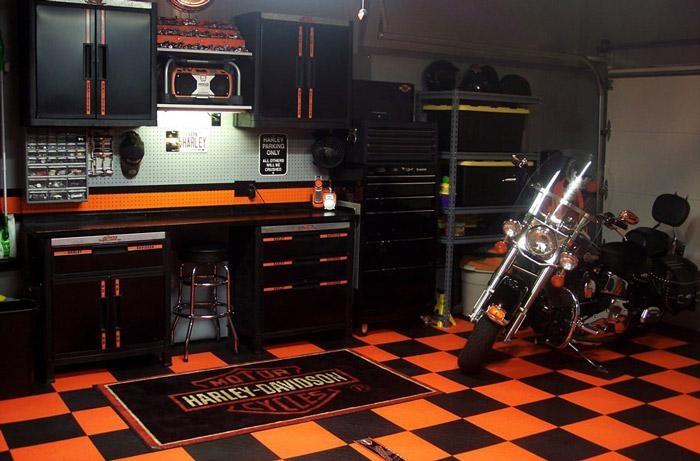 Determine How to Finish The Floors and Walls
The final step - before moving stuff in such as games, furniture, and appliances is to finish the floors and walls ... or decide to leave them as is.
While most garages will have plain concrete floors, adding garage tiles, mats, or rolls like those from Garage Flooring Inc. can be an easy way to give it a custom look.
Walls tend to be easier since you can paint drywall easily, or cover the raw unfinished walls with shelving units.
Now that everything is all set, it's time to move your stuff back in, kick back and relax!