Remember back when you first saw an HDTV screen? That sense of awe may have faded over the years now that these screens surround us, but the next wave of technology is here and it looks absolutely amazing. However, like everything else, it's hard impossible to simply tell you how great it is since any imagery I would show you would be viewed through a non-4k computer screen and that pretty much eliminates the benefit. So, What's a tech retailer like BestBuy to do? ... Through a series of open houses so customers like you can see the latest and greatest in 4k Ultra HD TV technology!
Most BestBuy stores already have demonstration units available for you to walk in and see. However, on select dates May 23 - September 26, they are throwing special events including a time to talk with product specialists from manufacturers including: Samsung, Sony, LG, and Visio who will be showing off the best features of this incredible new technology. The impact of these displays with their amazing color, incredible contrast, and 4k resolution is simply incredible.
Make sure you show up early though, the first 20 customers who complete all of the demonstrations will receive a $25 gift card.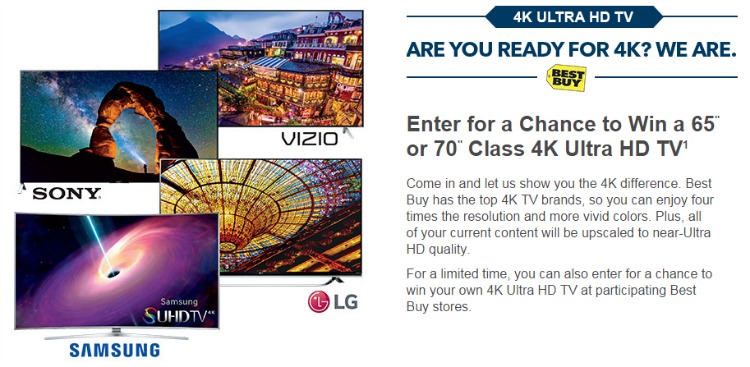 Plus, while you are there, make sure you register for a chance to win a 65" or 70" Class 4k Ultra HD TV!
Grand Prize (1): Samsung 65" Class LED Curved 2160p Smart 3D 4K Ultra HD TV.

Average Retail Value (ARV): $4,999.98 each.

First Prize (1): Sony 65" Class LED 2160p Smart 3D 4K Ultra HD TV.
Second Prize (1): LG 65" LED 2160p Smart 3D 4K Ultra HD TV.
Third Prize (1): VIZIO 70" LED 2160p Smart 3D 4K Ultra HD TV
Total Average Retail Value of all prizes: $13,199.95
For more information about 4k Ultra HD TV's at BestBuy, you can also visit them online but we encourage you to check it out in person since that's the only way to experience the full impact.