This is a sponsored post written by me on behalf of Gladiator GarageWorks. All opinions are 100% mine.
I have been a fan of the Gladiator brand for many years. Sometimes though, it's hard to believe that the same company (Whirlpool) that makes machines designed for the kitchen and laundry room can make some of the toughest, most manly organization products on the market today. Well, actually that's not so surprising when you think about the durability and design that everyone loves from their products in the Kitchenaid, Whirlpool, and Maytag brands. But when it comes to the garage, Gladiator is one of my favorite brands and once you experience it yourself, you'll see why.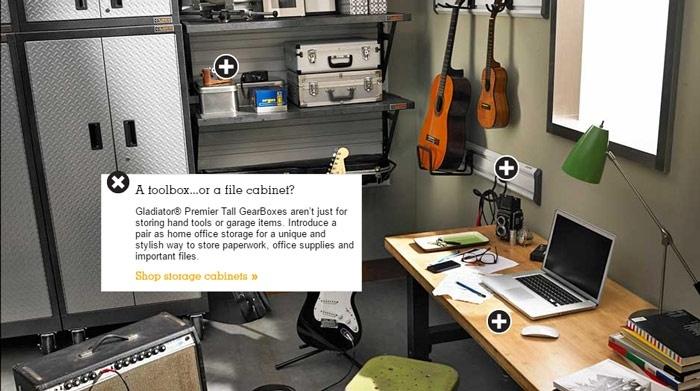 Gladiator GarageWorks has a full suite of garage organization pieces ranging from cabinets and workbenches to wall storage, baskets, shelves, and flooring. However, while it's target is "garages" they look so nice that it would fit well into an industrial office look just as well. They also make some of the coolest appliances that any guy would be envious of when they come over to visit. In the past, my go-to has always been rubber bins. They were great to throw stuff into and stack in a corner but never really helped with organization. After all, once they were filled and stacked they were "out of sight and out of mind".
Today though I'm here to talk about my experience with the highly rated Gladiator GearBox. Instead of just "storing stuff" it's actually helped me to be more organized and make better use of the tools and other items that otherwise have been sitting in the corner gathering dust when they aren't in use.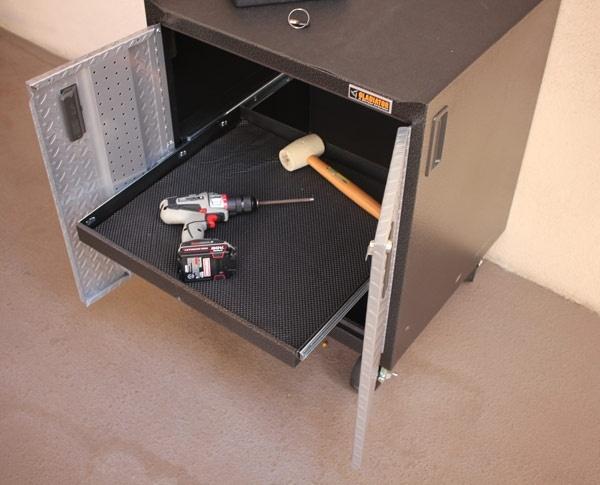 Awesome Design
While this unit would be perfect in a garage, it's found a home in my loft as a combination liquor cabinet and tool chest. Previously, I had a variety of tools ranging from drills and hammers to circular saws and routers that were just laying around. With the sliding tray on the GearBox though, I'm able to place things on there and slide it out of sight and protected with a lock so that visitors won't accidentally play with them.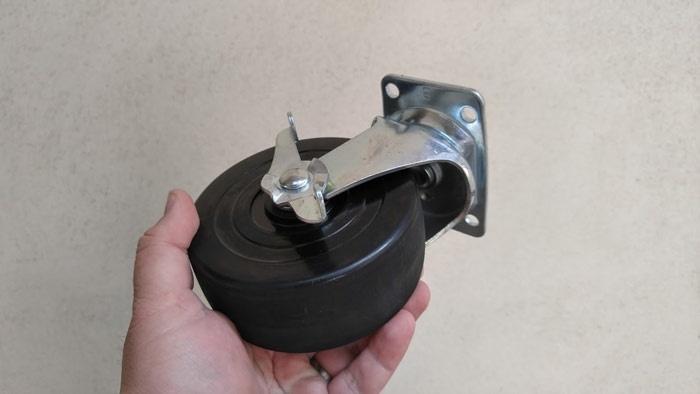 Fantastic Quality
I've always been impressed with Gladiator for the stuff I see on the surface but when this unit arrived and I opened the box with the casters I was blow away. It's tempting for a brand to focus on quality where you see it and skimp where you don't. Wheels are one of those areas that I would have expected a lesser brand to be cheap but instead, I see big, huge rubberized wheels that roll well on virtually any surface.
When combined with the thick diamond-plate, rubber matting on the top of the GearBox and even the non-slide padding on the tray this means that I now have a mobile workstation. The highly rated Premier Series Modular GearBox isn't just a storage unit, but it's something that I can roll out to the patio or wherever needs work to be done.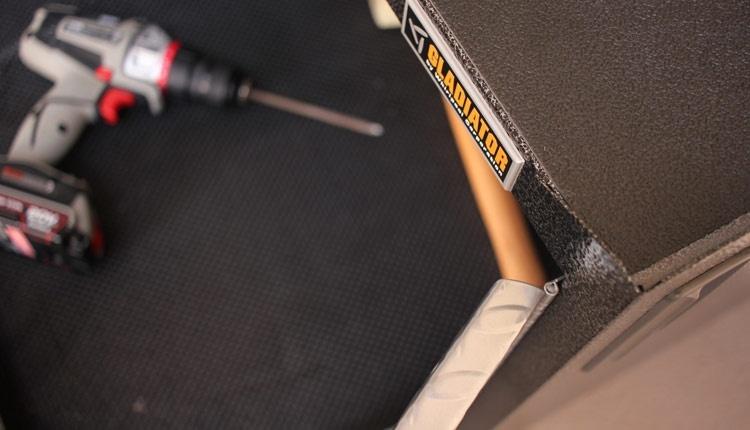 So when you think about your Spring Cleaning Keeping, I would encourage you to consider picking up this Gladiator GearBox or one of the other highly rated Gladiator items that they also have available.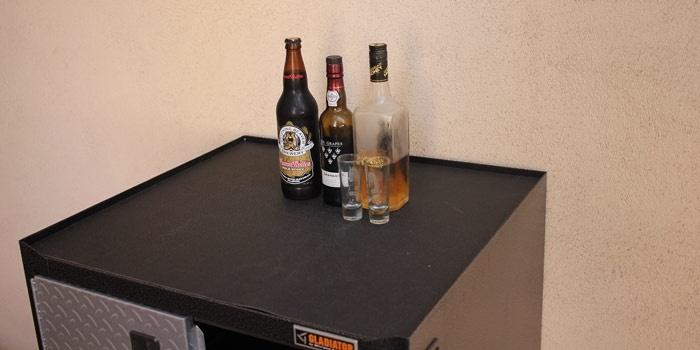 It Also Makes a Great Bar!
In addition to storing tools and misc supplies, it also makes a fantastic mobile bar. With a big slide out tray and locking doors it makes a great liquor cabinet that can be rolled out to the patio for entertaining (or for just hanging out with the guys in the garage).
Gladiator GarageWorks products can be purchased through their website, where you'll also find some design inspiration and advice from their experts on how to transform your garage into a place you'd be proud to hang out with the guys in. You can also visit the Gladiator GarageWorks Facebook page for even more ideas.
Use this promo code (KEEP100) or $100 off + Free Shipping on orders $599 or more* Hurry the offer only lasts from 4/25/16-5/11/16
*Offer available on eligible products from 4/25/16 to 5/11/16. Limit one promotional code per purchase. Order value for dollar off threshold and free shipping excludes applicable taxes and installation fees. All Gladiator® GarageWorks Terms of Sale apply during promotional period. Offer is only valid on eligible products purchased directly through www.GladiatorGarageWorks.com or by calling 866-342-4089. Shipping, handling, and installation fees are extra.