You may have "the auto club" or maybe your car even came with a manufacturer provided service, but what about that RV you've been eyeing? You need someone to help back that up too and you can't afford to have someone look at your flat, shrug, and mutter "well that sucks" as he packs up the tow truck and drives away. Good Sam Roadside Assistance helps travelers stay safe while driving their autos and RVs. Now is a great time to check out this service, as they currently have their Summer Sizzler event going on.
Instead of the normal $112.95 rate, new Good Sam Roadside Assistance members can join their Standard plan for only $79.95, PLUS you'll get $20 in Bonus Cash, which is good at Camping World SuperCenters! Even better is that they provide full family coverage so your spouse and children are covered at no additional cost.
That means that you only need one plan that covers both your car and RV as well as boat trailers and motorcycles.
I know it's tempting to play the lottery and pray that you just never will have a problem. When you think about it though, what's a day of your vacation worth? For me, I know that it's worth a whole lot more than $100 and just the peace of mind in knowing that I have someone to help me out if there's trouble means that I can relax that much more.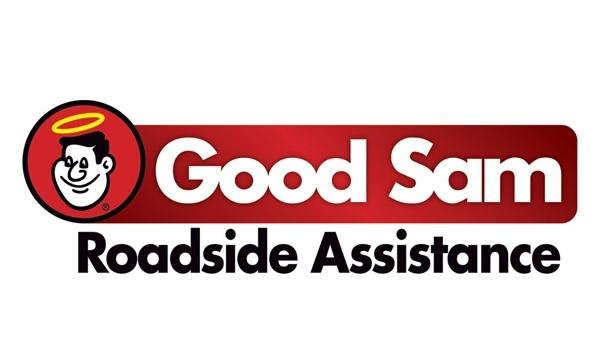 As a kid I remember the Good Sam logo on the side of my grandparents RV but I didn't really know what it meant. It was just a friendly face and they talked fondly about "Good Sam" when I asked them once. Flash forward to today, I think it's remarkable that any service can have that sort of loyalty, but it fits well in the RV world where friendships are forged and relationships are built in ways that simply aren't imaginable in other scenarios.
Last month while driving home from Vegas it was a big reminder to me that RVs and camper vans simply aren't as resistant to summer driving conditions as my brand new car is. As we passed by vehicles with their hoods up, all I could think about it is "wow that would suck to be stuck here". At the time, we were climbing up a hill and the outside temperature was well above 100 degrees. As I sat cool and comfortable in our car, all I could think about was that I wouldn't want to spend my afternoon without someone on the way to help out!

Included in a Good Sam Roadside Assistance membership is unlimited distance towing to the nearest service center with no pre-set mileage restrictions or dollar limits, dispatch of an RV Mobile Mechanic, Roadside Assistance for battery service, flat tire service, emergency fuel and fluids and even lost key / lockout assistance. What I didn't expect was that it even includes help with medical or dental referral assistance in case something happens on the road and you need advice.
While it's only $79.95 to signup right now, you really have to ask yourself, "How much is peace of mind worth?" Afterall, this is your family vacation you are talking about and that's something special that you deserve to support and protect against obstacles that can be avoided with a little planning.