Even though gas is a lot lower today than it was a few months ago, it can always be cheaper. That's why I love Shell's new Fuel Rewards program - it helps members save at least 3 cents per gallon, just by swiping the free membership card or using the mobile app to make purchases. Even better is that you can earn points on things you do already like traveling and dining out.

The way it works is you create an account on www.fuelrewards.com, link cards to your account, shop, and then when you use the Fuel Rewards card at the pump you save money. It's just that easy! Plus, new members get a 25 cents per gallon reward. So, even if you don't think you will use it in the future - just spend 5 minutes right now and signup. That's almost $4 you are leaving on the table if you don't!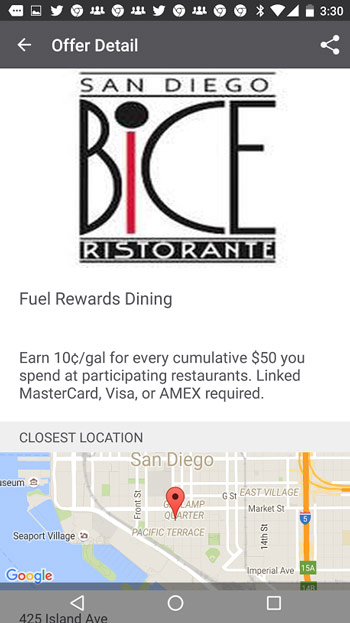 The thing I like about this program is that I don't need to really do anything special once I sign up. I can simply do the things I already do. For instance, I love Bice - it's a great restaurant with fantastic happy hour specials that's right next to my loft. So now if I go there with some friends, I can earn 10 cents per gallon for every $50 I spend there with my linked MasterCard, Visa, or American Express!

Similarly, it works like that for travel when booked through Priceline as well as other online deals and special members only deals.
There's no having to signup for a new credit card, or shop at a specific grocery store like in other programs out there. Just do the stuff you've already planned to do - though that extra charcuterie platter tastes even better knowing that thanks to Shell's Fuel Rewards I'll be saving 10 cents per gallon on the drive home!