I always love finding new tools to make my life easier and so when I heard about Clipix recently I was intrigued. You can think about it as "Pinterest meets Evernote" and I found it surprisingly good, though because it is new there weren't that many people using it. As it grows I feel like it has the potential to be a very vibrant community with both more depth of content and a more diverse user base than Pinterest does currently.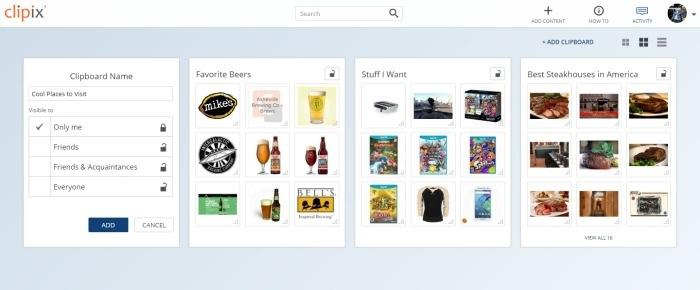 After creating a Clipix account, you are prompted to create a clipboard. These function exactly the same way your Pinterest boards do - except that you can set privacy levels that I find are great for collaborating with friends. For instance, imagine planning a friend's 40th birthday party and trying to figure out what bars to visit that night or what steakhouse is best.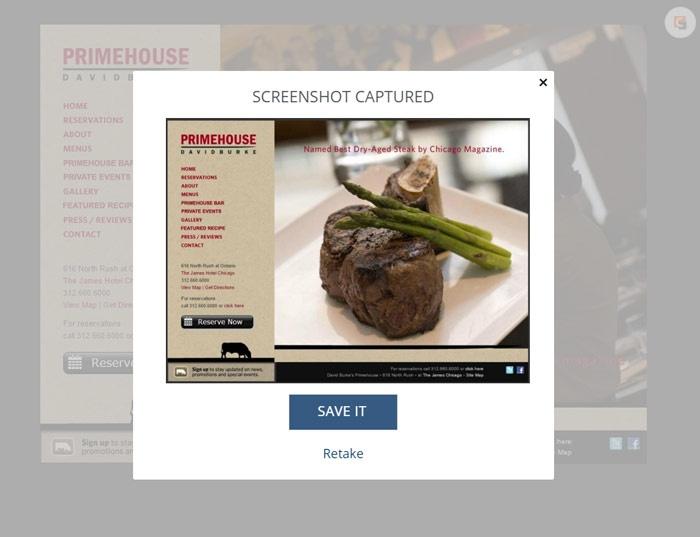 Unlike Pinterest where you can only upload images or have it pull something off the website, Clipix also offers the option to actually take a screenshot of the website itself or a portion of it.
I found this to be extremely valuable as there are still sites out there that don't have meta tags set properly or use flash slideshows that cause problems for plugins to grab ahold of images for.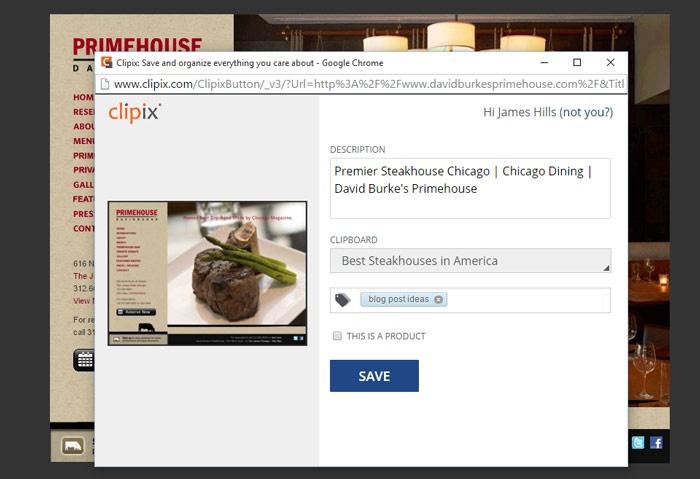 Once you add it to your clipboard, you can tag it with different tags to help categorize it. In this case, I'm working on a post about the best steakhouses in America and so I wanted to remember this one. (BTW David Burke's Primehouse in Chicago is amazing!)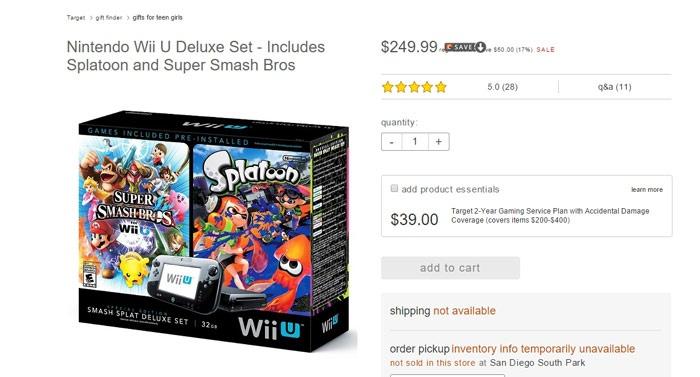 While it's great for collecting ideas and planning things out, I also really liked the added dimension of being able to set price alerts on products that I was interested in. For instance, I recently became obsessed with Splatoon and the Wii U so I decided to go shopping online for it. Clipix's browser extension recognized that I was on an ecommerce page and popped up an option to save it. So I did, putting it into a clipboard for "Stuff I want".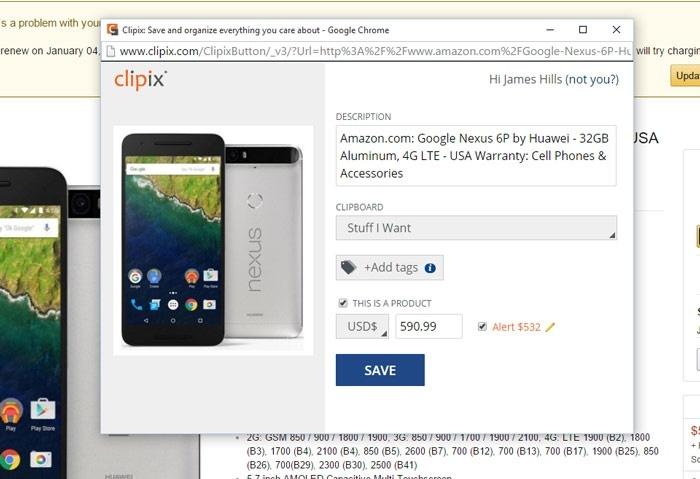 I did the same with the Huawei Nexus 6P that I found on Amazon but set the price alert so that it would send me an update when the price dropped to $532. Pinterest does similar stuff, but for whatever reason I found this to be more intuitative and easier to use.
You can also upload your bookmarks to Clipix and same for your existing Pinterest pins. I feel like the future is bright for this platform. However, the challenge they have is the paradox that plagues almost all social networks. Simplicity and ease of use tend to trump functionality and power. Pinterest is dead simple and not that Clipix is difficult to use (it's not), but it simply offers a very powerful solution for organizing "stuff" that is more like organizing ... and less like collecting.
Either way though, I encourage you to check out Clipix for yourself and make sure to to add me as a friend so we can share clips!