Navy Federal Credit Union has reintroduced their Flagship Rewards card and I wanted to share with you some of the benefits. There are a lot of credit cards out there but certain offers like this are reserved for service members and men, women, family members, and others supporting our armed services. That includes DoD employees and veterans too. Let's take a look at what benefits this one offers!
For anyone who loves to travel - this Flagship credit card is a great card to get since it gives you 3x points on all travel related expenses. Flagship features and benefits include:
Getaways:

Airline and train tickets, hotel stays, car rentals, travel agencies, cruises, campgrounds and RV parks, timeshares, boat rentals, motor home rentals and travel related arrangement services

Every Day Travel:

Ride-sharing services, bridges, tolls and ferries, parking garages and lots, bus lines, limos and taxis, commuter transport, passenger railways

Travel Activities:

Public golf courses, amusement parks and tourist attractions including museums, vineyards and aquariums
Other purchases earn 2x points.
To give you an idea of how that adds up - imagine spending $5,000 on a cruise, you'll get $150 back in cash if you chose that option! In reality though, think about how much you spend every month on expenses like taxis and ride-share services, golf courses, museums, even vineyards. Those dollars will add up pretty quickly.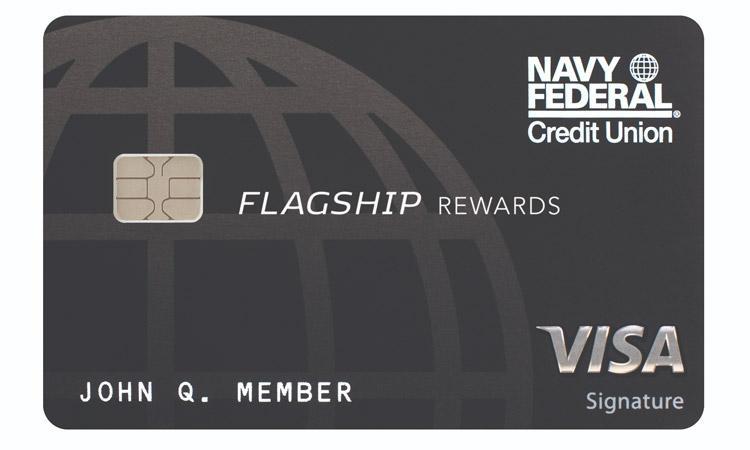 Other benefits include access to the Visa Signature Portal where you get access to tons of other member discounts and opportunities too.
Who Can Become a Member of Navy Federal Credit Union?
As mentioned above, not everyone is eligible for this offer. However, many of you will be but you need to fall into one of three categories:
- Servicemembers and Veterans
- DoD Civilians
- Immediate Family Members (including Grandparents, Parents, Spouses, Siblings, Children, and even household members) Parents and Grandparents as well as guardians can even share the gift of membership with a minor in your family so they can get these benefits (being a member of Navy Federal Credit Union is much more than just a credit card.)
Plus, even if you leave a field of membership (for instance you leave the service) you still maintain membership. There's no risk of joining when serving your country and then having to close out your account when you return to civilian life.
I have a lot of Navy friends here in San Diego that say great things about Navy Federal Credit Union. They were formed in 1933 with only seven members and have no grown to more than 8 MILLION members. Their mission has remained the same though: to serve and enrich the lives of those in the military community.
If a card like this sounds like something you might be interested in, make sure to visit Navy Federal's website and check out the Flagship features and benefits for yourself. (or a friend) Remember too that while it is the NAVY Federal Credit Union, all branches of the US Military are welcome to join.