It's been a long time since I've used charcoal ... a few years ago I abandoned the delicious smoky flavor for the easy to use, quick to clean up and more precise gas grill (which BTW just happened to be a Char-Broil). However, I was thrilled to discover that the engineers at Char-Broil have been working hard to bring some innovative designs to the world of charcoal grills. Their new Kettleman frankly kicks butt and you could even say that #KettlemanKicksAsh. It is absolutely light years beyond what I had experienced in the past with a similar "kettle grill".
While I'm never going to solve the convenience factor of being able to turn gas on or off, what I found with this Char-Broil Kettleman Grill grill was that it addressed all of my other concerns.
More than 65 years ago, in 1949 Char-Broil brought the first charcoal grill to market and started a revolution. In the post war years, the move to the suburbs created a massive market and the "Weekend BBQ" was born. Today, Char-Broil remains a key player in inovation and I was excited to check out this new grill.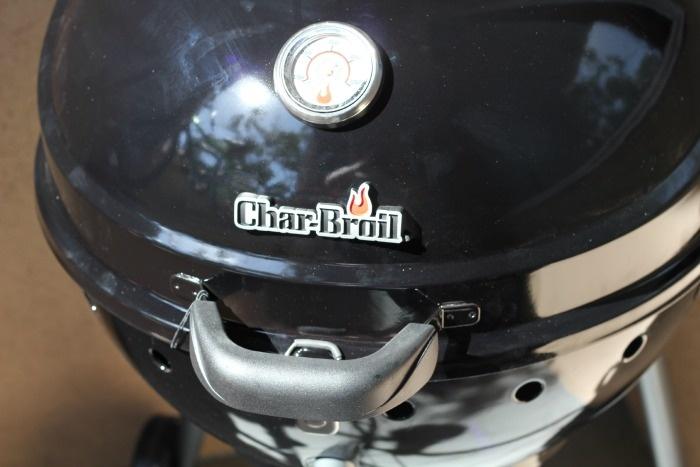 Easy to Control Temperature:
Probably the biggest leap forward that I found while testing this grill out was that it was much easier to control the temperature than what I had experienced in the past. There are three things that made a huge impact in this regard.
Huge air vents in the top (often times I've found them to be too small to really work).
A thermometer on the lid of the grill.
Raised charcoal rack - this makes it super easy to spread the coals flat (or only on one side to provide indirect heat for smoking ribs and briskets). My other charcoal grill simply piled the briquettes at the bottom of the grill. Another benefit to having this rack is that you can use a lot less charcoal per cooking session, so that's good for the environment as well as your wallet. ... it also means that it will cool down faster when you are done!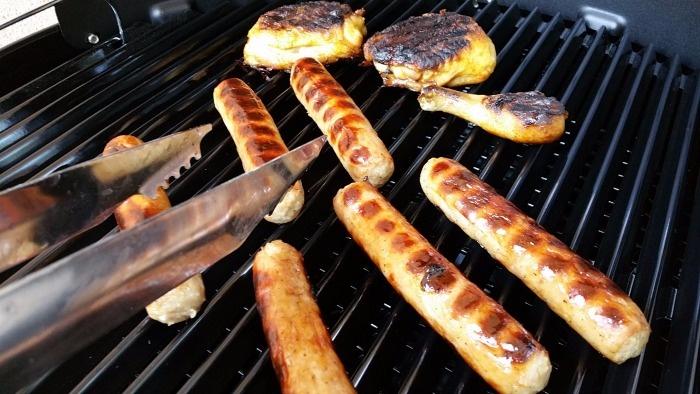 Easy to Clean Up:
While the grilling surface is actually designed for other purposes (see below), the side effect is that it's actually a lot easier to clean up. Not only is it porcelain coated, but because it's not a thin rack of wires it is MUCH easier to clean.
Plus, they've even provided metal handles so you can lift it right out of the grill without getting your hands all nasty or scratching the grill with a tool while trying to replace the grill.
Even Cooking and Less Flare Ups:
I have to be honest here - the grill surface threw me for a loop when I first saw it. It's nothing like I'd seen before since it is more like a sheet of corrugated aluminum than a traditional grill surface. I was afraid that this would ultimately provide a cooking experience more aligned with a countertop electric grill vs a true "man's grill" with FIRE!.
So, here's the good and the bad - because of the angled surface, you aren't going to get flare ups (as much) when pieces of chicken skin fall into the fire and that's a good thing. The bad is that if you happen to like that flame seared (burned) look then it's a bit tougher to do. But seriously, why would you want to burn your chicken anyhow?
Additionally, because there is a grate that holds the coals just below the cooking surface it is MUCH easier to get just the right temperature or even accommodate different meats with different temperature needs.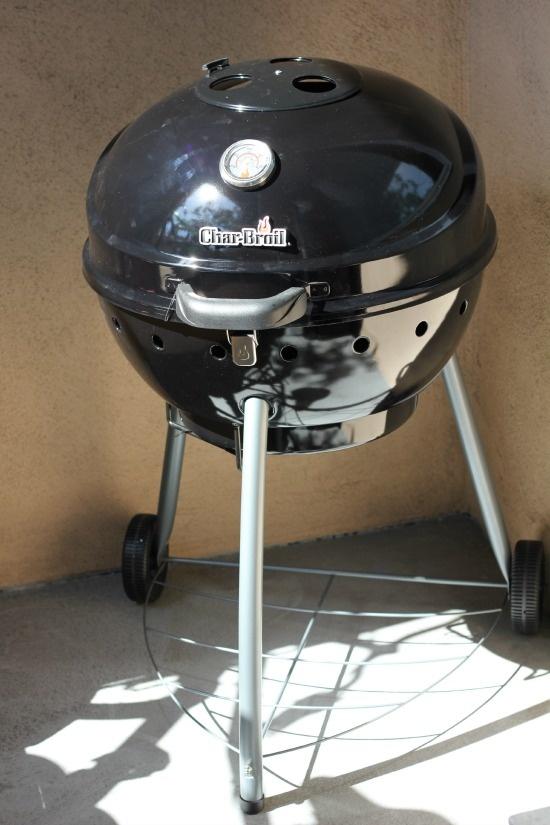 Very Sturdy and Tailgating Ready:
Especially on the lower end of the spectrum, I've been shocked by how flimsy some of the grills feel. This Char-Broil Kettleman was extremely well designed and was very stable. It is definitely something that I would feel comfortable lifting into the back of a truck or SUV and taking with me on a tailgate without fearing that it might be a one-way trip.
BTW that bottom area also serves as a shelf to store the cooking surface while you let the coals fire up.
On top of all of these factors, you'll be shocked to learn that it is only $139! The grill is available at Lowes and you can also buy it online.