I love smart watches but like the early days of hybrid cars - the design is meant to appeal to "tech people" and not those that just want a good looking watch. Over the past few years though, there have been hundreds - maybe even thousands - of watch faces released for Google's Wear OS. As beautiful as those are and with the improvements in screen technology making them look more realistic every year ... it's still no replacement for mechanical movement and physical hands. That's what LG's designers believed when they created this watch and I'm fundamentally in agreement with them. A true chronograph with mechanical movement is a work of art that makes a "tool" a fashion accessory that makes a statement when worn on a man's wrist.
However, from the moment I opened the box I became more and more excited. The packaging is perfect for a premium product and I really like the strap, the case, and even the buttons. Compared to my Huawei Watch 2 or an Apple Watch, this LG Watch W7 is something that you could wear to a board meeting or a fancy dinner with the boss. Except for when the screen is on, it looks like a high-end watch and that's a good thing.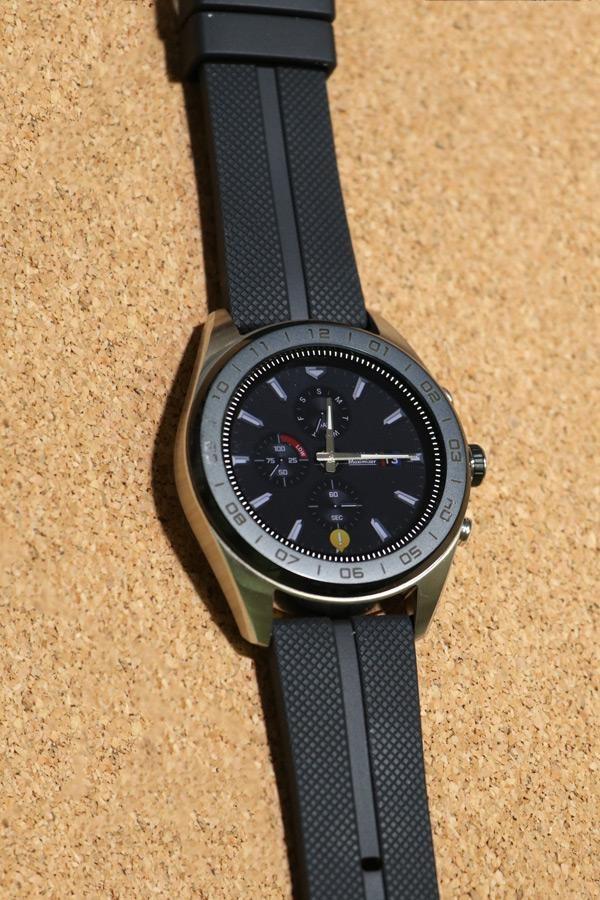 Unfortunately though, the same feature that I was extremely excited about ... becomes it's achilles heel. By having a mechanical movement with physical hands, it takes space in the watch that could have gone to other technology, the watch hands (and post) make text hard to read, and ultimately it is thicker than it otherwise could have been.
Despite this, there are a lot of redeeming features to be found on the LG Watch W7. With the appropriately titled, "Just Watch Mode" you can get up to 100 days between charges and the mechanical movement isn't some cheap tech either. The movement was developed in partnership with Soprod SA, a Swiss company.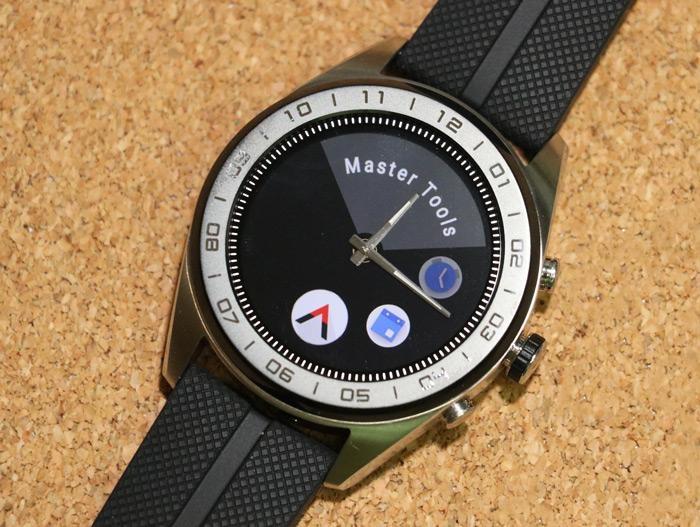 Additionally, the watch features the latest version of Wear OS by Google, including Google Assistant, Google Fit, and "Master Tools" that include a: compass, stopwatch, timer, barometer, altimeter, and a wrist gesture function for hands-free navigation.
It is also IP68 weather and dust resistant. THis means it can be in one meter of water for up to 30 minutes (though LG warns against using if for swimming or diving).
Additionally, I really like the fact that unlike most smartwatches, it has a watch crown that can be used to scroll through screens if you prefer not to swipe. It's little touches like that that make this one of my favorite smartwatches available today.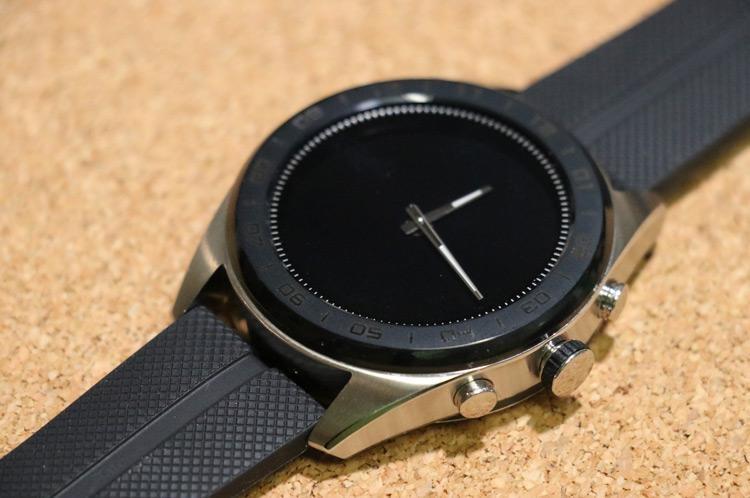 Unfortunately It's Missing Some Features ...
While I really like this LG Watch and I'm a big fan of the brand in general - the last four phones purchased by me were all LG brand and so are multiple monitors and TVs in my house. They missed the opportunity to make the PERFECT watch. This is even with the obstruction provided by the physical hands. I think ultimately that is something most people can adjust to and the visual impact is worth the inconvenience.
However, there is no heart rate monitor, no NFC, and no speaker on the watch. This means that while it will count steps, people who look for a smartwatch to replace a fitness wearable will still need to buy another device. Similarly, while NFC is still in it's infancy this watch will not be able to be used for NFC payments. Finally, because there is no speaker, you can't play music from it or take calls without having a pair of headphones connected.
I think LG knows that it this is a almost perfect - but flawed watch. It was intended to be sold for $449.99, but is available right now for only $249.99 at Best Buy. At that price, it is one of the nicest watches available right now and you really can't go wrong.
While tech reviewers spend too much time hung up on features - it's the look and feel of the watch that's ultimately important. For me, right now that means that I remove my other watch off when I go to business meetings and wear a classic watch. With this one though, I don't need to make that compromise.