For some things, smaller is better but when it comes to battery backups I always subscribe to bigger and faster is best. That's why I was thrilled when Naztech sent me their latest power bank er ... Power Station, the VOLT Power Station + AC Outlet. It isn't my only large battery pack, but it is now the one I keep as a permanent part of my gear bag. While the applications for long trips are obvious, curiously I find it super useful around the house too.
This is the most complete power supply that I have ever used. Not only does it have standard USB ports supporting QC 3.0 but it also supports USB-C (5V/3A output), and an 85W AC port as well. It also has an LED flashlight integrated into the device as well. While this this AC port isn't powerful enough to power all laptops, it is perfect for some smaller mobile devices such as MacBook and Chromebook Pixel. On some recent trips, I used it to charge drone batteries, camera batteries, my auxiliary light battery, and an electric razor. Once you have the freedom to avoid being tied to an outlet, the possibilities are limitless.
That isn't to say that the Naztech Volt Power Station is the only device out there that has this feature. We recently reviewed the MyCharge Portable Power Outlet as well, but that one only has a 65W AC port and smaller battery as well.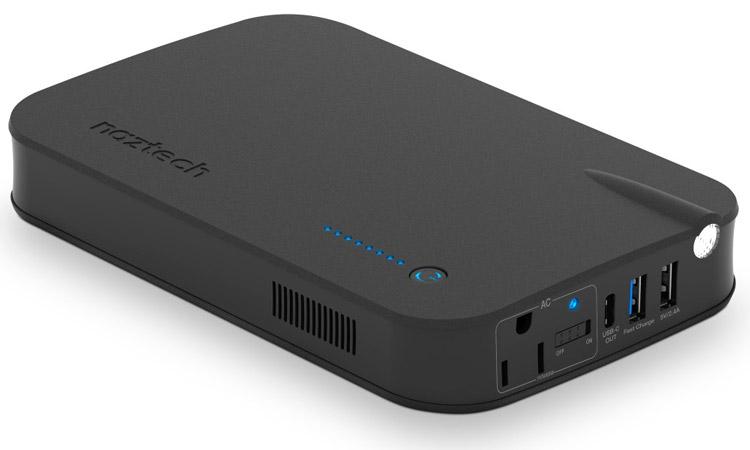 Naztech did a great job on this device. At $199 on Amazon, it is affordable if you are looking for a large battery backup, but compared to others out there it provides better features such as the AC plug. It also charges very quickly - in about 4 hours. This makes it perfect for charging overnight or even just topping back up in the car after taking it with you on a hike or ATV ride.
What I didn't expect is that this would be more than something I keep in my pack. I actually keep it on my coffee table now too. This helps allows me to charge my phone will watching TV as well as wireless game controllers, without having to worry about a wall outlet.
For trips, it's super helpful too since you can share the power with a friend and everyone can charge up while sharing a beer.
Ultimately, as much as I like it - the VOLT Power Station isn't perfect for me.
Everything is a compromise when it comes to design and Naztech focused on making the device as light as possible and as fast charging as possible. This resulted in the only two things I wasn't 100% thrilled with. The first is that it has an external charger. This is unavoidable if you want to fully charge a huge battery pack like this as quickly as possible. Sadly, for me it means that it's one more thing to bring with me on trips and ultimately leave behind in a rental car or hotel. The second is that the plastic used for the chassis "feels" cheap. It's not though and after using it for a while I'm actually impressed by it. However, the device feels lighter than others that I've reviewed and more "plastic". By selecting a lighter plastic instead of metal or something more bulky like on the MyCharge Portable Power Outlet, it saves a bit of weight. The folks at Naztech shared with me that they selected an advanced type of power cell that is lighter than many others out there. This is actually a good thing so I feel like my only complaints are that it doesn't suffer from those things I expect from similar devices.
Seriously, these guys at Naztech did a great job.
When you compare all the other things that this unit includes, I'm willing to accept those compromises. So should you. The Naztech Power Station is something that deserves to be in all of your packs before your next trip!
For additional product information, please visit Naztech's product page.